WHY DANIEL FLED - OLURIN'S RUNNING MATE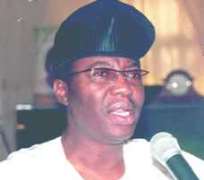 The deputy governorship candidate of the Peoples Democratic Party (PDP), in the last elections in Ogun State, Comrade Tunde Oladunjoye, has described the escape of the out-going governor of the state, Otunba Gbenga Daniel to United Kingdom as a vindication that he had skeleton in his cupboard.
The PDP deputy governorship candidate whose council was dissolved in February 2009 based on what he described as principled disagreement with Daniel, said that the fleeing former governor had deducted nothing less than N96 billion from the revenue due to the 20 local government councils in the last eight years.
'I reported him to the House of Assembly under Rt. Hon. Tunji Egbetokun, and the House passed a resolution declaring the sharing of allocations equally among the 20 local Councils as illegal and ordered stoppage, but the lawless OGD will not listen.
'It is only in Ogun state that councils collect equal allocations since November 2009. The Council Chairmen were coerced, cajoled and threatened to sign a purported Memorandum of Understanding, but I refused.
'At any given month, the run-away Daniel always deducted more than half of the total Councils' allocation. For example, in the month of November 2009, the 20 LGs got N1.8 billion from Federation Accounts Allocation Committee (FAAC), he only gave a paltry N700 million to the 20 councils. All these facts and figure I gave to EFCC but I guess the body was waiting for his immunity to expire', he said.
On what should be the next steps, the pro-democracy activist turned- politician urged the EFCC to 'simply declare him wanted immediately and his accomplices must be stopped from running away as some of them already have five years, European and American Visas on their passports.
'I cannot dictate to EFCC on what to do but I must add that the way they handle the Daniel's case will tell a lot about the image of EFCC and in fact that of President Goodluck Jonathan, even as he assumes office on his own ticket. 'Gbenga Daniel is a case study on how not to administer a state, he must not go scot-free', he concluded.