I DIDN'T KNOW IT'S A CURSE TO BE BORN A KUTI - SEUN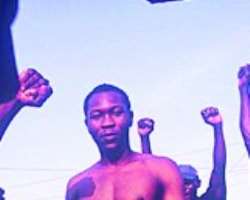 You have a beautiful place.
Yeah. It's okay and I like it here. I've been living here for about two years now.
How well do you know your neighbours?
I have relationship with my neighbours but we're not very close.
Does the landlord know that he rented his house to a Kuti?
Ah! I didn't know that to have been born a Kuti is a bad thing in Nigeria. I got to know when I wanted to rent a house-nobody wanted me because I'm not Obasanjo's child- my father used to steal money and kill people. So for that reason, they thought I'd be like my father.
So how did you get here?
Well, at first when the landlord agreed to have me, he specified that Rasheed Gbadamosi had to stand surety for me.
Why?
Like I said, I'm Fela's child and my father stole money and killed people. And I wondered if Obasanjo, Abacha and Abiola's children go through the same experience.
How has this place been for you since you moved from the Kalakuta?
Well, I moved in here because I only had one room in Kalakuta. The room wasn't sufficient for me so I had to move out. I needed more space and wanted a place where I could keep my pet dog. But landlords wouldn't let out their houses to me- it took me like two three months to get here.
So how has moving out of Kalakuta affected your music?
I wrote songs contained in second album in this house and it's better than my first album that I wrote in Kalakuta.
And how do your neighbours react to some of friends coming here?
I don't think they're strange people. They may be strangers to my neighbours but they are my friends.
I thought I saw a photograph of you and a lady somewhere here…
Yes, it's the painting of me as a musician. And as a musician, beautiful ladies will always be attracted to me.
Ain't you thinking of marriage ?
Nooo! The only way I can get married on time is if there's a law in Nigeria that says anyone who is married will automatically get a hundred million dollars. That's the only thing that can inspire me to get married. I think marriage as an institution is getting obsolete.
And in the civilized world, marriage as part of the religion enterprise is also suffering. So I think in the next 100years to come, people will no longer marry.
Is that your philosophy?
That's what I believe in. I think the reason women are still tolerating men and getting married to
them is because men still control the world. And over the years there's been much discrimination against women. But now that the world is becoming civilized, women are now CEOs, MDs and can do whatever men can do.
So why do they need men? That's why in the civilized world where women have been liberated, men can no longer control women. How many marriages last? People only get married for material reasons and not because of love or because they want a family.
Do you have anything against women?
No. I love women very much.
More than you father?
Ahh! My father took joy in acquiring women but I can't do that. So I think he loves women more than I do. I like women like any other man in the world- no addition and no subtraction.
When you said your second album is better than your first, would you say it's because you are older and have more experience?
Well yes. Experiences of life definitely have to do with anything one does. Not really age because you can be a child but have experienced much. Experience tells a lot on life achievements.
It's either it adds positively or negatively to your life. Between 2008 and 2009 when I wrote the first and second album, I've experienced a lot and it gave me confidence in my career and ability.
And I'm sure you have also evolved since you took over as the leader…
Of course I've grown. I was almost fifteen when I took over the band. Now I'm twenty-eight. And I've been playing with the band since I was eight. I've told people that my life isn't as easy as it seems-my job is difficult and it takes me on tours. I have to record and sell my album, go for shows. And that's because I'm twenty years better in what I do.
I've paid my dues. Normally I should be fifty but because I started earlier, I'm only twenty eight. So, the more time you spend on what you do, the more you evolve, things get better.
For me , music is an extension of me, I do it with ease. So yes, the fact that I've come this far, I accept what my music brings. So, I'm no longer the Seun you used to know but Seun at twenty-eight.
You have managed to keep the same people in the band this long…
It's not really the same people. Remember that Fela's band had over sixty persons. Out of the sixty, we've reduced it to twenty. And out of the twenty, only twelve are from Fela's time.
People have gone, although some stayed for a while. The only person that left because of age is the man who plays the trumpet. Dele died because he was sick.
Is there a form of retirement benefit band members ?
Nobody has retired yet. Sobo had an accident that claimed half of his body. And he hasn't been playing since then but he still gets paid and we take care of him.
I still want people who played with the band not to feel left out. The band isn't just a band but a family and you don't abandon family. From my band, I think I'm the most accommodating band leader in the world. My band boys get away with ' murder' and I don't even fine them.
And they don't disrespect you for that?
That's if you do things that'll make them disrespect you. We work as professionals and I don't interfere in their personal lives. Although they come to me with their personal issues, I'm always there for them.
I ask them for favours too because we're family. So, they all know what has to be done. But the real lines that they don't dare cross are the ones that'll affect the job.
For me, I owe them more than they owe me because it was a long time since they gave up their lives for the band. There was even a time that the Shrine was closed down for about ten years and we didn't make any money. But I had inheritance from my father and wasn't suffering like them. So I had to sacrifice a lot for them.
While I had other things to do, this was their own life. In that respect, if they'd left-I'm not saying that I wouldn't be where I am now, but they sacrificed a lot for us. So for that alone, and the respect of my father, I should make them happy whenever they see what they've achieved and not the other way round.
Would you say this band is better than the former?
I think they're better than they ever were. The band is big that I don't really know how to explain it because everybody in it loves top play. Although they are not as younger like they used to but you can see the energy in them whenever they play. You can tell that they play a meaningful music, they believe in it and they play it like their music.
Is there an area of the music that Fela never touched?
Well, a lot. Fela was just the pioneer of Afro beat. But it's a shame that he's not here to reap the fruit of his labour.