Rave of Nollywood Nigerian movies shocked us in the West!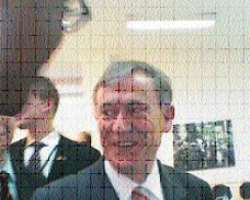 What makes the Nigerian motion picture industry so tick that it easily courts the attention of presidents and other highly placed people in society? The phenomenon that is now popularly called Nollywood started on a casual note in the early 1990s by a crop of experienced movie producers and traders.
Today, it has blossomed into social and economic reckoning such that it has earned Nigeria the enviable position of being the third largest movie producing country after America and India.
Last week at the Goethe Institut, Lagos, German president, Mr Horst Kohler and his wife, Eva paid glowing tributes to Nollywood in an epoch making reception, which witnessed elaborate interaction with top practitioners in the sector.
The German president who was on a short official trip to Nigeria described Nollywood as a refreshing medium of cultural and economic significance also wondered what the medium holds in stock for the country.
Kohler who confessed that he was perturbed upon watching a Guinean film at a festival in Berlin hinted that the film medium has now opened new vistas in the process of correcting wrong impressions about the African continent.
Said Kohler 'Nollywood no doubt has offered a refreshing angle towards redefining cultural developments in Nigeria, and indeed on the African continent.
It has come to correct our impressions about poverty, war, conflicts and intolerance that we usually attach to African culture. But it also needs to combine entertainment with didactic messages such as highlighting dangers of corruption and how it can be eradicated'.
Kohler who was received at the Institut by Arne Schneider, the out-going Director of Goethe Institut, culture workers and journalists also raised hopes on the possibility of collaborationss between Nigeria and Germany in the field of film.
On the challenges of using film as a medium of entertainment and instruction, Kohler tasked Nigerian filmmakers to work harder, adding that the role of film in social and economic development cannot be overemphasized.
Shortly before the President's address, Victor Okhai, popular filmmaker, analyst and scholar traced the success story of Nollywood from the casual, unorganized state to an enviable, economic giant that now creates jobs for thousands of people aside raising revenue for investors and producers.
According to Okhai, the secret of Nollywood lies in communalism and synergy of talents and forces. Whereas in the West, producers always wait for grants, in Nigeria, it is all about individual investment and communal goodwill. He explained further 'All of these factors combined have resulted into an industry that is today worth over 200million US dollars per year, employs directly over 40thousand people and provides further employment indirectly for over 250 thousand people, many of whom would have been on the streets.'
To sum up the success story of Nollywood, Okhai said 'Beyond our shores, Nollywood also provides not only entertainment but employment for thousands of people across the continent who sell, exhibit illegally and pirate these hugely popular movies for their sustenance…Today our films are watched all over Africa and in the Diaspora community all over the world. They have displaced American movies here successfully. And with better funding, more support and better distribution strategies, we may become a global force in time like Hollywood.'
Other Nigerians, particularly stakeholders who received President Kohler at the Goethe Institut include, Tunde Kelani, Kingsley Ogoro, Peace Anyiam-Fiberesima, Jahman Anikulapo, Sandra Obiago, Steve Ayorinde, Stella Damasus Aboderin and a host of diplomats and journalists from both Nigeria and Germany.