DOING BUSINESS IN NIGERIA IS NIGHTMARISH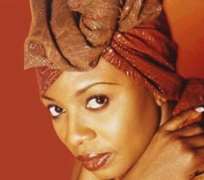 She is one of the many Nigerians abroad who heed the National call to return home and help contribute to the fatherland. She left the comfort and luxury of the American life. She was determined to contribute her quota but once, she got her fingers burnt in a business partnership.
That is Aju Elumelu, a business woman and an artiste. In spite of the seeming frustrations and heart ache of the Nigerian business environment, Aju is determined not to be counted as one of those returnees who couldn't make it, neither does she want to take her luggage and check out again.
In this interview with Woman of the Sun, recently, Aju Elumelu pointed out that it is a night mare doing business in this part of the world
Here are excerpts
Can you give me a sense of your background?
My name is Aju Elumelu. I am an international artiste. I am based in Atlanta, Georgia. Apart from being an artiste, I am a business woman. I started singing at the age of five. I started singing when I was five but my father had to put a hold on that. He said that I cannot go into music until I had a career. So, actually, I am a late bloomer in this business. But I thank God so far because my education has propelled me. You know, sometimes, your musical career becomes stagnant. My career has propelled me and helped to position me. I have worked for corporate America and working for corporate America means a lot of rigorous training
When did you relocate to Nigeria?
I have not relocated finally. I am just coming and two or three years ago, I started thinking of coming back home. Upon returning home, I started thinking about navigation business and that failed to scale through because I partnered with the wrong people and then after sinking in so much money, and just thinking that everything was over, because I sank in everything that I had. Having started this thing and everything about and I had put it together for four years and when I was slammed by the people, I decided to explore my plan B. That is why I said that it is important to have a career.
What has your musical career been like?
My career has been dead. Lately, though, I have been battling whether to move on to gospel or continue to stay with secular music. Each time, I want to write music, I end up writing gospel and secular, that's both at a time. At some point, I had to do some soul-searching and a lot of people have been so disappointed, because it was like when I came into Nigeria, my career started going up but I say to them that it might have been going up so fast but I knew I was going to crash because I realized that I had no foundation. I just came into a country and just everywhere, going to every place. A lot of people are shocked today that I have suddenly withdrawn.
Yes, it was very intentional. I had to hold back and build my foundation and be strong and walk again. And also do a lot of soul-searching because come to think of it, what do I really want to do?
I would like to continue singing but one thing that differentiates me from a whole bunch of artiste is that I have a career other than singing. Having worked in corporate America, I thank God that when I came back and in the course of my soul-searching, I thought of something the different companies need.
At other times, as human beings, we follow what other people do but I realized that in other to succeed, I needed to do other things apart from my music. In America, I used to look at a company and see their needs and provide for them. So, here, I thought, I should do that and that was what I had just done for Fidelity bank. It was massive show. About six entertainment companies came and the end of the show, NYSC said it was the best show for Batch A corpers. It was handled by my outfit, Aju Global Media. I provided logistics and everything.
Can you compare doing business here it with what you did in America?
It is simply nightmarish doing business here. This job that I had took me six months of 'come today, come tomorrow' It is so sad that someone gives you an appointment and you get there, it is like you never talked about it or as you are coming, they are walking away or they say, they not ready. It is a whole lot of endless stories and disappointments.
But the greatest challenge I have is where some people would ask you to sleep with them for stuff and so they can give you that job. You know, I never had that type of humiliation that one has to go through in this country, day to day. I said to myself, at least I can feed myself and if someone can look at me at this stage of my life and ask me to sleep with him before I can get a business deal or some contracts, then, I can imagine what Nigerian young girls pass through. They are seriously endangered. I find that completely humiliating. And I don't waste my time in telling me off because it is ridiculous. After all my education and at this level, a man would think that I must do some silly and demeaning stuff to gain his favour, I think it is not right. Another of the challenge is that after a job is done, they delay their payment.
Then, do you regret coming back?
No, I do not regret it. Most of my friends with all the zeal and aspiration and say it is going to be alright. Then after two years or so, they are frustrated back to the America. But I said to myself, I am not going to make that statistics. A lot of people have said to me when they see me going through change and wonder what I am still doing here. A lot of times, its been hard. Its been extremely hard and sometimes, I look at myself and say, is this Aju? But I know that this is just for a short while. It is temporal. I said to myself, my grand- father succeeded in this country, my father succeeded here, my siblings succeeded in this country, I am going to succeed in this country. I do not back down easily. I am a goal-getter. I believe firmly that I am going to succeed, no matter the seeming difficulties. So, I have single regret in trying to come home.
One would have expected you to have an easy ride on the Nigerian business circle given your family name, Elumelu?
A lot of times, people have said you are lucky, you are an Elumelu. Most of the time, I don't even attach my surname. I don't talk about my last name. I just go out there and want to be just Aju.
I remember when I wanted to get an MOU with DAASAT, that's AIT. It took me nine months and I flew into this country, eight times. I knew Raymond and Tosin Dokpesi very well. They have been there for me through thick and thin but they would be shocked that when I needed something, I had to go through the rank and file of the establishment up until it was time for Tosin to sign that paper, that is me. A lot of people will say, if you have that powered name, why do you choose to suffer? Why not throw the name about and leverage on it? I am one who believes in God. A lot of us share the name, Elumelu but I am the only one who is Aju.
First, I feel strongly that I should develop my name and secondly, I don't want anyone to take any credit for my success in Nigeria. I don't want anyone to think that I got through anything because of my surname.
How would you compare business environment with that of you native country, Nigeria?
In corporate America, it is not also easy. There's a lot of competition. It is a dog-eat-dog situation there but at least, you get the tools to succeed in life. You get a lot of training. If they train you on how to get what you expect, transition is easy. It doesn't matter who you are or your name, what matters is that you have acquired what you need to deliver. At least from point A to point B. People honour their contracts.
There is no question of come today, come tomorrow or some senseless delays
Companies here, even though, they know they will not give you this contract, they make you spring along endlessly with them as long as they keep seeing your face. They want you to be there all the time to massage their ego which is totally frustrating. I want to do something for the youths, over there, there is finance for you. There are plans for you. The corporate entities have philanthropic spirit and they are glad to do it.
What are you doing now?
Now, what I am doing now is essentially about the youths. I have always had the youths in mind. I thought of starting up something for the youths. I then, set up an agency and championing their course. I do it in America and in Africa, Gambia, to be precise. I do a lot of motivational stuff. In a week, I go to different schools for motivational speaking. And I said to myself, there has to be some sort of transitioning home because I have been reading quite a lot about Nigeria, and I understand that things were not too good at home then I said rather than being in America, I better come in and see how I can help. Every company I go to, my idea is how to help the youths and my goal is youth-oriented. I am seeking to bring attention to the Nigerian youth. We are trying to reach out to the youths. There is going to be a programme called from rags to riches. I want to use this opportunity to tell these youths that there are a whole lot of opportunities that they can cash in on. We can actually open up small businesses for them to run and the companies can help. It is a win-win thing for the company.
Why did you choose to work with youths?
I chose the youths because they are an integral part of a nation's development. You see, I understand that 70 percent of the Nigerian population, are made up of the youths and 40 million youths have no job. I feel really bad that this is the lot of the Nigerian youth. For them its all promises and nothing to show for it. And let me tell you, in the next five years, if nothing is done to help and develop the youths, it will be a disaster. It is going to be hard to walk the streets of Nigeria and see them neglected. There is a crisis already. These youths desperately need a helping hand. I tell you that some of them are so loaded with talents and if we don't harness all these talents, they will waste away.
But do you think government alone can help the youths or do it alone?
Everywhere I go in the world, it looks like Nigerian government is not responsible for everything. If you look at the moral decadence here, it looks like they don't want to do anything really serious but they just want to get by. However, the serious ones will exemplify with the skills and move in life to become useful citizens. This is the reason, through this youth development project and business development, I am trying to motivate those who are laid back and seem unserious. I don't give up on anyone.
And where do you think parents can also help them?
I used to do some kind of motivational speaking in America. I used to go to schools and I would love to go to schools here, as well or do it on TV where I can motivate them or bring people from different spheres of life to motivate them. We are in serious crisis and I see that parents are not doing their jobs. I think parents have abdicated their responsibilities.
We have lost our cultural heritage. We have lost out on a lot of things that make us a people. It is so sad that today, in Nigeria, children can't speak their mother tongues anymore. Meanwhile, most Nigerian kids in Europe, America and UK, are keen to speak their native languages because their parents teach them and are they are proud of their heritage. I wonder what has happened to those values we had as people. Unfortunately, it is the other way round here. Parents almost pride themselves in the fact that their kids can no longer speak their mother tongues but English.