Over 40 and still sexy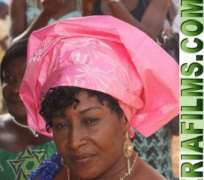 For these Nigerian actresses, age is just a number. They are all above 40, yet they are still as sexy as they come. They certainly know their trade when it comes to looking fabulous. They go all out to make sure they are the cynosure of all eyes at social events, thus retaining their celebrity status, even as they advance in age.
To these actresses, competition from the younger generation is virtually nen-existent as they have not allowed their age to deter them from looking hot and sexy.
These powerful ladies effortlessly make heads turn and as they grow old, they seem to look sexier and remain delectable.
Life&Beat takes a look at some of the actresses in the movie industry who are 40 plus, but show no sign of slowing down in the looks department Bukky Wright
Sekinat Oluwabukola Ajoke, popularly known as Bukky Wright, has hardly done any wrong when it comes to looking good and sexy.
The single mother of two kids, who has been surrounded by several controversies, is ever radiant.
As much as she is a delight to watch in movies, Bukky does not disappoint her admirers in real life. She goes all Wright out to make sure she blows people's minds with sultry and sexy attire.
A fashionista in every sense of it, Bukky Wright has gone ahead to create her own label, which she called the B-Wright label.
In an earlier interview, Bukky had said that fashion to her meant looking good always.
"When you intend to look good, it is not always convenient. For instance, you want to wake up in the morning, do some hours of exercise, watch what you eat and so many other odd things. Anyone out there that looks good and fit sacrificed a lot to be beautiful.
"You should look out for what fits you. Wear the make-up that is your colour; clothes that fit your shape; and above all, try and be neat always. I'm a kind of person that always wants to match whatever I wear," she had said.
A great lover of fashionable footwear, she says the secret of her good looks is that she searches for the products that suit her skin. "I stick to whatever is good on my skin. I wear a lot of moisturiser. I try to eat right and relax. I love doing the right thing and I believe every woman should do the right thing and live right," she says.
Shan George
Light-skinned actress, Shan George, is well over 40, but that is in number only. The babe, who spots a tattoo on her arm, still goes about in the skimpiest of clothes – and they look good on her.
Though the controversy-prone George may not be called a power dresser, she exudes sexiness, especially when she steps out in her shorts and tank tops, which she seems to favour almost all the time. Her cropped hair has also given her an image of a diva.
Known for dating younger men, George seems to look younger everyday and it doesn't seem she is ready to allow age to catch up with her looks.
Patience Ozokwor
Though in her '50s, Patience 'Mama Gee' Ozokwor has gained so much popularity since she came into Nollywood years ago. Her age notwithstanding, Mama Gee is not slacking when it comes to looking good.
Widowed many years ago, the popular actress, who has also shown that she has music talent, still turns men's heads with her beauty and sense of style.
A national award recipient, the actress, who is renowned for the interesting interpretation of her roles in films, has not allowed her age to make her look dowdy. She has retained her celebrity status by looking sexy and smart at all times.
Joke Silva
Joke Silva, the wife of veteran actor, Olu Jacobs, is simply fabulous at her age. The seemingly ageless screen goddess has always looked good.
She made a lot more people fall in love with as a judge at the Project Fame Academy talent hunt show, where she has exhibited her great fashion sense.
Lola Alao
Tattoo-loving actress, Lola Alao, clocked 40 last year and the saying that 'life begins at 40' holds true for her as her life seems to have just started. She seems hotter than fire now, and she is has not allowed her age to deter her from dressing daringly sexy.
With a seductive tattoo, which peeks out in her chest region, the single mother of one has not allowed the controversies that have surrounded her to affect her looks-wise. She still pulls it off at all times when it comes to style and panache.
Ngozi Ezeonu
With a smile that can melt many hearts, Ngozi Ezeonu is one of the pretty actresses in Nollywood. Though it was rumoured she was having marital problems, Ezeonu has not allowed such to mar her looks.
Not known to dress indecently, the pretty woman looks fabulous and sexy with her style at her age.
Florence Onumah
This list will not be complete without Florence Onumah, an actress who knows about the serious business of looking good.
Now a Zodaphone ambassador, Onumah is ever graceful and has not allowed her age to tamper with her good-natured dress sense.
Onumah has been in the industry almost like forever and it certainly doesn't look as if the lady is set to quit the scene, what with her suave looks.

Bukky Wright