JEGA FACES JUDGMENT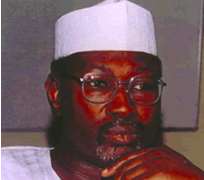 It is judgment day for National Chairman of the Independent National Electoral Commission (INEC), Professor Attahiru Jega. Did he fail in the just concluded national elections? Did he pass? Or he neither failed nor passed?
On April 29, I had done a piece with the headline: 'Jega didn't fail. But did he pass?' And reactions came in torrents, to which we dedicate the column today. Like the poet, F. O. Ekenna, wrote about judgment day:
Now is harvest time.
And the piquant smell of ripeness
Reminds me of the heavy gathering in
When all shall be assembled
And the sorting out begins.
Let me see - where shall I sit?
Where does Jega sit? With the sinners or the saints? With the failures or the successful ones? Below is the judgment, as given by Nigerians:
Electoral robbery
If you say Jega has not failed, then who takes responsibility for the electoral robbery in South-east and South-south? For some of us who hail from the zone, when otherwise respectable Nigerians hail Jega and the elections, we begin to wonder if Nigeria begins and ends in their parts of the country.
Samuel Emeka, Umuahia
He passed excellently
Jega passed excellently. The elections were transparent. He built mechanisms to detect electoral fraud. Any guilty person must be sanctioned and Jega's efforts must translate to true evolution of our electoral system. Okolie Eziashi, Onitsha
I'm worried
I'm particularly worried by the actions of the leaders and INEC helmsmen in the South-east and South-south who compromised integrity for a pinch of salt from the ruling class. I'm afraid that we're building on a shaky foundation. Cornelofia, Imo State
He didn't pass
Jega and INEC didn't pass because the outcome of the election didn't measure up to the goodwill, as well as human and material resources expensed. The massive rigging in the South-east and South-south makes a mockery of the whole exercise. I hope the tribunals will upturn the fraud.
James Austin Mbodo, Owerri
He tried a little
Jega don try small. Na those RECs be the problem. Do you know what happened in Ugwunagbo LGA of Abia State? It was one man 20 votes during the governorship election. PDP will kill this country. Anonymous
Half pass
I think Jega did well considering the nature of Nigerian politics. Well, I wouldn't say he failed or passed. Rather, I'll say he half-passed. Remi – Okeke Johnbosco, Aba
What we need
Jega passed, as he has given Nigerians what to build on. What we need today is a leader that will use the wealth of the country to transform the land. Goodluck Samuel, Lagos
Rough and bumpy ride
Having seen the pattern of voting at the presidential polls, it is evident we are a mere geographical entity. PDP will guarantee our rough and bumpy ride. Pity. Dr Ike Duru
Let's hail Jega
I think Nigerians should hail Jega. Compared with our recent past, he really tried, though there's room for improvement. 100% free and fair election is only achievable in Heaven. But I wish CPC well in court.
Oscar Okhifo, Uniben
Jega knows the truth
Jega knows the truth about what happened in all the states, he was just in a hurry to get the job done. This might be the worst election ever, considering the amount spent. Adeolu Balogun
I withdraw my earlier comment
Jega has not failed. Earlier on, I did aver that he failed. I hereby withdraw that comment with apology.
I.K. Obi
Made my day
Your write-up about Jega made my day. You coughed out my mind. Thanks. Engr Ezenma C.I
RECs failed him
Jega was in Abuja while the rigging was in the villages. In Umunochi LGA, Abia State, my hometown, there was no result sheet in many polling booths, and no voting, yet figures were released. Yes, Jega might pass, but the RECs failed him. Onyedinma Elvis
Losers always complain
Jega performed well, despite the minor irregularities in some places. In Nigeria, losers always complain.
Kenneth Nnorom, Corper, Edo State
Inflated figures
The presidential election result was inflated in favour of the incumbent, and the after effect is what we saw in the North. Politicians can't learn from past mistakes that led us nowhere. Time and the law courts will prove INEC right or wrong. Anyamele Samuel Chinaza
Let's wait
I hope Jega's name will not turn jagajaga at the end of the tribunal sittings. Let's wait. Nasir, Katsina
He failed to an extent
Jega failed to an extent. Before the elections, he told us that ballot boxes have serial numbers that can be tracked, even when snatched. But this happened all over, with the aid of INEC officials. Etid, Makurdi
No fail, no pass
Jega didn't fail, but he also hasn't passed. This goes beyond the electioneering period. Thomas George
Re: Jega didn't fail. But did he pass?
Bravo to you on this nice write up. You indeed actually captured a lot of issues of my interest in this one piece. And this is my contribution:
Jega as a person meant well by trying to give us a free, fair, credible and most peaceful elections but his efforts were sabotaged by first some RECs, ad hoc staff (NYSC) and the security agents.
Buhari should in no way be blamed for the aftermath violence of the presidential election but rather the FG and President Jonathan precisely for his weakness in handling security challenges of this nation. All the bombings prior to the election were enough signals that all will not be well with the election, especially in the northern region. Yet no proper security arrangement was put on ground.
To me Jega has not passed but he just put forth an average performance better than the previous heads of INEC. Just that in the midst of blind men, one-eyed man is a king. And that's why everybody is singing his praises. Igila E, Buruku, Benue State
Blinded by prejudice?
Why would we believe the votes from South-west (your area) and the North (where your icons had a good showing) but then throw the votes from South-east and South-south to the dogs. Let the evidence of this 'sexing up' of votes be produced. Let Dr. Kelechi Nwagwu produce evidence of RECs adding unused ballots to the PDP at the state collation centers. Moreover, RECs were not the collation officers; rather vice-chancellors were. I think that people should really moderate how they throw about accusations and charges of fraud. I can only talk about my ward and those in close vicinity; people evidently voted not the party but individuals depending on their perceptions. But if there is fraud, it is highly condemnable. Prof Chika Moore, Awka
Jega was helpless
A fair analysis of Jega. But there was little or nothing he could do with the padded votes from the South-east and South-south. If he had rejected the votes/results from the 11 states, he would have been accused of doing a hatchet job for the North considering the fact that he is from the Northern region. The people who could have done the quality control were the collation officers. Blaming non-adherence of PDP to its zoning policy for the post-election violence in the North is just part of the causative factors. To my own mind, it was sheer failure of intelligence gathering and non-pro-activeness of our security agencies. If they had done their homework well, they would have nipped the crisis in the bud and saved the country the national embarrassment.
Like you rightly observed, the election was a major step forward and we should indeed build on this baby-step success. What we must not compromise is the probe and adequate punishment for the perpetrators of electoral fraud and violence. Jide Ojo, Abuja
The truth shall be revealed
I was privileged to be part of a team who sacrificed all to support Gen Buhari in this journey when we know there was no money to even work with, but we were all looking to a great Nigeria that will come when Gen Buhari is sworn-in as the president. It is amazing that great men of God are falling because of religion. Knowing full well that Gen Buhari was not the one behind the violence, they still kept on accusing him. God will vindicate him because God can use anybody, whether Christian or Muslim. The truth shall be revealed in a short while. Samson Adebayo Ayano
Like tea without sugar
Democracy with 'flawed or arrangee' election is like tea without sugar, and will take us to nowhere but to violence and uncertainties. If there is anything to 2011 polls, it has exposed again the insincerity of some of the parties that claim to be opposition who have made their parties bargaining chips. They harm none but themselves, and one day Nigeria will be liberated without them. It is up to sane Nigerians from North and South to come together and start the struggle for liberation. Patrick Musa Yoca, [email protected]
Nothing has changed
Nothing has changed with the way our elections are being conducted. In the last national elections, minus in the South-west, we still had the Iwu-type of elections going on. In my village in Ahiazu Mbaise, voting at my polling booth started at about 9pm. Results being announced were completely non-reflective of figures being collated from polling booths. Maybe out fear of the heavy presence of the media in Lagos or out fear of Tinubu or in agreement with him, they avoided rigging the polls in the South-west. Or were they afraid of the wild wild west? Kelechi Bruno, [email protected]
You've said it all
In my state, Ebonyi, there was orchestrated rigging as occasioned by PDP in Ebonyi Central and South, all in a bid to return PDP candidates at all cost.
Onweson Ebenyi, [email protected]
My heart bleeds
That is my problem with Nigerians! Why do we become hastily excited and begin praises to high heavens when we are given just a portion of our inheritance? Do we even know that we have some inalienable rights at all? I solemnly pray we don't learn when it is too late. Adedayo Ajibare
We are in trouble!
If I am to assess the election, I will score INEC 48%. This is because in most of the states particularly in the North-west and North-east, there was massive rigging. Take Jigawa, Sokoto, Adamawa, and Kebbi for instance, PDP claimed to have won. Is this possible?
When people in those states where agitating for change? My candid advice is for the election umpire to call his RECs to order. Auta Muhammad S. [email protected]
Not different from his predecessors
Just as we had during the 2003 and 2007 polls, there was heavy presence of security personnel during the 2011 elections. Different types of armoured cars were used. Their presence went a long way to militarize the political space and culture. The various elections monitoring groups also reported cases of partisan involvement of security officials.
Professor Jega brought in academicians as returning officers in order to give credibility to the exercise. It is true that prior to his appointment as chairman of the INEC, he had not handled any national assignment of that magnitude. Given the initial failure to deliver in the registration exercise, and the national shame that the postponement of the elections amounted to (in spite of his broadcast that INEC was ready for the polls), he could only have desperately wanted to give credibility to the elections. It is noteworthy that the academicians so engaged were not field officers and would not know how the figures they announced with confidence were arrived at; especially given the allegations of allocation of figures and other electoral malpractices that vitiated the exercise. Therefore, the credibility of an exercise depends on the integrity of the process; not on those who were brought in (along the line) to give credibility to it.
At the start of the exercise, Jega demanded a princely sum of N87billion for the elections. With the bungling of the registration of eligible voters (and all the theories woven around it), he demanded N6.6billion for the extension of the registration by a period of one week. Furthermore, he demanded a sum of N5billion for plastic voters' cards. And he had also earlier assured the nation that it was going to be electronic voting (e-voting) with the help of the technological feat, the Direct Data Capture Machines. Prof. Jega should (as a man of integrity he is said to be) give the country a comprehensive account of how much he got for the entire exercise; and how the money was disbursed.
Finally, and like in the previous elections, we did not have the e-voting (as promised) nor were any plastic voters' cards given to voters. If he got, as demanded, the N5billion for the plastic voters' cards, he should know that his integrity is at stake as voters did not get them. If he did not get the money (N5billion), then, his demand must have been considered frivolous. Either way, his much vaunted integrity is at stake. Only a comprehensive account of the deals will assure of his high esteem. On the strength of the aforesaid, the elections under Prof. Jega are not substantially different from those of his predecessors. The mayhem we witnessed in the 2011 polls was never experienced in any previous election beginning from 1999.
Expressed in logarithmic terms, the mayhem is a geometrical progression of similar happenings in the previous elections. He might not have failed in his national assignment but his pass is with a big question mark. Like all his predecessors, his efforts are commendable. It should be noted that credibility is not a commodity but a coefficient. It is not purchased; it is earned.
Kalah Moshood, 08059957125.