Honour for Yeni Kuti at 50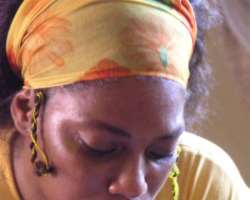 The Committee for Relevant Art (CORA) and Friends of the Arts (FOA) announced today, that they're presenting a special edition of the popular ARTHOUSE FORUM in celebration of Yeni, eldest child of Afrobeat legend Fela Anikulapo-Kuti.
Yeni, a dancer and administrator, clocks 50 on May 24.
A spokesperson for CORA says the event will take place on Sunday, May 22, 2011.
Ms Yeni Kuti, a prominent choreographer for the afro beat band Positive Band, is the daughter to the late Afro beat legend Fela Anikulapo-Kuti and elder sister to Femi Kuti who is the founder and leader of Positive Force.
The forum which will serve as a build up to Yeni Kuti's birthday celebration on Tuesday, May 24, 2011 will focus on the theme: FROM BODY GYRATION TO CHOREOGRAPHIC ART: Evolution Of Afrobeat & Music Band Dance.
The aim of the forum is to 'examine how the intervention of Yeni Kuti in Afro beat Dance changed the dynamics and culture of Music band dance in the last two decades'.
Guest speakers at the forum include the lead speaker Dr. Sola Olorunyomi – Lecturer at University of Ibadan, Mr. Benson Idonije – Music writer and first manager of Fela's Koola Lobitos band, Dr. Esuola – Scholar on Fela's Afrobeat, University of Lagos, Latoya Julius-Ekemode – Culture activist and choreographer of Orlando Julius Band and Segun Adefila – Artistic Director, Crown Troupe of Nigeria.
The forum will be moderated by Arnold Udoka – National choreographer, Director of dance, National Troupe of Nigeria and will see performances from Crown Troupe of Africa and Adunni and Nefertiti.
The venue of this forum is the Freedom Park, Broad Street, Lagos and will commence from 12 noon.
The Arthouse forum is a social gathering with generous dose of discussion in honour of an art personality who has contributed immensely to the flowering of a vital aspect of our cultural industry