From Port Harcourt, Ijeoma Peters steps into Nollywood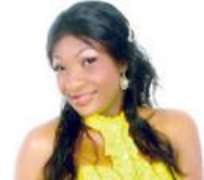 ALL her life, she had waited for this moment, a moment to showcase her natural talents and the first step is to break into the nation's movie industry otherwise called Nollywood
But delectable actress, Ijeoma Peters, had to wait till she got to her final year in the university to begin her journey to the world of fame and probably fortune. Peters who is in Lagos to pursue her acting career spoke in a statement signed by her publicist, Media Image Managers. "I am in Lagos at the moment to study the terrain because for one to be a successful Nollywood star, Lagos is the place to be. And I am happy to be in Lagos, I have met with a whole lot of industry people and I am also lucky to have a good outfit that is now my publicist," she said.
The final year political science student of the University of Port Harcourt is not new to the world of make-believe having taken part in many home movies in the past such as Fulton Mansion, World of Sin among others. "I played minor roles in those movies because I was just starting out, but later producers who saw what I did started hunting for me. I decided to come to Lagos because like (James) Hadley Chase said, it's better to be a big fish in a big pond not a big fish in a small pond. I am in Lagos to be a big player instead of being a local star in Port Harcourt."
Unlike most artistes who told stories of how their parents kicked against their artistic careers, the case of Ijeoma Peters, who hails from Abia State, is different. "I have the full support of my parents; they have been quite supportive since my very young days that I indicated interest in acting. I have their blessing when I decided that it was time to move to Lagos to pursue a life-time dream, the funding and all is coming from my parents. They believe in me."
The actress has reached out to producers in Nollywood. "It's been quite a successful few days in Lagos, I have been in touch with top Nollywood producers, I noticed that films are no longer churned out in large numbers unlike in the past. That makes it better, because the small numbers of films that are released now are of top quality and highly rated. So it will be good to star in such movies. I had some useful discussions with the producers I met; they have seen some of my works and are eager to work with me very soon."
The actress, whose role models in Nollywood are screen queens Genevieve Nnaji and Omotola Jalade-Ekeinde, is aware that it won't be an easy ride to the top in Nollywood. "That I am aware of, but the truth is, I came prepared because I am on a mission to achieve something and reach my desired goal in the movie industry. I could have just resigned to fate and looked for a job in Port Harcourt, but acting is my life and that is what I am going to live."
After acting for a while, the actress plans to go into film production and directing. "That is one area I would also like to try my hand on, after acting for a while. I have done courses at the New York Film Academy the last time they came around to Nigeria and I have had some studies in acting, directing and producing all in my build up to coming into Nollywood. Like I said, I came prepared so I am not just a pretty face and a wannabe green horn searching for fame. I am not particular about the fortune, I want to make my mark in the film industry and that is what I am going to do in the very near future," she submitted.