POLITICAL OFFICE IN NIGERIA TOO ATTRACTIVE -DON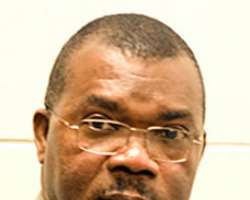 A professor of Economics and Finance, Alabama State University, Prof Uchenna Elike has attributed the political violence, which almost marred the recent general election to the attractiveness of political office.
Elike who is also the Coordinator, Nigerians in the United States for Jonathan/Sambo project 2011 said that if the gains of political office were made less attractive, the do or die, which has characterized politics in the country, would be a thing of the past.
He argued that government should set up machineries to check mate the excesses of political office holders adding that in the other climes, politicial office holders don't live larger than live as they are doing in Nigeria
Elike believe president Jonathan's victory would usher in a new era in the Nigeria's history.
He said: 'I want to say that one of the reasons election in Nigeria is like war is due to the attractiveness of political office. It is because of this that every politician is ready to do anything to make sure that he gets there. But if the office were made less attractive, the competitiveness would not be as hot as it has been. It is also because of this that technocrats who ordinarily would have wanted to move the Nigeria' economy forward are not showing keen interest because they would not want to descend to the animalistic level of the typical Nigerian politician. In the other climes, especially in the United States and United Kingdom, which I am very familiar with, politicians hardly do anything extra ordinary to win election because there is nothing much for him there. Over there, political office means public service and as such it is only dedicated people that show interest.'
In this interview, Elike spoke on the post presidential election violence, the need to involve technocrats in the cabinet of president Goodluck Jonathan and on other issues
According to him, there is no reason to result to violence in an election that was judged to be free and fair by the international community.
He said if people were aggrieved, the election tribunal is there to listen to election cases. He said that it is wrong for people to have a mindset on the outcome of an election as people are getting sophiscated by the day.
'Nigerians living in the United States condemned in its entirety the post presidential; violence that saw to the massacre of many innocent youth corpers members and other Nigerians. I strongly believe that there is no reason for that. But the reason, I suspect is that some people have this mindset that things will always go their way. But that is no longer the case. The wind of change is blowing everywhere. Few years ago, if you tell an America that a black man would be the president of America, he would tell you that it is impossible. But in 2008, we all saw it. It was a change that its time came and as such there was nothing any body could do about it. A black man became the president of the United States, which is like being the president of the whole world, and heaven did not fall. So, we should stop having mindset on issues because winds of change are blowing across the world. I also want to tell President Jonathan to make sure that the slain corpers are immortalized since they died on active national service and for their families to be adequately compensated.'
He also said that President Jonathan should make sure that technocrats are adequately represented in his new cabinet.
According to him, it was technocrats that made the difference in the administration of former president Olusegun Obasanjo.
He said that technocrats are abounding both in the country and out side the country; adding that matters of economy should be handled by technocrats rather than by politicians.
'One of the things that endeared Obansanjo's administration to the international community was the use of technocrats in his economic team. When he appointed Prof Ngozi Okonjo-Iweala, his Finance Minister, Prof Charlesa Soludo, the Governor of Central Bank and Oby Ezekwesili, his Minister of Education, the international community felt that Obasajo was serious about moving the economy of the country forward and you can see what his economic team achieved because they were technocrats with international clouts. That was one of the reasons, the international community agreed to cancel Nigeria's debts. They saw seriousness in the composition of Obasanjo's cabinet. In the same vein, I am telling President Jonathan to appoint many technocrats in his government. In Alabama State University, I am the chairman of MBA students and I know that a lot of Nigerians with brain and passion for service abound in the United States and other parts of the world. If they are appointed, it would give his administration a lot of credibility.'
The coordinator of Nigerians in the United States for President Jonathan /Sambo said that the election which prof. Jega conducted had boosted Nigeria's image in the international community as a true democratic nation.
He said that it is fact that the western world are always skeptical about things coming from the so called third world Nations but election which was free, air and credible had shown them that Nigeria has the capacity to do right things.
However, he said that the Independent National Electoral Commission (INEC) should try to extend voting rights to Nigerians in Diaspora since they are part of the country.
'I want to commend Prof.Attahiru Jega for making Nigerians proud by conducting a free, fair and credible election. I know that some communities have concluded that the election would fail and once that happens we in Diaspora would begin to hide our faces in shame. But this time around, Prof.Jega has made us proud.