WITH MY BEAUTY, I'LL CONQUER NOLLYWOOD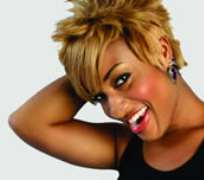 To the lovers of popular television drama, Superstory and sitcom Papa Ajasco, Olatunde Abiola is not a strange face. But in this age of rebranding, the young, pretty and talented actress is set to move upscale. Right now, she is gunning for the big league in Nollywood. Here, Abiola reveals to Blockbuster her strategy to conquer the movie industry. Excerpts:
Background
My name is Olatunde Abiola, I am 24 years old, and I am from Abeokuta, Ogun State. I'm a model, actress, and dancer. For me, growing up was fun. We didn't lack anything. I was allowed to express myself. I had my kindergarten and primary school education at St. Margaret and Convent Primary School in Maryland, Lagos. I attended Queen's College, Lagos, and later studied Fine Arts at Obafemi Awolowo University, Ile Ife. I did my NYSC in Jos. After school, I have tried my hands on the canvass. I do it mostly on orders though, it's been a while. I have also tried my hands on fashion. But right now, I'm ready to take Nollywood by storm. I am going into acting full time.
Not a feminine name
The name, Olatunde actually came as a result of giving birth to me 10 minutes after my father's death. My dad's name is Olatunde Abiola. So, when I was born I was just christened Olatunde in memory of my dad, not minding it wasn't a feminine name. In fact, when I was younger, I didn't like people calling me Olatunde because I was ashamed of it. But now I am used to it. The name gets me a lot of attention, so I like to be called Tunde.
I resemble grandma
As I said, my dad died shortly before I was born so, I didn't have any close contact with him. I know what he looks like; I have seen his pictures, which were mostly black and white. I look more like my paternal grandmother. I have little resemblance of my mum as well but my fair complexion resembles that of my maternal grandmother.
Modeling
I started with modeling. One day, while in secondary school, I went swimming with my classmates. A photographer came around but all the girls were shy to pose for photograph because we were all in bathing suits. The photographer took a picture of me and my cousin who was a model kept the picture in her handbag. Then one day, her agent saw my picture with her and he liked what he saw. The agent later submitted my picture to Coca-Cola and they requested for me. That was how my modelling career started. After Coca-Cola, Dudu Osun requested for me, then MTN. So, I didn't experience the hassles models face to get jobs. For me, modelling was easy.
From modelling to acting
When I was in secondary school, I used to take part in some stage plays. I was engaged in acting and dancing. In the university, a friend of mine was going for a movie audition and she wanted someone to accompany her. I decided to go with her. On getting there, I discovered that it was Wale Adenuga's production. There were lots of people who had turned up for the audition. I also did the audition and got a role. The first job I did with Wale Adenuga was Superstory where I played the role of Diane, the girl that stole the lead actor's money; that led to trouble in the house. The role was like a child's play to me at first but it later became important when I started hearing comments everywhere. My first encounter with Wale Adenuga was amazing. I didn't have a problem with the production company, in fact, I still did other jobs with them including This Life, Papa Ajasco, etc. I have also done Girls Next Door with FAD Productions. Basically, I have worked more with Wale Adenuga.
Between acting and modelling
I enjoy both modelling and acting. But I would choose acting if asked to make a choice because of the different roles and the excitement. However, I still love modelling because that's where I started from. Modelling pays than acting, it's only the celebrities that get paid better in acting. The only challenge in modelling is time management because when you go for auditions they waste your time.
Modelling and sexual harassment
Honestly, there is sexual harassment in modeling but it happens to those who don't know their worth. Some people fall for it because of lack of self-esteem, and at the end of the day, you are not paid well. I have been sexually harassed too. We went for an audition, we were there early but we left late. The man deliberately asked us to wait from morning till night, and when he eventually called me into his office, he started making advances, and I had to leave his office in anger. The other girl that was there also left. Since then, I have not returned to do any job with the agency.
My kind of man
I feel on top of the world when I get advances from men. I feel there is no other girl like me. When I see a guy I like, I can't make a first move but I would get his attention to ask me out. If I wasn't a Nigerian, I could make the first move but in our community it is not accepted because when you do, you might be seen as cheap. My kind of man should be muscular. What matters to me in a man are the looks, his manner of approach, his mode of dressing, and then he must know how to love me. Right now, I am in a relationship. My man is very supportive, he gives me advice.
Showbiz for life
I can't see myself getting out of showbiz, and I don't think any man can get me out of it. I don't think I would marry a man that would not let me go for my heart desire. If I'm going to be with a man, he has to know me before we go into the marriage.
Current work
I am playing the lead role in a new movie being produced by Black Image Productions. We are already on location. It's a musical movie, the first of its kind in Nigeria. It's just like Fela on Broadway. I am sure by the time the movie hits the cinemas, Nigerians will see the stuff I am made of.
Hobbies
My hobbies are cooking and dancing. But then I relax by staying alone.