I am everything that represents womanhood - Ngozi Ezeonu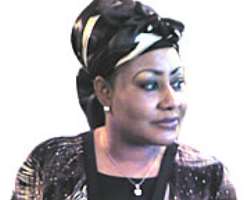 She is the opposite of the images she portrays in movies: She is quiet, soft spoken and could be shy. Her sojourn into acting started when Zeb Ejiro spotted her doing some modelling jobs. Something in him told him that she could act and based on this, he gave her a trial by giving her a role in Nneka, the pretty serpent. The trained journalist spoke to Adia Ukoyen, in Lagos, about her dreams, and the gains and pains of stardom.
Did you ever envisage yourself becoming an actress?
I must confess that earlier in life, I never planned to be an actress. I had always wanted to be a journalist. But when I came into what I am doing today, I liked it and I don't think I have any course to regret it.
What was the support like from your parents?
I remember that I made my intention to become an actress known to my mother initially. She said over her dead body. This was as a result of her belief that if I go into it, I won't get married. She was strongly of the opinion that those who go into acting, do not get married. However, my late father came into the matter, educating her. Unfortunately, she refused to understand. And as a result, I had to persevere in the profession. After a while, she gave up the fight and began to like the acting profession. She then showed her approval formally. And that was how this hiccup came to an end.
But in case of the industry, there was little or no hiccups because as at the time I came in, people were not as many as they are now. The number of people in Nollywood has, obviously, made the scene so rowdy and unorganized. Despite this, I was able to rise according to the wish of God. I thank Him seriously for this, for making it possible for me to climb easily, despite the odds.
In those early days, what was the experience like?
It was not actually a bed of roses for me in my early acting career. I did many acting auditions and failed some of them despite my talent, and as a result missed some jobs. This may have to do with the fact that I may not have given them my best, or perhaps I did not fit into whatever thing they wanted me to do. Well, I didn't take any offence because man proposes God disposes. And His wish would always come first. This, I know and respect too, so, if one is not somewhere as a result of the wish of God, he is not there and that's all.
How did you react to the disappointments?
They had no negative impact on me. Rather, I took them as a challenge to work harder and forge ahead. What I am and where I am today, is the result of my resolution not to be discouraged by anything that may have happened to me in the past. I give God the glory for where I am today. Although, that is not the ultimate. I am still looking forward to three levels away from here.
So far, which has been your most challenging role?
All the roles I have played so far were very challenging. However, one just stood out. That one was where I had to play a barren woman while I was actually pregnant. It was one challenging irony that I had to actualize by all means and successfully too.
Luckily for me, the marketer, director and others put in their best to make the production superb. That was in 1995. It was an Amaco Investment production, directed by Chika Onu.
How rich has Nollywood made you?
I am happy to say that payments have improved seriously over the years. It is no longer the pittance we had been contending with in those days. Although, it is far better now, but with time, it could still be better.
Would is be correct to say that you suffer stereo type casting because you mostly play the role of mothers in films?
I think I have always been lucky to get roles they think I can carry, and the ones they feel I cannot say no to. I notice that most times, I have been given the roles of mother to play and each time, I played them well. I think my ability to do this satisfactorily tied to the fact that I am everything that represents motherhood get me the roles. I am also everything that represents womanhood. I want to state here that any producer, director or marketer who wants to take me outside what I believe I truly represent, I will not embrace such gesture. Oh yes; no matter the good intension. I once experienced somebody who wanted to take me outside this and I vehemently turned the offer down. Till date, if you bring a script I don't like, I will simply turn it down, irrespective of the amount. To me, this business is not all about money. It is also about principle, integrity and beliefs. These I guard jealously.
What are the gains and pains that fame has brought you?
Acting has brought me into everybody's home. It has really opened doors for me anywhere I go. It is interesting that people can just stop me on the road and confess openly that I have affected their lives positively. I can tell you right away that with God, all things are possible. I have taken such firm position because a lot of good things have got to me through acting. The pains? You do so much without commensurate rewards or gains for these. It's so disturbing and painful. For instance, you may claim that you have done more than a hundred movies. But somebody from Hollywood who may have just done only two may have more concrete achievements to show for his efforts. It's unfortunate and saddening too. However, I know that this situation is temporary because things are steadily getting better by the day.
I remember that in the early days of Nollywood, we were receiving peace meals as fees. But today, the scenario has changed greatly for good. A lot of us can now boast of cars, in fact good and presentable automobiles. It was not like this before. Most others who prefer to own houses first, have beautiful ones they can proudly point to any time, any day.
Fame obviously comes with responsibility. I won't say burden. Your family looks up to you for a lot of things and you must live up to these. When others are bringing 10 kobo, definitely you are not bringing 10k. Yours may be as much as N10. That's it! The price of fame. This is so because they see your
posters everywhere. To them, you earn millions. So why should you pay 10k which others pay? The funniest thing or irony of your situation is that you are not allowed to explain the reality of your financial situation. In fact, any attempt is simply a pitiable waste of time and energy, because nobody would be willing to listen to you.
So how do you get out of such mess? Your predicament remains so because you are a star and as such, should live up to everybody's expectation. Nobody wants to see you walking around in bathroom slippers. This star thing has in fact made it impossible for me to go under the bridge or a roadside buka and help myself to a plate of food. However, when I mean to go under the bridge to buy my corn or Akpu I won't look at anybody's face once I spot anything I love there, forget this star rubbish. Haba! I no be human being again? That's just me for anybody. Once in a while, I try to be myself.
How has it been juggling your acting career with being a mother and a wife?
It has not been easy. I give thanks to God for making me combine motherhood and acting successfully
How would you describe your person?
Ngozi Ezeonu is first and foremost not the outgoing type. This, I must confess, has to do with the kind of person I am. It takes time for anybody to spot me at any party. However, I do once in a while in thecompany of my family. Although, back in the days when I was much younger, I partied like others, after-all, I was more active, adventurous and also in the midst of peer groups. You see why it was inevitable then? But now that I have transformed naturally, I have to reflect this in my life and living. It is very important for me. Today, I can't imagine myself clubbing for whatever reason(s). I socialize at home when there is an obvious reason for such.
What is your assessment of the industry called Nollywood?
Everybody involved in Nollywood and making it what it is, are all wonderful people. Without them, there would be no Nollywood. My special thanks go to the marketers for believing in Nollywood and for also sustaining it at all cost. Without them, there will be no Nollywood. It is on good record that they single handedly made everyone of us. From the onset, corporate bodies or government were not there for us.
It was at such significant time, that those marketers, traders came into the picture to ensure that there is what is today known as Nollywood. We owe them a lot. I think we are doing a lot with limited resources at our disposal. If we could achieve this lot, then, we should pat ourselves on the back.
With the perception of Nollywood outside our shores, I see it overshadowing Hollywood sooner than people think. Although, I know and believe too, that nothing good come easy. There are bound to be hiccups on our way to the top. It is like a case of having a child who must naturally grow. In course of this, he starts learning how to walk first and later, starts to learn how to do things for himself. He must fall, rise and fall again to stand firmly finally. It is bound to be so until we get to where we are going to in Nollywood.