No Regrets Over My Failed Marriage...........Steph Nora Okereke,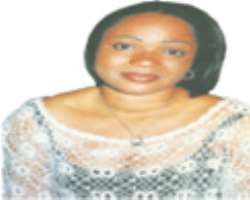 Few weeks ago, the Scriptwriters' Guild of Nigeria had its week. At the gathering with major stakeholders in Nollywood, was Steph Nora Okereke, who glided into the workshop venue in Lagos wearing a long sleek brown satin gown that clung to her like a second skin. She looked young and sexy like always.
For more than a decade, that face has captivated millions in Nigerians and beyond.
Commenting on her presence at the workshop, the screen diva said: "I do not only act, I write scripts as well. Actually, I started out as a scriptwriter. I studied playwriting as well so I'm part of the writers, I'm not just here to give my support, this is really my constituency so to speak.
"Like I always tell people, the writers are the geese that lay the golden egg, movie making starts from the script so if the system is to be changed, it has to start from the script."
Commenting on the value of a good script, the sultry actress revealed that she still has many scripts, which the producers cannot afford.
"I still have scripts I have written for years but I cannot give them out for nothing. I would rather produce them myself when I'm ready," she said.
She advised scriptwriters not to compromise their standards or sell their patent for pennies.
"The worth of creativity cannot be equaled. Scriptwriters should not sell their copyright or compromise," she said.
Looking at Nollywood at present, she also has a few words to say concerning the disagreement between marketers and the National Film and Video Censors' Board (NFVCB) "To me the situation is a conflict of understanding. It is like someone said, 'oh, you have been doing this thing all this while, now I notice you are really interested in doing this thing but you are not really doing it well so let me help you, well, I don't have anything to say because the marketers have led us all this while, now the government wants to take us to another level so this should not be a disagreement. What the two factors need is dialogue. They should go to the table and sort things out."
Aside acting many do not know that Steph Nora is an event manager. Her company, Afro Vision, is involved in production and event management.
Speaking on what Afro Vision is working on she said: "I have an event coming out next year, when my company and some other companies will be bringing everybody in the entertainment industry together, that is drama, dance, music. We are planning to have a week, something like the scriptwriters week, where we can come together, have a workshop, awards and recreational events. That way we can really sit down and think; what's wrong with the entertainment industry in Nigeria? How have we done so far? And how are we going to the next level?
The Nollywood ageless actress who sees herself as an all-encompassing artiste also has a lot to say about her art.
"I'm first a playwright. For five years I studied playwriting and have my certificate for that but I'm also an artiste. I'm not just an actress, I'm dynamic, I sing, I dance, I'm not really restricted."
In terms of music, "I don't really have an album but when I was in school I used to do shows but right now I have just left it for a while but I will explore it later. Right now I do not really have the time to go to the studio and stuffs like that."
She has not been featuring in movies recently because "I choose what movie I act in. I cannot just accept to act in any rubbish movie that does not make sense to me. I'm a perfectionist, I like movies that have a good storyline, so I tend to choose the movies I feature in. But I have been doing quite a couple of movies right now and some soaps such as Family Ties among others."
Although there has been controversy surrounding Steph's short-lived marriage, she refused to comment on that.
Steph Nora got married to actor and producer, Lanre Falana in 2002 but the marriage later hit the rocks.
Hear her: "I don't have any regrets about my past marriages."
What she would rather talk about is the secret of her youthful beauty.
"I have been resting very well these days. I have been sleeping, resting and getting my mind off a lot of things that's why."