PRESIDENT JONATHAN EMBRACES MUTAUL CAPITALISM AND PARTNERSHIP, SO SHOULD OUR PUBLIC LEADERS AND INSTITUTIONS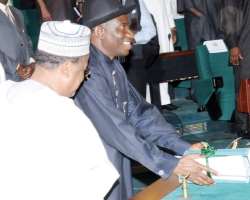 PRESIDENT GOODLUCK EBELE JONATHAN ASSISTED BY HIS SPECIAL ADVISER ON NATIONAL ASSEMBLY MATTERS, SENATOR ABBA-AJI PRESENTING THE 2011 BUDGET PROPOSAL TO THE JOINT SESSION OF THE NATIONAL ASSEMBLY A FEW MONTHS AGO IN ABUBA.
President Jonathan plans to use more than 'government-help-only', to pursue various avenues for development in education, healthcare, road care, electricity and other areas in order to build a very strong national enterprise and economic foundation for our emerging democracy.
Recently, the President showed everyone that in any area of national development, as in university development a quicker realization of a project is more of a possibility with the aid of the government and private sponsorship.
He successfully urged individuals and corporate entities to support the new federal university in Otuoke, in the State of Bayelsa, an idea that is beneath what could be called mutual or communal capitalism.
It is true that some existing public institutions like universities are in a state of deteriorating condition, partly because a typical Nigerian university is stubbornly and helplessly dependent on the government for 'everything'.
President Jonathan's recent steps with the new Otuoke University as it relates to a recent fund raising from various individual and corporate donors, should serve as a firsthand model for public or government related institutions.
Now, there is no reason why the leadership of a public university cannot aggressively sort out successful individuals, business moguls, corporate presidents, wealthy chieftains, and rich families to help develop or replace that rotten classrooms, hostel, library , cafeteria, or laboratory in a university environment.
On a psychological and social level, naming a public entity or element after or during the life of the wealthy is idealizing to the wealthy!
Our institutional leaders like those in the higher institutions should make it a tradition to name a campus or any of its specialized colleges after past or living wealthy persons who are privately, sometimes worried about the quality of their legacy.
For example, a struggling Nigerian State government and its leadership should learn to strategies transformational plans by learning to partner with a more wealthier State government, as such, joint venture could reduce over-dependence on the federal government.
Partnership whether it is with an individual, corporation or international body has been known to help boost various types of development. It is especially essential that public entities like public universities show businesses the necessity to serve the needy such as university students. It is essential to make this form of Nigerian development or agenda, in regards to educational growth a part of their mission and in the same vein governmental bodies need to see private corporations as potential partners for our collective progression.
It is also time that public entities like universities start buying into the idea of reaching out to the global markets , the technologically driven economy especially and partner with essential segments like pharmaceutical companies, energy companies, telephone companies, banking corporations, and healthcare corporations.
It is expected that in any potential partnership as it relates to creating mutual capitalism there is bound to be skeptics, as such it is very vital that for leaders who want success and want to overcome that bad image known about Nigeria, begin to maintain a fairly high standard of morality and ethics.
As we enter a new and newer Nigeria the most enthusiastic public entities, leaders or universities should begin to gravitate into a state of the positive environment and practice. And for those public institutions that remain pro-government as it relates to dependency, they will continue to fall behind, struggle to catch up and face abandonment as the people will gradually run away from them and the government machinery will as usual not deliver fully like private corporations and leaders.
The National Assembly or Legislature could pass laws stating that those public agencies and international corporations that strive to help ordinary people or needy public entities should look forward to various types of graces and tax breaks since genuine benefits to all is all that counts. Today's Nigeria means business and that constitutes a spirit of partnership.
John Egbeazien Oshodi, Ph.D., DABPS; FACFE; is a Licensed Clinical/Forensic Psychologist; Diplomate of American Board of Psychological Specialties; Fellow of American College of Forensic Examiners (For Psy); Former Interim Associate Dean and an Assistant Professor of Psychology, Broward College - North Campus, Coconut Creek, Florida.
Disclaimer:

"The views/contents expressed in this article are the sole responsibility of the author(s) and do not necessarily reflect those of The Nigerian Voice. The Nigerian Voice will not be responsible or liable for any inaccurate or incorrect statements contained in this article."
Articles by thewillnigeria.com