Senate Presidency: Senators Reach Near Consensus For Mark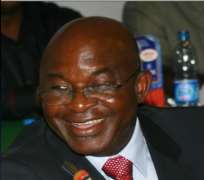 ABUJA, May 08, (THEWILL) - Internal campaigns, horse-trading and high wire politicking for the Senate Presidency intensified at the weekend, but all pointed towards the return of the incumbent, Senator David Mark (PDP Benue).
To consolidate Mark's return as Senate President, supporting senators have collapsed into zonal cells arrangements to galvanize support for him.
Also Mark who reports indicate is being backed by the Peoples Democratic Party (PDP) leadership and the Presidency may have similarly received the crucial backing of the major opposition party; the Action Congress of Congress of Nigeria (ACN).
THEWILL learned that the cell arrangement is not only for senators to campaign for Mark's return in the six geo-political zones, but also to mount pressure on the new senators to vote for Mark irrespective of party affiliation.
A major directive to the cell coordinators sources at a meeting on Sunday disclosed was for the campaign focus to be based on merit and retention of ranking rule.
Consequently, geo-political linkmen were appointed ahead of the inauguration.
THEWILL gathered that ACN Senator-elect Chris Ngige is to coordinate the South East and woo particularly new senators from the zone, while Deputy Leader Victor Ndoma Egba, is to push the campaign in the South South zone.
Mark was also said to have held a meeting with PDP Senator Elect Abdullahi Adamu who is touted to be nursing a similar ambition; " and the former is said to have agreed to support him." This was however yet to be confirmed at press time.
The President of the Senate in the same vein met with Senator-elect Ali Ndume (PDP Borno) over the North East. Outcome of the meeting still being awaited.
However, the ACN has reportedly reached a consensus to back Senator David Mark. The deal allegedly struck with the party leadership would see Senator Ganiyu Solomon and Senator Olorunimbe Mamora coordinate support amongst South West senators for Mark.