CAF CHAMPIONS LEAGUE: ENYIMBA CRAWLS INTO GROUP STAGE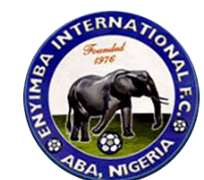 A 68th minute penalty kick by Victor Barnabas was all Enyimba needed to qualify for the group stage of the CAF Champions League.
Playing in front of a mammoth crowd at the Enyimba International Stadium in Aba, the People's Elephant defeated hard- fighting Ittihad of Libya through penalty.
Enyimba's striker, Victor Barnabas, was brought down by the Libyan goalkeeper and the centre referee spotting the infringement, awarded a penalty, which was neatly slotted into the net by Barnabas.
After the goal, the Libyans came out forcefully in their bid to level the scoreline, but their efforts could not yield any meaningful result as they failed to find the back of the net. Enyimba, on its part, tried to increase the tally but failed to score again.
Reacting to the home victory, Coach Okey Emordi expressed delight with the performance of his boys, promising to fortify the team for the group stage of the Champions League.
Emordi, talking tough, said that he was not afraid of the North Africans, who are the likely oppositions the Aba giants would be facing in their next game to progress in the lucrative CAF Champions League.
Enyimba has been relieved the burden of travelling to Libya for the second leg as CAF had already taken a decision that the match would only feature a one-legged encounter, owing to the political unrest in Libya, where pro- democracy fighters have gone into war with the Libyan leader, Mummmar Gadaffi, who has ruled the oil-rich country for 42 years. Last month, CAF placed a fine on Enyimba in its last Champions League game against Gabon, after spectators invaded the pitch in celebration of a goal that propelled the team this far in the competition.
In the Confederation Cup second leg match played in a harsh weather in Bobo Dioulasso, Burkina Faso, Sunshine Stars were able to hold their hosts for the better part of the game before finally succumbing in the 72nd minute before Abdelfatai Suleiman broke the deadlock for USFA's only goal of the match.
But for the heroic of goalkeeper Moses Ocheje, Sunshine Stars could have conceded more goals as the Flying Eagles' former goal tender made some point blank saves to deny USFA qualification. Despite the defeat, Sunshine Stars qualified for the group stage of the Confederation Cup on a 2-1 aggregate score line after winning the first leg in Ijebu Ode 2-0 a fortnight ago.