TRUTH WON IN IMO - OKOROCHA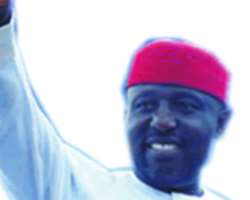 The newly-elected governor of Imo state, Owelle Rochas Okorocha, on Saturday declared that his victory at the polls is the triumph of truth over falsehood, maintaining, 'this will be beginning of the end of the attitude of people foisting leaders on the people of Imo.'
Speaking in an interview, the elated APGA candidate also disclosed that he was not party to the decision to halt Friday's supplementary election.
He said: 'I was sure I would win. 90 percent of the people of Imo support me and as such I was confident of victory. Regarding the case, it would shock you that I was not even aware of it. I was not the one that went to court. It was the party. I have no reason to doubt that I would win. I didn't go to court because I was not afraid of what the verdict of the people would be.'
Okorocha added that he would run a populist government stressing, 'Mine would be a government for the people and I will be the people's governor.'
The governor-elect also praised both the officials of the Independent National Electoral Commission (INEC) and the security personnel deployed to the state.
He added: 'If all elections are like this, our democracy would soon become like that of the United States. The INEC officials that came proved themselves as national commissioners who are very credible and stood for the truth. The army and the police too were commendable; they stood for the truth and refused to compromise the truth.'