ASARI DOKUBO'LL RUIN JONATHAN, SAYS DAVID WEST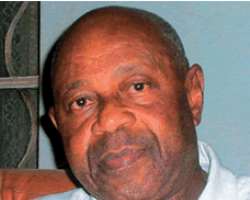 They are blood relations, first cousins actually. But, former Minister of Petroleum, Prof Tam David-West and leader of the Niger Delta Peoples Volunteer Force (NDPVF), Asari Dokubo, rarely see issues from the same prism, even though both had been close at a time. In an interview he granted Saturday Sun, recently Dokubo had made some remarks, which the old professor considered rather inflammatory and denigrating on a section of the country.
In the published interview entitled:'If Buhari is arrested, nothing will happen', the Niger Delta militia leader had called for the arrest of former Head of State and presidential candidate of the Congress for Progressive Change (CPC), Gen. Muhammadu Buhari, a close friend and ally of the professor of Virology, for allegedly instigating the post-election riots in parts of the north two weeks ago.
David-West, in this reaction, deplored Dokubo's outbursts and similar ones by some Niger Deltans, describing them as a threat to the stability of Goodluck Jonathan's presidency.
He advised the president to call them to order and distance himself from them forthwith, as it could antagonize the subjects of such ridicule, who could scuttle his regime.
He said such arrogant verbal excessiveness, which tends to belittle other sections of the country, 'in this euphoria of questioned electoral victory' could inflame passions and inspire 'those who schemed him (Jonathan) in, to scheme him out.' He stressed: 'It is one thing to win the war, it's another to win the peace'.
The former minister condemned as 'irresponsible' attempts at laying possessive claim to the president or sounding as if it was the wisdom or might of the Niger Delta people alone that put him there, without acknowledging the roles of other sections of the country, saying this could endanger the unity and stability of the nation.
His words: 'Jonathan is what he is today because of especially northerners' support. Nigerians from all parts voted for him to be president, without prejudice to my view that his election is stained. Can the Ijaw or Niger Delta alone guarantee the constitutional provision that he must have 25 per cent of the popular votes cast in two-thirds, that is 24 states of the federation, the answer is no. Now, you turn round to say Gambaris must not rule us again. People saying these are not the ones who put him there. They are abusing the people who helped in putting him there and if Jonathan doesn't call them to order, his administration may be truncated. The abuses may have a backlash'.
David-West came down heavily on Dokubo, who he described as a reckless, incoherent and inconsistent individual who has lost following and was merely seeking attention and relevance.
Below are excerpts of the interview he granted Daily Sun in Ibadan
On Asari Dokubo
I have at least 50 documents that if I released will put him in jail for treason for the rest of his life. I have them planted in various locations across the country with specific instructions. Asari Dokubo is an incoherent, inconsistent person who is essentially ignorant of some of the issues he dabbles into. I'll give you some instances, first, he has said many times that Ijaws are not Nigerians, but, he never said where we are from. One poet, Odiri, in Rivers State took him to task over this and he had no answer. The contradiction here is this: Jonathan is Ijaw, so why are you interested in Jonathan being president? The constitution of Nigeria is clear on who can be president. To be president of Nigeria, you must be a citizen of Nigeria. So by Asari Dokubo's statement, Jonathan is disqualified.
Asari Dokubo has said in many writings that Nigeria should break up. Third, Dokubo has openly said he supported Osama Bin Laden and loved what he was doing. Here is a man who says he loves an international terrorist. He even said: 'I'm not ashamed to be called terrorist'.
In another forum, he says: 'I'm a bunkerer', an illegal bunkerer because the oil is my own people's property'. Stupid. He should look at the law, the oil belongs to Nigeria. If he doesn't know, there is a law on economic sabotage that makes illegal bunkering attract capital punishment. When I was in government, I tried and pleaded for (Gen.) Buhari to sign it. He refused. It was later amended to be life sentence.
My argument is that destroy Nigeria oil industry and 140 or 150 million people die. So, anybody who does that has no right to life. If that law is invoked, Dokubo'll spend the rest of his life in jail until perhaps he gets presidential pardon.
Call for Sovereign National Conference (SNC)
It's stupid. He doesn't know what he's talking about. Those calling for the SNC don't know what they are saying, because convening a sovereign national conference means conferring sovereignty on few people to take decisions, which cannot be questioned thereafter. We'll make them super human, a little less than God, WHO is omnipotent, omniscient and omnipresent. You can't subject the fate of 150 million people to the dictates of a maximum of 500 people. They are human beings and so fallible. Rather, we can have a national conference, whose decision can then be subjected to a plebiscite.
Dokubo not a genuine N'Delta activist
Asari Dokubo likes to invoke the name of Adaka Boro and what he stood for. But I tell you, none of the militants of contemporary time including Dokubo is like Adaka Boro. They can't invoke his name. It's a desecration of the name .Why? Adaka Boro was an undergraduate at the University of Nigeria, Nsukka, when he was touched by the plight of the Niger Delta people. He left his studies at Nsukka and organized his five-man revolution. He was poor, not a millionaire. He had not got any bank account, but was fighting a selfless cause, not like these ones fighting for their own pockets. All militants of today are millionaires through kidnapping and all kinds of criminal activities. Adaka Boro is one of the greatest men Ijaw produced in the 21st century.
Dokubo, it's on record, said he made his first million from former Governor Peter Odili…what brought him into national limelight was the Ijaw Youth Council election which was fixed for him to emerge president because Odili didn't want another person there.
Leader without followers
You should ask what his political locus is now. He has no followers. All you see around him is hired crowd. He has lost his base with his selfishness an unguarded statement against (Henry) Okah. He sponsored candidates for the IYC presidency and executive, all of them lost. He sponsored for local governments, Asari Toru Local Government, all of them lost and the latest - two of his wives contested in the National Assembly elections, both of them lost. So, where is his political base to make newspaper headlines? He is just looking for relevance.
In my university residence, Asari used to be here to solicit help, including money. This is because his mother and my mother are of the same father, that makes us first cousins, that is why we were so close. He broke his fast here in Sankore Avenue, whenever he was with his Muslim friends at Sallah in Ibadan. We had to cook specially for him. My reaction is, therefore, based on this blood relationship. First, because his vituperations are an embarrassment to the family, and it is also dangerous for Jonathan.
In spite of what he's done to me, I can't turn against him, but he has to be cautious. This I told Dr. Karibo, another cousin who took care of him when he was in detention.
Asari once said Awo was a criminal. Then Gani Adams of Odua Peoples Congress (OPC) threatened him and he quickly apologised. Does that make sense? Anyone that can desecrate a personage like Awo, is he a responsible person? Anytime he made such a goof, I always went to the press trying to pour oil on troubled waters. Same way I did, when he called the Gambaris parasites.
Asari Dokubo tried to assassinate me
It's true, Asari and a group wanted to assassinate me while I was Odili's guest. It was this security man, Ade, who mounted protection for me. He came shouting war songs. I went to report to the police, he was arrested and detained, then granted bail. But, he jumped bail and the person who stood surety for him was going to be detained, I had to plead for him. If Asari says I'm lying, let him take his Quran and swear by it.
State of the nation
Nigeria is in the most perilous time. If Jonathan stays till 2015, there'll be turbulence in Nigeria that'll threaten the unity of the country. There's no guarantee that the Igbo'll be president in 2015. The issue of zoning is not dead, but on suspended animation and will rise again in a fiercer form than today .The only people that'll probably not lay claim are the Ijaw people.
The April election
The last election was not free and fair because a lot went underneath. What the international observers saw that gave the impression of success were orderly queues, which do not translate to free, fair and transparent election. Their presence doesn't ensure credibility of the process, although it checked some tempers. What they did was sample. They themselves confessed that Nigeria is so big, they can't be everywhere. Can they go to the creeks?  Let's not deceive ourselves.