ZAFAA AWARD CALLS FOR ENTRIES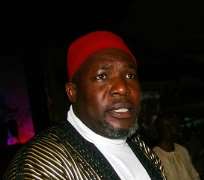 • Ejike Asiegbu
As the countdown for this year's edition of the annual ZAFAA Awards holding in London this October, begins, the organizers are already calling for entries from qualified filmmakers within Nigeria and other African countries.
Sam Anwuzia, the boss of the award scheme, said ZAFAA strives to acknowledge and reward hardworking professionals who have contributed immensely to the growth of the movie and entertainment industries in Nigeria and Africa.
Anwuzia further hinted that this year's recipients will be showcased and celebrated at the awards grand finale holding between October19 and 21, at the prestigious Troxy Hall, Central London. As part of the activities lined up, a film exhibition would take place at the Odeon Cinema.
Past winners of the prestigious trophy include, Andy Amenechi, Kenneth Okonkwo, Chika Okpala, Ladi Torty, Majid Michel, Nadia Buari and several others. This year's event is open to all filmmakers and practitioners in the film sector.
Meanwhile, a pre award conference that will treat modern film techniques and current marketing strategies on the distribution framework will help prepare participants for the main award. It will also create opportunity for filmmakers to meet, network and build synergies that will impact meaningfully on their jobs.
'This year's award is a window to showcase our rich African culture to the world. We are also calling on corporate bodies and well meaning individuals to sponsor and support this laudable initiative', added Chukwudi Uzochukwu, a director with ZAFAA.