I can give up my career for the man I love–Chinwe Isaac, fast-rising actress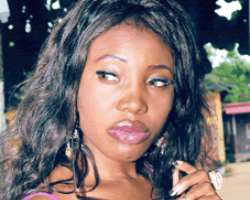 What will a woman not do for love? When it comes to matters of the heart, women tend to give up even their innermost dreams and ambitions just to be with the man they love. One of such women is fast-rising actress, Chinwe Isaac. This Nollywood delight can give up her career for her man and the joy that comes with being married.
Chinwe has been in the industry for four years and has been on her toes ever since even when she faced extreme challenges while starting out. She told us in a recent interview that she felt like quitting after going for auditions several times without getting any roles. Her major break came eventually and she has not looked back ever since. In her view, acting nude looks dirty to the eyes and she will never do it nor lobby for roles. Excerpts:
When did you start acting?
I started acting in 2007 and it has been a wonderful experience. I am feeling fulfilled doing what I love and have passion for. Since then, I have been working and have not looked back. In the last four years, I have starred in a couple of movies and I am sure I didn't disappoint my fans. Recently, I starred in 'Destitute' a trilogy movies from the stable of Diamond Pictures, where I played my first major role. My future is bright in the industry.
Were you formerly in Lagos?
I was formerly based in Owerri, Imo State and that where I'm registered with the state chapter of the Actors Guild of Nigeria (AGN). But I had to relocate to Lagos, after I was offered admission to study Political Science at the Lagos State University. Before then, I had a National Diploma in Music from the University of Nigeria, Nsukka. And at the moment, I am a 300 level part time student of Lagos State University.
What have you learnt so far as an actress?
I have learnt a lot as an actress. I now know a lot about life. The good and the bad side of it. I have also learnt how to switch from one emotion to another.
Do you think acting has become an all comers affair?
Acting is not supposed to be an all comers affairs because it's all about talent. You have to be talented, it has to be an in-born thing. But if you have a flair for it, you can attend an acting school where you will groomed before you come into the industry. I would advise intending actors/actresses to undergo some kind of training even if they are talented to horn their skills and be on top of their games. They should also believe in themselves if they want to make it in the industry.
How have you equipped yourself for your career?
Acting is a continuous process, so I learn everyday. It's all about passion which means that I enjoy what I do because it flows from within. I also improve by watching my role models on television and learning from them. But I intend to go for more training in acting.
Who are the people you look up to in the industry?
I look up to any good actor or actress, but I look up to Genevieve Nnaji, Tonto Dike, Angelina Jolie, Vivica Fox, Jessica Abba, Stephanie Okereke and Rita Dominic.
If you were asked to choose an actor and an actress to work with now, who would you choose and why?
I will choose Genevieve Nnaji, Tonto Dike, Ngozi Ezeonu, Olu Jacobs, Joke Silver, Stephanie Okereke and Sam Dede. This is because they are smart, intelligent and good role interpreters.
People say the movie industry is stagnant, do you believe that?
No, I don't believe that. It is growing gradually and will soon take over from the entertainment industry. With the efforts that producers are putting in to fight piracy, Nollywood will be a force to be reckoned with. The fact that are movies are being showed in cinemas spell good for the industry.
Have you ever lobbied for roles before?
No, I will not do it. I like acting the role that is mine. Lobbying is not part of me.
Having said that, can you give sex for roles as some producers allegedly demand?
Never! I won't do that no matter what.
As an upcoming actress, what is it you don't like in the industry?
I do not like the idea that upcoming actors are not giving the chance to play good and lead roles when they are talented. This ill act makes some talented actors go back to their shell and give up in acting.
If you have the power, what will you change in the industry?
I will gladly change tribalism and corruption in the industry. I will also make sure that piracy must stop.
How frustrating can being an actress be?
I do not see it as frustrating because I enjoy every bit of it. I do not mind staying on location all my life. It is fun to love what you are doing.
Have you ever felt like quitting?
Yes. I felt like quitting after some months of stressing myself going for auditions without getting roles. Sometimes, I walk a distance to audition venues and after every that, I might be given a non speaking role or nothing at all. I might even starve just to get a role and at the end, good roles will be given to people I am better than. A lot of upcomers are experiencing more than this just to become an actor or actress. It is damn sad. It was frustrating then but I never gave up my desire to actualize my dreams.
This continued until I finally got a role in the Diamond Pictures' produced soap-opera titled, Tarima.
It was a two-episode soap and I was paid N5000 for featuring in the two episodes. It was big money for me, because I had never been paid for my acting roles.
In what ways do you think Nollywood can be improved?
Nollywood can be improved by challenging producers to produce quality movies that will meet international standards. The idea of showing movies in the cinemas first will propel producers to make quality movies and not engage in half-baked movies that don't speak well for the industry.
Can you act nude?
No, I can't act nude. Bottom line, acting nude is going to look dirty in the eyes.
Why? Are you not a professional actress?
I am a proffessional actress, but like I said, acting nude will look dirty. We will do the best we can but not nude. Although some characters can be interpreted as nude on screen but the person isn't nude at all. It is called body double. I did that in two of my recent jobs. Common, it's not an adult movie. I know there are actresses that have the guts to appear nude but definitely not me.
What is the major deal you wish to clinch now as an actress?
To be signed as an ambassador of a company and acting in Hollywood. Recently, I was called upon to act in a movie in Liberia. This is how it starts, step by step and I get to Hollywood.
Do you have other things you engage in aside acting?
I am still a student of Lagos State University.
How tough is combining your education with your acting career?
I'm engaged in acting on part time basis at the moment. My studies rarely disturb my career because I go to school only on weekends. The rest of the week, I spend on location. I plan my time very well so that one doesn't clash with the other.
How do you handle disappointments?
I see disappointments as one of those things of life. I take it to God in prayers and forget it. I trained myself not to kill myself over things of the world. The Bible says they are vanity. I over look disappointments then strategize on how to succeed.
What do you have to say about nudity and sex scenes pervading our movies?
I am not going to condemn it or give it a thumbs up. We are only trying to be a little bit proffessional. What you see is not how it's been done. Sometimes, it is not even the character you see nude is nude. The actor or actress might be super imposed to look like who we already know. Getting someone else to act and dress like an actor or actress is something that is being done when shooting some sex scenes. We are only trying to flow with the tide.
Do you think viewers encourage it?
In some way, yes. But it is not in all our movies that sex scenes occur. There are still movies portraying family values and other societal vices that educate the viewers.
How far are you willing to expose your body for your career if you called upon?
I will never go nude but I will act as a professional.
What is the most challenging role you played since you started?
Acting as a 16 year old girl from the North who was abused and raped by my uncle. This resulted in so many traumatic happenings to me. My character was buried alive thinking she was dead. As a result of being constantly raped, my character became pregnant and was stoned to death for desecrating the land. The title of the movie is Destitute and it is out in cinemas.
How do you relate with your colleagues?
My relationship with them is cool. There is no course for me to relate with them otherwise. I see them as one family and I handle them as such.
Is it true that actresses fight each other because of rich men for their money?
I do not know about that. I have not experienced it before. I only know about myself
Can you fight over a man because he is rich?
No. I do not even date men because they are rich. I date for love. Dating for money won't last because it is built on something that can change at any time.
What qualities do you look out for in a man?
I look for a man who is God fearing. He must also be caring, honest, hardworking, and good looking.
Can you marry an actor?
Yes, of course. If God says my man is going to be an actor, cool. He will even understand me more because he is in the industry. Any man from God is okay for me.
What about your busy schedules, don't you think it will cause a strain in your relationship?
Not at all. It will help us plan our lives well. Since we are in the same industry, we will work at it together and make sure our careers don't clash with our relationship.
Can you give up your career for a man you love or for marriage?
Yes, I can. But I will try to convince him to accept my career. If in the end he refuses and I love him, I will quit. There other things to do in the industry other than acting. I could continue in production. Love is powerful and I respect love.
What was the annoying thing a fan did to you?
None for now. I am just receiving compliments now, maybe because of the way I relate with them. I am so original and down to earth. I know where I am coming from, so I treat my fans well.
How many men approach you for relationship as a pretty actress?
Many of them but I ignore them because some of them don't come to me with good intentions. It is always like that. When I see any of them serious and I like the guy, and if I am not in any relationship, I will give him a try. You never can tell with matters of the heart.
How do you handle them?
I am nice to them but when they want to be silly, I go blank. Sometimes, I ignore them depending on the approach.
Can you tell us about yourself?
I am an actress, producer, singer, model. I am from Ihiagwa, Owerri west local government area of Imo State. I like travelling, singing, meeting nice people and making friends. I am fun to be with, accommodative, down to earth and single. I love looking good at all times.