ACN, Remi Tinubu Dragged To Election Tribunal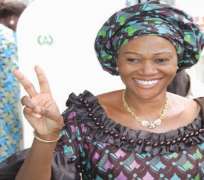 LAGOS, May 04, (THEWILL) - Lagos Central senator-elect, Chief (Mrs.) Oluremi Tinubu alongside the Independent National Electoral Commission (INEC) and Action Congress of Nigeria (ACN) have been dragged before the National Assembly Election Tribunal over unlawful acts.
Candidate of the Labour Party in the election, Mr. Dapo Dorusinmi-Etti and his party last week petitioned the election tribunal asking it to re-order fresh elections in Lagos Central Senatorial District and 7 other federal constituencies in the state.
The party detailed its concerns in a 76-page petition, which its counsel, Chief Chukwuma Ekomaru (SAN) filed saying the election is a violation of Section 44 and 83 of the 2010 Electoral Act.
Labour Party (LP) petitioned the legislative houses election tribunal and National Assembly election tribunal on behalf of its Lagos Central senatorial candidate, Mr. Dapo Durosinmi-Etti and candidates for 7 federal constituencies.
The party described as illegal and unlawful the decision of INEC to exclude its symbol and names of its candidates from the ballots of the April National Assembly elections.
Labour Party listed Mr. Adesina Sogo of Ikorodu, Mr. Christopher Sowunmi of Ifako-Ijaiye, Mr. Lookman Salau of Somolu, Mr. Abdullatif Musa of Eti-Osa, Prince Bamidele Aderanmu of Surulere, Mr. Felix Ehuwa of Lagos Mainland and Mr. Abdulwaheed Hassan of Badagry among its candidates excluded from taking part in the process.
The party has therefore sought a declaration that Durosinmi-Etti and other candidates were validly, duly and timely nominated, but the electoral commission unlawfully excluded them from the list of candidates that contested the in the National Assembly elections in the state contrary to the provision of the 2010 Electoral Act.
The party also provided four different correspondences sent to the electoral body on the status of its candidates to which the INEC did not provide as evidence. It further annexed the nomination form of the candidates to the petition, which it said, served as a proof that its candidates were lawfully and duly nominated.

Armed with the above-mentioned evidence, Labour Party is seeking an order compelling the electoral commission "to perform its duty as required in Section 44 and 83 of the Electoral Act by including its symbol in the ballot so that the electoral can vote for its candidates in a re-ordered election in Lagos Central and other constituencies."
The party is also seeking an order of "fresh elections in Lagos Central Senatorial District and other federal constituencies so that its symbol can be included in the ballot paper in order to allow all its candidates excluded from the April 9 National Assembly elections participate in the fresh elections in line with the Electoral Act."