BATED BREATH AS NIGERIANS AWAIT RESULTS OF GUBER POLLS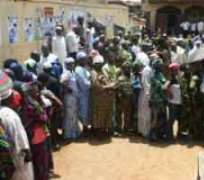 Ballot box snatching trail exercise
NIGERIANS across the federation eagerly waited yesterday for the final declaration of the winners of the governorship and Houses of Assembly elections after casting their votes.
By yesterday evening, party agents and officials of the Independent National Electoral Commission (INEC) were busy collating the results at the local councils.
The results were earlier computed at the polling booths and wards. The final results will be announced by the returning officer at the state level.
Except in a few cases, the elections were generally peaceful in most parts of the country.
Security operatives however rose to the challenge in some states by promptly restoring law and order where there were protests by aggrieved politicians and party agents.
They also shielded INEC officials from angry voters, who were unimpressed with their handling of the election and non-availability of materials in their areas.
The Lagos State Governor and ACN flagbearer, Babatunde Fashola and his wife, Abimbola, were accredited at State Junior Secondary School. There was a high turnout of voters for accreditation at polling units 031, 032 and 042 all in Ojodu/Agidingbi. At the Ward G3, State Grammar School, Eric Moore Street, Surulere unit where Fashola voted, 367 persons were accredited while 352 participated in the exercise. The ACN scored 317, PDP 16, APGA 1, ANPP 2 and CPC 1.
His Peoples Democratic Party (PDP) opponent, Dr. Ade Dosunmu, said yesterday he would accept the election result.
Mrs. Adejoke Orelope-Adefulire, the Action Congress of Nigeria (ACN) governorship running mate voted at 12.35 p.m. at polling unit 059 in Egbeda.
However, there was a clash between some youths and party members in Surulere area of the state over sharing of money allegedly doled out by some politicians.
An ugly scene was recorded in Ikorordu as a pregnant woman, who came out to vote, collapsed at Isele Ward 007 polling unit.
A fake soldier was arrested at a polling unit in Amukoko area of the state.
The Benue State Governor, Gabriel Suswam, voted at 11.56 a.m. Voters in 14 polling units in Katsina-Ala of the state did not exercise the franchise due to the non-availability of result sheets for the governorship polls.
In Enugu State, shops opened for business at Amechi Awkunanaw although there was large turnout of voters' polling units.
There was a rowdy scene at a polling unit in Abeokuta, Ogun State forcing the police to escort INEC officials out of the area to prevent protesting voters from destroying polls materials. They were protesting against an alleged missing voter register at Ward 5, Unit 2, in Abeokuta.
Some states however recorded poor voter turnout while dozens of youths were arrested for various electoral offences.
Some of the states where voters failed to show up at the polling booths to elect their governors and state lawmakers were among those worst hit by the violence that trailed the April 16, 2011 presidential election won by President Goodluck Jonathan. They are Bauchi and Kaduna whose elections have been shifted to Thursday.
In some of the states, several polling centres did not accredit more than five voters at the close of the exercise.
The states that topped the poor voter turnout chart were Katsina, Kano, Niger, Jigawa, Adamawa, Yobe, and Kebbi.
Agency reports said there was low turn-out of voters in Jega, Fakai Local Council of the state.
The state Resident Electoral Commissioner, Alhaji Kabir Ahmed, attributed the situation to voter apathy.
'We have placed several announcements on radio and television appealing to them to turn out en-masse as the past challenges would be rectified,' he said.
The situation in Adamawa State was linked to the shifting of the governorship election to 2012 by the Appeal Court, which ruled that election cannot hold this year in five states where the governors won the re-run polls. Governorship elections did not also hold in five other states whose governors took oath of office last year as a result of court nullification of the elections held in 2007.
Some residents of Mubi South and Maiha local councils said voters were discouraged by the suspension of the Adamawa governorship election.
The trend was not different in Jigawa State, as many eligible voters boycotted the elections in spite of elaborate arrangement by INEC to ensure that the exercise was hitch-free.
Alhaji Ibrahim Ali, a 54-year-old voter in Dutse, attributed the low turn out to the post-election violence witnessed in the state.
There was also low turnout in Minna, Suleja, Bida, Mokwa and other parts of Niger State.
Some of the polling units only recorded about two voters for accreditation. Cases of underage voting were reported in Wushishi area of the state.
In fact, many of the residents ignored the no-movement order by the police and went about their normal businesses.
In Katsina State, the Congress for Progressive Change (CPC) presidential standardbearer, Maj.-Gen. Muhammadu Buhari, was accredited at Sarkin Yara Polling unit at 10.13 a.m.
His wife, Aishatu, who was accredited at 9.41 a.m. decried the low turnout of women in the area for the polls. Some women in Daura, Katsina, also lamented the apathy of women for the election, saying their loss of interest in the exercise was due to the outcome of the presidential election of April 16.
Low turnout of women was equally noticed in Mashi, Zango, Mai Adua, and other areas.
The governorship election did not hold in Adamawa, Bayelsa, Kogi, Cross River and Sokoto states where the courts had extended the tenure of the governors.
The election did not also hold in Osun, Anambra, Edo, Ondo and Ekiti because their governors were sworn in after 2007.
The governorship election in Bauchi and Kaduna was postponed till tomorrow on security grounds.
In Edo State, unlike the previous elections, distribution of materials for the House of Assembly polls in Etsako West, Owan West and Akoko-Edo local councils was concluded at 7.30 a.m. The accreditation of voters commenced in earnest and the turnout of voters was impressive in most of the centres visited. Some suspected party thugs reportedly snatched a ballot box in Ward 6 Unit 1, Igueben Local Council.
Security agents arrested 31 people in Olomi area of Ibadan and 22 at Iseyin of Oyo State over ballot snatching.
In some parts of the state, the turnout of eligible voters was impressive. INEC and security men arrived early at Alakia, Papa and Isebo Units 5,811 and 9 as well as Egbeda Ward 10.
At Peoples' Primary School, Adeoyo Road, and collation centre for Ward 4, Ibadan South West Local Council more than 1,000 voters had converged there at 7.30 a.m.
INEC's ad-hoc workers, mostly National Youth Service Corps (NYSC) members, were seen loading electoral materials into two commercial buses to convey them to their respective polling units at 7.45 a.m.
In Kano, corps members were absent at the polling units in Nassarawa, Fagge, Tarauni and Kano Municipal local councils.
They allegedly opted out of the exercise because some of their colleagues were victims of the post-presidential election violence, which engulfed the state last week.
The state REC, Malam Abdullahi Umar Danyaya, told journalists that 3,070 corps members sought refuge at the Bukavu Barracks and the Air Force formation during the mayhem.
He added that INEC had contacted the displaced NYSC members at the camps who flatly said they would not participate in the exercise 'for fear of their safety.'
Over 315 candidates contested for governorship seats nationwide.
Jonathan was accredited to vote in his Otuabula Ward 13, Ogbia Local Council of Bayelsa State.
Jonathan's wife, Patience, and his mother, Ayi, were also accredited at the centre where they voted.
Residents of the area, who came out to be accredited, congratulated Jonathan over his victory in the presidential election.
In Yobe, the corps members said they were determined to continue with their national duty as INEC adhoc officials until the 2011 elections were concluded.
They said at their duty posts in Damaturu that they were not deterred by the decision of their counterparts in other states in the North to relocate to their states of origins over the post-election violence.
In Eket, Akwa Ibom, the corps members serving as INEC ad-hoc personnel have suspended their threat to withdraw their services following the ill treatment of their colleague by policemen on Monday.
It was learnt that the policemen in the Eket Division beat up a corps member, James Durojaiye, who fainted and was rushed to the Immanuel General Hospital on Hospital Road.
Addressing the corps members, the Area Commander of the Oron Police Command, Mr. P. L. Garuba, said the police officer, who reportedly assaulted Durojaiye had been redeployed.
The corps members returned to their polling stations after they were addressed by the Minister of Lands and Housing, Chief Nduese Essien.
In Delta State, accreditation commenced peacefully in the polling centres visited. At Asagba village, voters conducted themselves properly before embarking on accreditation amid tight security while accreditation commenced in most of the centres between 8.15 a.m. and 9.25 a.m.
The polling centres were at Asagba Girls' Grammar school, Uzoigwe, Onu Ibosa and Isieke polling units
Voters did not turnout in Gombe State in large numbers to vote.
Maiduguri, the Borno State capital came under another round of explosion as a suspected bomb-blast rocked London Ciki area. No one has been confirmed injured from the incident.
The police arrested four persons at Ikire polling unit, Irewole Local Council for allegedly violating the Electoral Act.
In Yola, Adamawa State, INEC officials said 80 per cent of registered voters were accredited in various polling units.
Politicians in Ilorin, Kwara State were accused yesterday of lobbying voters with money at Oko Erin ward. Youth corps members turned out en-masse for election duty in the state.
At Eguhu in Ezza North Local Council of Ebonyi State, security officials arrested eight suspected armed thugs allegedly brought from outside the community to cause trouble.
Seven polling units were also relocated elsewhere at Ohafia Agba in the council.
Also in Eguhu in Iyaba, the stronghold and home of the ANPP governorship candidate,  Senator Julius Ucha, electoral officials were not present at five polling units.