LET THE PEOPLE'S WILL PREVAIL, OGUN ACN TELLS DANIEL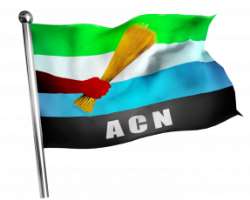 The Ogun State chapter of the Action Congress of Nigeria (ACN) has chided Governor Gbenga Daniel over his alleged plans to illegally skew the outcome of tomorrow's election, calling on security agencies to be on the alert to stop his antics.
According to the party, events in the last few days, including the confirmation last Friday by the Ogun State Police Command that suspected cult members and hoodlums were being lodged in hotels and guest houses in Ijegu-Ode, Ijebu-Igbo, Ilaro and some parts of Abeokuta, had established its incessant warnings that Daniel was desperate to manipulate the election.
The party, in a statement signed by its Publicity Secretary in Ogun State, Mr. Sola Lawal, also noted the reported interception of fake ballot papers and the arrest of two printers, who confessed that they were contracted by a politician, adding that Governor Daniel wished to rob the people of Ogun State of their mandate in favour of his stooge, Mr. Gboyega Isiaka of the People's Party of Nigeria (PPN).
Recalling that the governor last week said at a meeting with leaders of industrial unions in the state that the governorship poll will be 'tough', the party said these unfortunate developments were all parts of Daniel's plans to perfect his onslaught against the collective will of the people.
The ACN said although the alarm it raised during the voters' registration exercise that the governor printed fake voters' cards was ignored, it had it on good authority that there were plans to give the fake cards to the no fewer than 50,000 illegal voters expected to be mobilised into the state through Ifo in Ifo Local Government Area of the state.
It accused the People's Democratic Party (PDP) and the PPN of organised plots to massively rig the election in polling units in villages and riverine areas and urged security agencies to be vigilant to nip in the bud all the nefarious activities of Governor Daniel and his collaborators, which they hoped to carry out all over the state.
'As a party, we know that Daniel will not go down without a fight because that will not be in sync with the tactics of interlopers across the world as we have seen in places such as Libya and Ivory Coast.
We are, however, shocked that a man, who claims to so much love the people of Ogun State and wants to give them a successor, who will continue his good works, will descend to the barbaric level of undemocratically denying the people the right to choose their leader. What is Daniel scared of? ' the party asked.