N5.2B REA Fraud: Court Cautions Elumelu, Ugbane, Others Over Delay Of Trial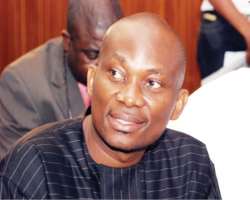 HONOURABLE NDUDI ELUMELU.
SAN FRANCISCO, April 20, (THEWILL) - A High Court of the Federal Capital Territory, FCT, in Gudu, Abuja has cautioned former House Committee Chairman on Power, Hon Ndudi Elumelu, his counterpart in the Senate, Senator Nicholas Ugbane and Hon. Jibo Mohammed, all standing trial over alleged N5.2 billion fraud in the Rural Electrification Agency (REA), to refrain from antics meant to delay their trial.
Justice Abimbola Banjoko gave the warning on Wednesday even as she expressed dismay over the antics being employed by the trio to delay proceedings. This followed complaints by EFCC counsel, Kemi Phinero, SAN, who told the court that the Commission is not too comfortable with the delay antics of the accused persons.
At the resumed hearing of the case today, counsel to the second accused person, Patrick Ikweto, SAN, sent a letter to the court pleading for an adjournment on the ground that he was held up in traffic. Phinero raised objection to the excuse which he described as frivolous.
According to him, "It will be an abuse of court process for the defence counsel, Barrister Patrick Ikweto, SAN, to bring forth a flimsy application that he is cut off in traffic, and cannot attend trial." He added that the last adjournment was at the instance of the same defence counsel which was predicated on the basis that he was back from a long trip and needed some rest as was directed by his doctor which the court obliged.
Justice Banjoko agreed with the prosecution counsel, saying that she will no longer entertain any frivolous application from any of the defense counsel. She however adjourned the case to Thursday April 21st 2011 for definite trial. The three accused persons were initially arraigned on a 158 count charge bordering on breach of due process, criminal conspiracy, diversion and misappropriation of public funds totalling over N5.2 billion on May 14th, 2009, but the charges were later amended to 62 on October 30th, 2009.The trio of Elumelu, Ugbane and Jibo had earlier filed applications to quash the criminal charges against them. Justice Banjoko however dismissed the applications and ruled that the accused have a case to answer.
Justice Banjoko stated that a prima facie case has been established for the trial of the suspects to proceed. According to the Judge, the accused persons have sufficient grounds to convince the court that they are not guilty by the time the case proceeds to trial.