Men Want Me 'Cos I'm Big And Sexy - Eniola Badmus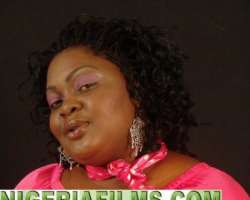 Eniola Badmus has been in the movie industry for sometime and the actress recently bagged an award for her role in the movie, Omo Ghetto. In this interview with Tunde Ayanda, Eni-Bee, as she is fondly called by her friends and admirers, revealed her next move, among others.
How did you find yourself in this profession?
I have been in this industry for about 14 years now. I think my first movie was an English one entitled; Love Affair. I didn't really stumble into the profession because it's what I had always wanted to do. From my secondary school days, I was part of the drama group, then I went to the University of Ibadan to study Theatre Arts. My second degree though is in Economics, I got it from the Lagos State University.
What are you working on at the moment?
An English movie entitled: Miss Fashion, it's coming out soon.
You appear in most of Funke Akindele's movies, what's the link?
It's my work and I think Funke is a friend and sister who appreciates talent, hardwork and dedication. We are very close and she still remains my Funky baby.
In this profession, if you are good, you don't have a hiding place as a lot of offers will be coming to you.
There is a way you interpret the roles you play in movies, can you tell us the difference between Eniola Badmus the actress and in real life?
In real life, I'm the gentle, quiet and friendly type but the dynamism of my work defines the role I play on set. On set, I can be the tough, gangster, rascal actress but I'm not like that in real life. I'm a very cool and disciplined lady.
There was a report recently that you are planning to get married, how true is this?
I know that will surely come one day, let's just keep our fingers crossed.
But are you into any serious relationship?
Definitely yes.
How does your man cope with your work as an actress and the roles you play?
I think what will be mine will be mine, so I don't stress myself over that, and again, I can never go into any relationship with a man that does not understand and respect my profession.
What qualities do you look for in a man?
I would rather not talk about that.
What can you call the good and the bad side of being an actress?
The good sides are the reception, people tend to recognise and treat you in a special way wherever you go, they greet you, warm up to you, give you gifts, you sign autographs and then you are happy. But the bad side is that you can't live your life the way you wanted it, there are always some people somewhere watching. You no longer enjoy your privacy, you can't go to the market again and all that.
Has there been any embarrassing moment for you?
A whole lot! There are times when your fans will get so excited seeing you and they will almost tear your clothes, some will see you as a god and when overwhelmed, they rough handle you, though most times they meant no harm but for the fact that they believe you are a screen diva, they go the extra miles and that can be really frustrating at times.
Do you think acting is giving you what you actually deserve?
Well, I chose the profession, so I should be happy with everything I get there.
How do you handle male admirers that want more than just an actress/fan relationship?
I'm always in control of that, no issues. I know how to relate with them without being offensive. It's true men come because I'm sexy, big, bold and beautiful, but I can handle them very well.
When was your most memorable day as an actress?
That was early this year when I received my first award as a supporting actress of the year (Omo Ghetto), BON award. I was so excited because I felt its been long overdue.
Your big stature, do you consider it an advantage or disadvantage?
I love my stature and it's always an attraction to people, I'm not just big, I'm beautiful. Besides that, I've got carriage.
What part of your body do you like most?
My skin, it's chocolate, fresh and smooth.
How do you handle scandals?
I'm a scandal-free person, I respect myself and others and I always remember the child of who I am.
Who are the people you look up to in your profession?
I don't want to mention names because I don't want to create any controversy, but I appreciate people that understand what they are doing and at the same time, I appreciate any good job done by any of my people.
How do you relax?
I like to cool off a lot, I go >swimming and I also frequent spas.
What determines what you wear?
I think my mood and the occasion I'm going.
What are your labels?
I'm more of a Gucci fan but at times, I do Ferragammo and Prada.
Can you give us a little insight into your background?
I was born into a polygamous family, we are 19 children and I'm in the 12th position though the last from my mum. My mum died seven years ago on a Valentine's day and that's why I don't celebrate Valentine, I only used the day to remember mý mum and I use the day to organise prayer sessions for her.