NFF MAY PETITION CAF OVER MALTREATMENT IN LIBERIA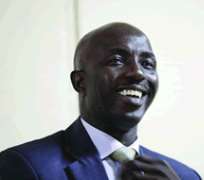 Siasia
The Nigeria Football Federation (NFF) has disclosed that it will study the report concerning the maltreatment the Liberia FA meted out to the Under-23 Olympic team right from the time the contingent arrived Monrovia for the All Africa Games qualifiers last weekend before deciding if it would petition the Confederation of Africa Football (CAF).
The Olympic team to the qualifier in Liberia was delayed for three hours at the Roberts International Airport after the host football association claimed it was not aware the team was coming to town. The Nigerian delegation was eventually taken to a hotel one hour by road from the Roberts International Airport and given insufficient number of rooms.
"It was a big issue. Our team was at the airport for three hours before we saw some officials of the Liberia FA. It was not good enough," NFF Technical Committee Chairman, Chris Green, who led the team to Monrovia, lamented.
However, reacting to the incident, while speaking with Daily Sunsports on telephone in Abuja, the acting Secretary General of the federation, Barr Musa Amadu, said that the body had not really got the report to know the next line of action to take, concerning the ill-treatment. He frowned at the behaviour of the Liberia FA.
'I think it is too early to say if we are going to forward a petition to CAF over the attitude of the Liberia FA. For now, we have not got the detailed report of what actually transpired in Monrovia. We will have to wait for the delegation to get firsthand knowledge of what happened,' he noted.