AND THE JURY WEPT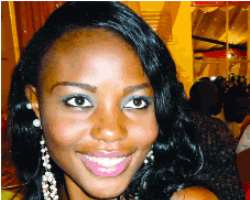 Expose'
On April 23, you were nabbed flaunting your tits to every D'banj, Wande Coal and Don Jazzy, all in the name of cleavage fashion. This act is contrary to section 231 of the moral and cleavage code, which says 'less is prettier'. We hereby confiscate this dress and summon your designer or tailor to appear at the next hearing. Until then, you
are to pay the sum
of N1.5 million.
Boobs on blast!
Girlfriends, this attires make you look like pathetic attention seekers. Why don't you do something more worthwhile for the attention you so much crave? Haba! These exhibits show us that you are so much endowed and we are sure that all the men at the public function you attended now know all about the anatomy of your boobs. Please, give us a boobs break. And you are both fined N1.5 million each.


 
 
.


 
 
Pillow talk
Mummy! You know so well that it is not yet time for bedtime stories and you decided to bring out the 'pillows' in public. Report reaching us also states clearly that you deliberately squeezed your 'girls' into that dress to make a fashion statement despite the fact that it hurts so much. Section 123 of the 1999 edict states that self-inflicted injury is considered a punishable offence. You have
been fined N2 million.


 
Wrong packaging
Big sis, your packaging has gone over the board o! Don't you know your goods have shelf lifespan and they are highly perishable too? If you continue to expose your tits like this, what sort of goods are you exposing your consumers to? For degradation and inappropriate packaging, you are hereby sentenced to spend three months at the Little Saints Orphanage where you would be mandated to do the
children's laundry free
of charge..


 
 
Bumps and gullies
We can't help but wonder why you exposed those pairs of boobs and also your stretch-mark arms. In fact, we almost mistook your arms for Apapa-Oshodi Expressway because of the bumps and gullies we encountered during screening and cross-examination. You must pay a fine of
N1million.