GOVERNORS ON THEIR OWN - ANNKIO BRIGGS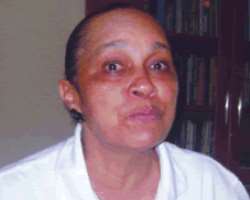 Annkio Briggs
Call her a Niger Delta Amazon, you would be right. For almost a decade and a half, Annkio Briggs has virtually laid down her life for the Niger Delta cause, defending the rights of a people pulverized and macerated by environmental degradation and poverty in the midst of plenty. She has refused to cower to a system that made her people euphemistically wash their hands in the spittle of lack while surrounded by an ocean of oil wealth.
So far, the doggedness of the spokesperson of both the Ijaw Republican Assembly (IRA) and the United Niger Delta Energy Development Security Strategy (UNDEDSS) has not gone without recognition, if the array of awards that adorn her modestly furnished sitting room in her Port Harcourt home is anything to go by. Virtually every space on the wall is filled by one framed award or plaque neatly perched in rows on tables.
'These awards remind me that my efforts are not in vain, and I'm indeed encouraged to carry on. If they were to translate to money, perhaps I would have been very rich,' she said heartily before she began fielding questions ranging from her support for President Goodluck Jonathan, the 2011 general election and why governors would be on their own when they stand for election on April 26. She pointedly said any governor expecting President Jonathan to rig election for him would be disappointed. Excerpts…
Let's begin with the National Assembly election. Are you satisfied with the outcome?
For me, the National Assembly election was again a critical point, a learning point where Nigerians had to reflect on what was happening in the country. We cannot run away from the fact that the election should have been held on April 2. So, for it to be postponed, presumably six hours into the election, is an issue that Nigerians must get an answer to. (Prof Attahiru) Jega's emergence as INEC chairman coupled with the euphoria that attended his appointment was based on the fact that Nigerians had gone through two previous elections under the leadership of (Prof. Maurice) Iwu that they were very dissatisfied with.
Following postponement of the National Assembly election, you were one of those who called for Jega's resignation. Do you still feel the same way?
Yes. I still feel very strongly that Jega failed Nigerians. I don't know Jega as a person or his antecedent and I'm sure he doesn't know me too. That alone does not allow me to flow with what other people seem to be saying, that Jega has credibility. I don't know Jega's credibility. But that is not the issue. The issue is that he was appointed INEC chairman and he requested for certain things to be in place for him to be able to meet the expectations of Nigerians and to be able to show his credibility. Based on the fact that Jega got everything he requested for and perhaps more in monetary terms, as a Nigerian, I feel he failed.
Your assessment does not tally with that of international observers and monitors of the election. It appears those calling for Jega's head are trying to pull back the hand of the clock…
Well, you have called them international observers and that is what they are. But we must not forget that these same observers monitored the 2003 and 2007 elections. I personally know what they saw on ground in the Niger Delta and across Nigeria. It is on record that the EU (European Union) categorically said there were no elections in Nigeria in 2003 and that there was massive fraud. The same applied in 2007. But what is the point in monitoring election if you cannot give evidence about what you saw? Is it just to put on record?
They monitored the 2003 and 2007 elections and we have all agreed that the elections were fraudulent and massively rigged, yet we went ahead and allowed those who rigged themselves into office to remain in power. What this shows is that the monitoring is not necessary. The major difference in this election is that Nigerians were determined to come out and vote. Apart from that, the oppressive and violent nature of past elections did not manifest in this one. In a way, therefore, we can give the credit to Mr. President, who said from the word go that he wanted free and fair elections.
As a Niger Delta activist, how do feel about reports of ballot box-snatching, that elections did not take place in some states in the region, but results were announced and that even a serving senator from Bayelsa had been quizzed for allegedly thumb-printing ballot papers in his home?
Really, I have read these allegations in the papers and have heard them from those who have been complaining. But I was in my community, Abonnema, to monitor the election and you can only speak on what you saw. However, if it is true that ballot materials were found in the home of a senator, that is a criminal act and that alone should disqualify him. Unfortunately, we hear INEC has declared him winner. But, if the allegation is true, his election should be cancelled.
The mess Nigeria is in is that electoral matters are looked at from the legal point of view. I'm not a lawyer. That is why people are now saying if you found electoral materials in his home and INEC had already declared him winner, you go to court. If you succeed in proving your allegation, even if it is four years into his election, then you can remove him. So, in my opinion, there is need to take another look at the Electoral Act and if people have issues with the election, it should be resolved quickly. A winner cannot emerge if there are unresolved issues with the election.
The common trend is that there is a huge difference in the figures returned from the creeks of the Niger Delta during elections compared to the towns and cities, which are supposed to be more populated.
I can tell you that in communities in the creeks we have as many people as we have probably in the towns. I come from that area, so I can explain more than anybody else. For instance, in Akuku-Toru, which is my local government area, you have the capital, Abonnema, which is my town; you have Soku, which is the major oil and gas producing community; and you have Kula, with several fishing ports. These fishing ports are registered for voting and for receiving whatever democratic dividends people are supposed to get. So, whether those fishing ports have 100 or 1,000 persons, the fact is that people live there, and we have many of them. For me, it is not an issue because you can have one fishing port within a radius of one to two kilometres. In about two kilometres, you can have two or three fishing ports.
Why is it so?
On the average, how many persons live in those fishing ports?
On the average, you can have 100 persons in a fishing port just as you can have 500 people in a fishing port, depending on the activities within those areas.
So, you are justifying the huge voting figures from the creeks?
Absolutely, why shouldn't we?
A lot of people believe it is one of the ways some political parties rig elections.
There is absolutely no way, when we talk of rigging of elections, that we can limit it to the creeks. We also must spread it to the desert areas where you have nomadic movement as well. These are people whose daily living depend on movement. It is the same in the creeks. So, you cannot say it is only in the riverine areas that you have massive rigging. I grew up in the creeks; I am not a visitor in the creeks, so I know what I am saying. I know the creeks like the back of hands. There are places in the creeks that those in government may not know people live there.
You have been a critic of the post-amnesty programme. How do you feel now that ex-militants are being trained in foreign universities by the government?
Well, it is a pity that sons of Niger Delta today are being tagged ex-militants, which is not a wonderful title. But that is where we found ourselves, that our children should be so tagged to get an education. The PTDF (Petroleum Development Trust Fund) is funded from the resources that come from the Niger Delta and I don't think if you count the number of Niger Delta people that have had university education or done their post-graduate studies in one discipline or the other, you will find up to 1,000 Niger Delta youths that have gone to universities abroad on the PTDF scholarship, which is a shame. But other people have benefited from that trust fund. So, for me, there is nothing extraordinary about the fact that youths of the Niger Delta are going to Malaysia or America. What is the big deal?
Children of governors and people looting our resources are eating it up our money abroad. So, if that is the way Niger Delta people are going to get it abroad, so be it. After all, we are not begging or stealing the money; it is our resources. If that is the way they are going to get quality education that would make them come back and become people in their zones and region, community and Nigeria as a whole, it is okay. If there is no quality education facility in Nigeria, let us all send our children to study abroad and let us give the money to those countries. And if the amnesty process is the way we are going to get the education, then all of us would have to carry guns to get education, good healthcare, development and all those things. It is offensive, but if that is the way it is going to be, I don't have a problem.
But, is the post-amnesty programme going to last forever?
As Annkio Briggs, my position on that is very clear. The amnesty programme is supposed to be about a specific group of people that are identifiable, that we know by face and community and other kinds of stuff. I don't believe the amnesty thing should be a forever thing. But the way we are in Nigeria, we have to do extraordinary things. So, if we have to extraordinarily have an amnesty programme that would run for five or three years so that my people can get education, then I may have to appraise my take on the amnesty process again.
What is the idea behind your group - The People for LuckyJo?
The People for LuckyJo is a grassroots movement that has come to stay, and it is about the people. It is something that is unique and different. The emergence of Goodluck Jonathan is unique, it is different and it is by chance. The Niger Delta people never planned it, even when Jonathan became Vice President to vie for the slot. We just woke up one morning and the PDP (Peoples Democratic Party) had chosen a man, who was actually preparing for the governorship election in his state, to emerge as Vice President to the late President (Umaru) Yar'Adua. So, it is not as if people from the Niger Delta sat down and planned that in 2007, we were going for the vice presidential slot and subsequently the Presidency.
Our position today as people from the Niger Delta is that of circumstantial and constitutional emergence. You can even say that it is divine. So, the movement itself has not emerged late in any way, shape or form. From the moment Goodluck Jonathan became the substantive President of Nigeria, it became clear to us as a people that there was just no other thing to do than to make sure at the end of his running out Yar'Adua's tenure, he emerges a clear winner of the election. What Jonathan is doing now is running out Yar'Adua's tenure, of which he was the Vice President.
Are you saying that if Jonathan wins the election, he would be starting his own tenure and can run again in 2015?
Absolutely, why shouldn't he? Unless he does not perform; if Jonathan does not perform, the fact that he is from this zone or that zone is not going to be the issue. The issue for Nigerians today and particularly for the Niger Delta people is, will he perform and will he do better? He had better do, and that is what we are driving and pushing for. Jonathan would probably be the one president a lot would be put on his shoulders, and whether he likes it or not, he had better deliver the expectations of Nigerians, or Nigerians will tell him to go.
But if he delivers the expectations of Nigerians, it is Nigerians that would ask him to stay, whether it is four or eight years. It is neither here nor there. What is critical today is that there should be free and fair election. But as a person, and whoever is listening to me, I believe that Jonathan is that person, and I have mobilised votes for him from across Nigeria, not just the Niger Delta alone.
There are people who believe that Jonathan shouldn't have presented himself for the election going by PDP's constitution, and so he cannot be trusted.
Let me borrow OBJ's 'I dey laugh' before I go further. I mean 'I dey laugh' in the sense of the provision of PDP's constitution. PDP is just a political party and Nigerians own political parties; Nigerians are the members, or are supposed to be members of the political parties. It is not about a group of people that seat down in the midnight somewhere to determine who should and who shouldn't run for elective office, from what zone or what area.
But, let us even look at it from the zoning or turn-by-turn basis. How do you justify a situation where, for almost 40 years out of 50 years of Independence, a particular group of people has decided at every given time who is going to be president, which area he comes from and who is going to be the minister of this or that? And at the end of the day their own people are even poorer than us in the South. You begin to see that this is not about North/South issue, as far as the millions of devastated Nigerians are concerned. It is about a handful of people that you can count on your toes and fingers; they cannot be more than 20 people that are manipulating 150 million people and the resources that come from this area.
To the issue that Jonathan should not have presented himself, why should he not? Unless he is not a Nigerian; if he is a Nigerian, he should. The fact that I did not present myself is a matter of choice. So, if we are looking at that alone, Jonathan over-qualifies; by just the mere fact that he is a Nigerian. But, to say that because he is from the Niger Delta, and should not have contested, that is wrong. As a matter of fact, if we are arguing on contribution to the nation, the mere fact that he is from the Niger Delta alone is enough for him to present himself. But he did not present himself because he is from the Niger Delta.
He did because he was Vice President when Yar'Adua died and therefore, nobody, unless they want to turn the Constitution of Nigeria upside down, could have emerged after Yar'Adua's death as President, going by the Constitution. And after emerging substantive President by the Constitution of Nigeria, it was a singular decision by one man to either present himself to run or not for the office, and he chose to present himself. Buhari, Ribadu, Pat Utomi, IBB and others presented themselves. If we count those that don't qualify, then there are some people that presented themselves that do not qualify even by their antecedents and what they had done to democracy in this country.
Do you have any fear that Jonathan might lose the election going by the good showing of ACN and CPC in the National Assembly election?
What I have noted, as someone who is active at the grassroots level and has interacted with the people - the man in the market, taxi driver, the pilot, the doctors, the business people, people who need electricity to run their businesses - they are so determined for a change that Jonathan himself personifies that change right now.
He is different. He is coming from a background of poverty and of neglect. He is coming from the background of being denied respect for your potential. So many people from different walks of life relate to Jonathan. Therefore, he stands a good chance. Nigerians are prepared and willing to give Jonathan a chance to show what he can do. It is from 2011 that Jonathan would be able to prove that. The fact that we no longer queue for petrol since he became President shows very clearly that something was drastically wrong when Nigerians queued on daily basis for fuel.
But how can you say Jonathan represents change when he had always been part of the system?
What system are we talking about that Jonathan was part of? Jonathan was a lecturer before he went to work in OMPADEC. From there he was called to become deputy governor of his state and later became governor, vice president and today he is president. What system has Jonathan been part of? Jonathan is just a person that has emerged from situations that were totally not of his making. Really and truly, if you look at his background as a deputy governor, what have they got to show against him? When he was lecturer, was he collecting money from students to give them false results? When he was in OMPADEC, did he steal? Let us hear.
When he was vice president, what did he do? Let us hear. If you look at Jonathan as a person, to me and to a lot of people, take away the fact he is from my region and from the same ethnic group with me, and I thank God for that, there is nothing that would not make him a good president. If I'm not convinced, I would be the first person to say I will not support Jonathan. I have fought against injustice, corruption, bad governance for as long as I can remember, and I have been active in this system, resisting oppression against the people of Nigeria since 1988. So, I am not going to change now.
It is believed the governors would play a key role if Jonathan would emerge victorious, do you agree?
We must reflect on the past to be able to justify the present and to focus and deliver in the future. I was in Nigeria when the constitutional crisis arose after Yar'Adua's illness, and remember the role of the governors then. So, what all them are doing today, at best, can be described as going back to their vomit, because there is no governor in Nigeria that supported Jonathan; none. As we went along during the crisis, some people began to see the reality and realised that it was a constitutional issue. But, basically, the ministers and everybody, the SAs and PAs were protecting their personal interest. Nobody was thinking about Nigeria as a country, not to talk of the 150 million Nigerians.
They abused the Constitution; let us not pretend it did not happen. We had a situation where the late President was heard on BBC speaking. We know it was not true; it wasn't him speaking. Who were the people that manipulated and orchestrated that? They brought the supplementary budget and said he signed it in Saudi Arabia, when he didn't. We heard people telling us that Yar'Adua, as ill as he was, could govern from his sick bed in Saudi Arabia. They did not say it quietly in their bedrooms. It was an official statement by the then Attorney General of the Federation, telling Nigerians that Yar'Adua could govern from his sick bed. So, for a time, we were citizens of Saudi Arabia.
When we now say all the governors are falling in line; that is good. Let them fall in line. But, for me, I cannot be deceived that they are falling in line because they love the people of Nigeria; or because they love Jonathan, but because they love the position they are holding. That love alone is not enough. If the people vote them back, they should perform. If they rig themselves into power again, they will face us, the people.
Do you think the governors decided to fall in line because of the fear that if Jonathan wins it could also mar their chances?
I don't know. But Jonathan himself has said again and again that he has no enemies he is fighting. So, if the governors are falling in line because of Jonathan, they are doing so for the wrong reason. They should fall in line with Jonathan so that they can work better with him to deliver dividends of democracy to the people of Nigeria. They should not fall in line because they are afraid that something would happen to their power.
I don't think Jonathan is that type of person. I believe that Jonathan, having got this opportunity by providence and now called to step forward and serve, is not worse than any of those people that had governed in the past and definitely none of them is better than him. If he doesn't perform, I personally will be the first person to say, 'oga, this is not why voted for you.'
I don't think Jonathan is after anybody. Left to him, he wouldn't do anything with anybody that would make him feel he is after anybody for vengeance, whether they supported him or not. He has categorically said 'don't rig for me.' So, if he said that and emerges President, you cannot go and tell him you rigged for him. Therefore, the governors are on their own on April 26.
If Jonathan wins, what are some of the things you want him to quickly address?
I told you he has hit on many of them. The issue of electricity and creating jobs is very critical. The issue of our people having quality education and housing are also critical. There is so much, but what Nigerians need is so small. Jonathan said Nigerians are ordinary people that should do extraordinary things to make Nigeria an extraordinary country. So, basically, people want to drink clean water that would not make them sick. In my area, people want oil pollution to stop; they want electricity and good education.
I went to school in my community in the 50s and I went to a secondary school in my community before the war, before I went to England. Those schools I attended are no longer quality schools and people cannot attend them. Jonathan is saying that his children attend schools in Nigeria. They may be private schools, but they attend schools in Nigeria whereas children of commissioners are in schools abroad with our money. We should equip our schools.
I attended secondary school that had laboratory and library. Those schools don't exist anymore. We need to bring those things back and Jonathan says he would bring them back, and we expect him to do so. They are very basic things and not extraordinary things. We just need to do extraordinary things because of the mess Nigeria is in. Providing library in a school, there is nothing extraordinary about it. It is just that Nigeria has been so bastardized that it has become an extraordinary thing to do for students.