FELA'S GANG COMES HOME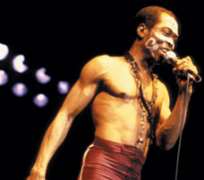 The Fela business is getting more serious. As you are reading this, the cast and crew of FELA on Broadway are in Lagos. The gang arrived midweek bubbling with excitement of coming 'home', finally. And it would be the first time the landmark show will touch down in Sub-Saharan Africa, most especially, Fela's fatherland. This is coming after a three-month run at the Royal National Theatre in London.
Produced by Broken Shackles in conjunction with the Lagos State Government, FELA, which garnered three Tony Awards – Broadway's highest honour – including Best Choreography won by Bill T. Jones, will hit the prestigious New Expo Centre, Eko Hotel and Suites, Victoria Island, Lagos from April 20 to 25.
Starring its original Broadway cast, with Sahr Ngaujah re-enacting his cameo role of Fela, internationally renowned Antibalas will provide music. He will be joined by other members of the New York City Afrobeat community. FELA on Broadway was conceived by Bill T. Jones, Jim Lewis and Stephen Hendel. The producers include American superstars Shawn 'Jay-Z' Carter and Will & Jada Pinkett Smith. It depicts the true story of the legendary Fela Anikulapo-Kuti whose soulful Afrobeat rhythms ignited the spirit of empowerment and cultural awareness in a generation. It is a tale of courage, passion and love featuring Fela's captivating music and the visionary direction and choreography of Bill T. Jones.
As part of events surrounding the show, the cast and crew of FELA had a parley with the entertainment press last Thursday at Eko Hotel. The conference was attended by Nobel laureate, Professor Wole Soyinka, who gave a thumb-up for the musical. Same day, the cast paid homage to Fela Anikulapo Kuti and his family at their spiritual home, New Afrika Shrine, Agidingbi, Ikeja, Lagos where a concert version of the show was also held.
On Sunday, a strictly by invitation reception will be held for the cast and crew at Eko Hotel. However, the public is not losing out of the action-packed events as fans of Afro beat will be treated to a concert tomorrow. Beeta Oragnisation (cinema-advocacy organization) in collaboration with Broadway will on Tuesday, April 19 hold a breakfast session on propagating the cinema culture in Nigeria.
But then come Wednesday, April 20, Fela on Broadway musical will commence with a red carpet event and would run till Monday, April 25 at Eko Hotel. Attracting an average of 2500 guests per show, in all FELA will hold eight times with two shows on Easter Sunday and Easter Monday.
In addition to the online sales, tickets can be bought at all Chicken Republic outlets, Roberts Café, E-centre, Yaba, Shoprite and Eko Hotels.