EXCLUSIVE: ACTRESS AKOFA ASIEDU SUES DIRECTOR LEILA DJANSI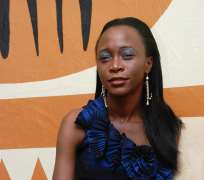 News filtering in from the camp of actress Akofa Asiedu is that she (Akofa Asiedu) has sued Director Leila Djansi for ownership of the movie I sing of a Well. Akofa has been calling a number of respected media houses to share her latest feat with and we have deemed it fit abide by her wishes and make the news public.
Readers will remember the major ground breaking drama that ensued between the two over the AMAA Over-all Best Movie I sing of a Well, written and directed by Leila Djansi. In the past two years, a bitter feud transpired between both women and some of us hope that by this case being in front of a court of justice that justice will be served to both women.
What is baffling a section of writers is that at the AMAA Awards, all the attention of the movie was on Akofa with headlines of 'AKOFA STIRS AMA AWARDS and some news that flew by in recent past said that Leila Djansi knew nothing about the AMA Awards and has still not seen the awards won by the film. Why then is Akofa going to court over a movie she already has? She carried the awards to almost every TV station in Ghana glorying in her feat, so what happened? She also said on TV that "Akofa is I sing of a well and I sing of a Well is Akofa" "I am the bonafide owner of I sing of a Well" In that while, the Hollywood based director has moved on to make some serious blockbuster films with major Hollywood stars. We are baffled. We also read Leila said she has given the movie to Akofa but requests that the latter not have any access to her cut of the film which by the way ended up at the AMA Awards.
Akofa on the other hand is very happy since she believes she will find the justice she deserves. I wonder how this is going to turn out though because copyright law is very protective of the author of the work. Leila put in money and Akofa also put in money. Leila wrote the script. Now who wins?
This is like Hollywood everyday movie legal battle. It is not surprising that I Sing of a Well is in the middle of all these. The movie was good enough to receive a BAFTA Recognition and that is major. it is not surprising that Akofa has taken legal actions. Leila has moved on to make other films with high budget. For all we know, Akofa put her all into I sing of a Well and since the movie flopped, has not recovered.
I am concerned as to why she did not take action and market the movie at the time that Leila asked her to take the movie. I am sure she would have made enough money by now. Not the 100,000 dollars she claimed to have invested single handedly because we know that is not true. From close sources, the highest paid actor was Godwin Kotey who received a pay of 1500ghc whiles the extras, who consisted of members of Socrates Safos' drama club never got paid at all.
In my opinion, both women were childish and almost foolish to have allowed pettiness come between them and good product. Now that the case is in court, hopefully, we find out what really caused the rift between the two girls. It better not be a man because I will loose my mind.
Personally, I think greed and jealousy played a major role. The quest for power and attention also found its way into the foray. Now, taxpayers money is about to be wasted over such a trivial matter which could have been solved by friends of the two women.
What won't shock me if that becomes the case is that someone, or some people who feared the Akofa/Leila combination taking over the film industry planted ideas and words and others into the mind of both women until they are now called the bitterest enemies in Ghana. Both women need to check their friends. I have followed the I sing of a well saga and it makes no sense what-so-ever. Both women have traded insults, with Leila being more open with hers and Akofa hiding her insults of Leila in cute proverbs and tongue lashing outside the media even to the point of lying that Leila wrote to the AMAAs to disqualify the movie from the awards, a fact to which the organizers of the AMAA denied every happening.
My question is; who should keep the overall best movie award which has been with Akofa since she returned from Nigeria? And who really should take credit for I sing of a Well?
My advice to Akofa is that she should quickly cut her loses, take what she can of the movie, change the title and market it. It has received enough publicity to do well on the market.
To Leila, you have more than enough now. Let peace reign. If you have not given the movie to Akofa as she claims, give it to her and move on.
If you are not privy to I sing of a well or its drama, check this out!
Women! wasted a good product. I hope they are both ashamed of themselves.

Akofa Edjeani Asiedu

Akofa Edjeani Asiedu