Be A Real Man, Get A Manicure!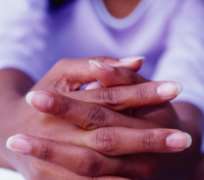 Imagine being in a meeting with your colleagues or on a first date where instead of paying attention to what you are saying, your colleagues or that beautiful lady is focused on your ugly looking nails or just wondering what you do with that one long fingernail!
A guy may have a drop-dead gorgeous body, wear the best designer clothes, have a great job and have all the swagger but the truth is, women hate dirty, uneven nails either on your fingers or on a rough feet exposed in an open toe sandal.
Guys need manicure too! Manicure for a guy? Or manicures for men? You wonder?
A 'manicure' can treat just the nails, just the hands, or both. Your standard manicure would involve cleaning, filing, and shaping of the nails. The treatment of the hands involved in a manicure usually includes having the hands soaked in a softening substance, in other to remove dead skin, and then applying hand lotion. It is very important because it hydrates your hand, nails, prevents the growth of bacteria, and helps relieve aches and pains from over-worked hands.
Ladies, you can convince your man to do just anything, so why don't you get him to have his hands manicured? It is quite simple. You can seduce him into it. By simply talking about how sexy you think it would be for him to get a manicure or by even offering him a romantic weekend away if he gets it done. You can simply help him do it! This will guarantee that at least 9 out of every 10 guys will do it the next day or at least look into it.
No matter what your position in life is, do not be afraid to try a manicure. Remember that one of the biggest turnoffs, in terms of grooming, is to have dirty, ragged fingernails and disgusting looking cuticles. Think about these things and do not let your nails grow in to a mess. Treat them and yourself to an hour at the spa or do it at home yourself!
If you are a little shy and do not want your friend to know that you are going to have a manicure done, do not be afraid. There are actually take-home manicure kits for guys. The good news is, you can do it by yourself. These are pretty affordable and include instructions.
The kit would include
• Nail clipper
• Nail file and buffer
• Cuticle cutters
• Cuticle scissors
• Nail scissors and brush, slanted tweezers