CONFUSION IN ANAMBRA OVER NGIGE, AKUNYILI'S VOTES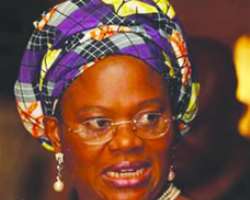 Akunyili
But for the civil approach of the Police and other security agents at the Awka South Independent National Electoral Commission (INEC) headquarters, yesterday, Anambra State would have witnessed bloodshed following protests by the Action Congress of Nigeria (ACN) agents.
The strength of the ACN agents' protests over alleged mutilation of results and alteration of results by the Returning Officer in Njikoka, forced the Central Senatorial Returning Officer, Mr. Alex Anene to run away, abandoning the results with the Electoral Officer of the council, Mrs. Nnennaya Amah.
The incident was happening just as Dr. Andy Uba and Prince John Emeka both of the Peoples Democratic Party (PDP) were returned as the elected Senators for Anambra South and Anambra North Senatorial Districts, respectively.
Earlier in the day, the ACN candidate, Dr. Chris Ngige had visited the INEC office where he handed to Mr. Anene, two petitions and asked INEC not to accept results from Aniocha Local Government, claiming that his agents were chased out and results from the area, especially, from Agulu written by APGA.
But real trouble started when ACN agents, Kingsley Ezenwanyi and Pat Anyaduba raised the alarm that the result the returning officer for Njikoka Local Government Area, Prof. Nonso Nnabuife of the Anambra State University submitted was mutilated and that the figure did not tally with what the agents got from the field.
The senatorial returning officer however, refused to accept the result. But when a call was put to the Resident Electoral Commissioner (REC), by Mrs. Amah, the REC allegedly directed the Returning Officer to accept it, prompting ACN agents to cry blue murder. Ezenwanyi noted, 'in Njikoka, ACN polled 9, 526 while APGA polled 8, 999. When they saw that even with their 22, 981 votes they gave themselves in Anaocha, we were still beating them, they went and changed the resultans in Njikoka, giving us 7, 814 and themselves 8, 999 and we say it will not happen here.'
When the heat became too much and other ACN members stormed the INEC office and declared that they were ready to die than allow the mutilated result to be announced, some INEC staff led by Mike Nwaneli were sent from the state headquarters to calm the situation. They read some portions of the electoral guidelines and declared that the result would not be returned until election was conducted in three wards that were cancelled.