GO FOR THE KILL, UMEH CHARGES DREAM TEAM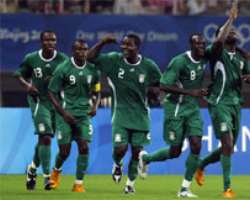 Dream Team
Head of Delegation of the national U-23 team, Dream Team, to Malabo for Sunday's Olympic Games qualifier against Equatorial Guinea, Chief Mike umeh has challenged the players to fight for the entire 90 minutes and show ample discipline in their approach to the game.
Umeh, the 1st Vice President of the Nigeria Football Federation, said on Saturday as the team rounded up its only training session at the National Stadium, Malabo that Nigerians would not take anything less than victory from the 1996 Olympic champions.
'You all know that in 1996, your predecessors won the Olympic gold – the first time by an African country. Three years ago, the 2008 set won silver in China. This is just the beginning of your own journey. You must play with all your heart and show rare commitment throughout the game. You must play as if this is the first leg match', Umeh said.
The delegation arrived in Malabo at 6-30pm on Friday evening, and was met by officials of the Nigeria Embassy in Equatorial Guinea. Nigerian officials have commended the Embassy officials for their support and show of love.
Embassy officials brought Nigerian food for the players and officials at their Hotel Tropicana on Saturday night and have also promised them more Nigerian food for lunch on match day.
The team of 21 players and 10 officials is said to be in very high spirit ahead of the encounter, which Nigeria lead by five goals from the first leg played in Benin City on Saturday, 26th March.
Strikingly, however, no official of the FEGUIFUT (Federacion Ecuatoguineana de Football), the Equatorial Guinea Football Federation whose president is Bonifacio Manga Obiang, was at the Malabo Airport to receive the Nigerian delegation on Friday evening, and none had showed up at the Nigeria team's Hotel Tropicana as at Saturday afternoon.
The FEGUIFUT also failed to provide transportation from the Malabo Airport to the hotel for the Nigeria delegation. Nigeria Embassy officials had to come to the rescue. Sunday's match kicks off at 3.30pm Nigeria time.