I'm not an emergency movie –Isang Ubong-Awah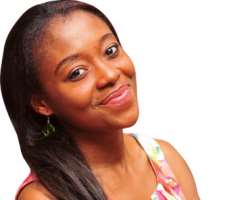 Isang Ubong-Awah is a writer but she has joined the league of film producers with her debut work, Bent Arrows, writes Adeola Balogun You sure will strike a wrong chord in Isang Ubong-Awah if you describe her as an emergency movie producer on account of her debut effort in filmmaking. This might be because she has been a writer without any known affinity with the movie world. The beautiful writer unabashedly invites you to have a look at her debut work, Bent Arrows and dare you to fault it. Perhaps she is right.
From the breath-taking story line, the star-studded cast, the colourful packaging and the publicity given the movie, one cannot help but agree that the figure behind it must know what she is doing. The movie, which premieres in the nation's capital in a week's time, has started rocking the entertainment circuit.
"I don't think I match the description of an emergency producer," Awah tells Saturday Punch. "This is not my first work. I have published a book before and I have been writing all my life, but Bent Arrows is my first movie and I have taken so much time working on it. I did attend some workshops where I learnt how to write for movies before I went into this. I believe that learning never ends; even right now, I'm doing a master's in literature and creative writing and I also intend to go to a film school to learn digital filmmaking.
"Even though I have been writing since, I realised that television is such a powerful medium to pass across things to people. I'm a mother and I know how many hours my children sit in front of the TV. The easiest way to get people to follow any trend is through motion picture. Even if you look at the Nigerian society, the way we dress or the young people dress is based on what they are watching on TV. So, it is just a powerful medium that you can't ignore. It is sad to admit this, but we don't read as much as we should read. So, you find out that even if you write things down like stories, it is not going to have that powerful impact because the percentage of those who will read it is small compared to those who will watch movies."
Bent Arrows is a redemptive tale of incest, rape, betrayal, pain and revenge. The fast-paced story begins in Nigeria's capital city, Abuja, where, in three homes, we meet with three different girls whose stories have a common thread of a broken heart and shattered dreams. The film's multiple story lines weave together to illuminate the human consequences of sexual abuse, betrayal, undue parental control and the male child syndrome on the society and specifically on young girls.
Some of the stars paraded are Olu Jacobs and his equally talented wife, Joke; Omoni Oboli; Stella Damasus; Enebeli Elebuwa; Ngozi Ezeonu; Desmond Elliot; Patrick Otoro; and Sylvia Oluchy.
The movie, directed by prolific movie maker, Lancelot Imasuen, has an independent sound track album produced by Nigeria's foremost music producer, Cobhams Asuquo. The seven-track album, which has original songs that cut across different genres of music, features award-winning acts like Styl-Plus, the Rooftop MCs, Nikki Laoye, and Damasus. The sound track album may be described as the first of its kind as movies from this part of the world are made without an independent sound track album. So, apart from the movie, other things that come with the package are the audio and the video versions of the album.
Awah, who studied biochemistry at the University of Uyo, admitted that the entire package did not come so easy. "When I wanted to go into the movies, the greatest challenge I had was finance," she says. "I just didn't want to bring out another movie, I wanted to bring out something that is of top quality and I knew that I wanted it to have a sound track album like it is done abroad. So, my husband and I sat down and put down a company. We invited a couple of friends and fortunately, they shared in the vision, which transformed into Alphabridges Entertainment, which I run on their behalf. So, that is how the problem of funding was solved," she adds.
Ubon-Awah is proud that the script excited the A-list cast and the equally talented producer, Imasuen, and in a jiffy, the ball was set rolling. "Everybody recognises a good script and we had a good story and the director too got excited. The director and I sat down and decided who would best fit what role and we proceeded to contact them, sent them the script. They were happy and wanted to be associated with it and today, we have a great movie on our hands," she says.
Ubon-Awah is not in a hurry to rush into the video market. She believes that what is worth doing at all is worth doing well. After getting the likes of Cobhams to work on the sound track album, she took everything abroad for the necessary technical fine-tuning, sparing no cost. After the film premieres in Abuja, she is taking it to many places, even overseas. "It is not going to be in the open market so soon; it is going to be shown in the cinema on April 15 all over Nigeria. Then we take it outside," she adds.
Going by her looks, Ubon-Awah will make an impression as an actress, but the pretty producer smiled at such suggestion, saying she prefers to be behind the scene. "I'm not an actress; I prefer to be behind the camera. I've been told a number of times to try acting, but I don't want to act, even though I used to do so in church many years ago, I enjoy it behind the scene."
Her girlish looks force one to take a second look at her when she says her marriage is about 16 years old. "We were pretty young when we got married, my husband and I," she explains. "I went to school early and immediately I finished, I met my husband and we got married. The main factor is that we were both born-again Christians and I'd been praying for a friend for a long time. I got born again when I was in secondary school at 12 and I can say without any regret that getting born again, giving my life to Jesus is undoubtedly the best decision I've ever made and it is what has affected every other aspect of my life.
"If I didn't get born again when I did, I probably would not have got married to the right person at the right time. I never planned I would get married early, but I knew as a child of God, God had someone for me. Even though I planned to get married in my late 20s, I ended up getting married in my early 20s. I had prayed that at the right time, God would give me the right person and so when my husband came, even though marriage was not on my to-do list, I decided to go ahead with it because I knew that was the right person for me and it has been wonderful."