It's my side of the story'------Genevieve Nnaji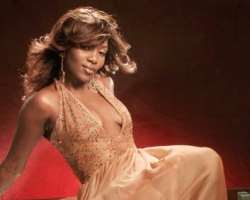 Genevieve Nnaji was recently named 'Most Elegant Woman in her 30s' by Encomium Magazine. Totally unaffected by it all, the screen goddess says, "Style is a reflection of one's personality. It is like internalising fashion and bringing it out your own way. It is just like your side of a story." She spoke to KAZEEM POPOOLA
What's the secret of your staying powwer?
I don't know! I feel I am doing just the kind of movies I want to do and it's going to be hard for me to answer if I am still holding forth.
Most of your colleagues have delved into movie production, when are you joining the league of movie producers?
Not anytime soon, my hunger for performing is still there. I am not ready to go behind the scene yet to produce. But I do not mind directing anyway.
How did you get the role in IJE?
The producer approached me to do it.
How did you feel being on set with Omotola after speculations that you were not on good terms with each other?
I think I have actually donemore movies with Omotola than any other actress to be honest. That is weird; we have been sisters in many movies. It is funny because we were supposed not to be friends and we are still working together but I want people to take it with a pinch of salt because there is nothing to it.
What do you think ignited these speculations?
Everybody needs some kind of controversy to move on. But to be candid, I have no idea.
You seem to have hit it big, at least, compared to when you first started.
Obviously, everything changes. There is progress. You always pray for it.
What would be your favourite movie if you were to pick one?
Crash.
What is your favourite food?
Rice.
Favourite perfume?
Coco Chanel.
What about your favourite fashion item?
That would be my handbag.
Your favourite quote?
"Do unto others what you want them do to you."
Your favourite local designer?
They are too many and not to offend anybody, I would say, St. Genevieve.
How do you feel about being named 'Most Elegant Woman in her 30s'?
It is amazing. I feel honoured and flattered. It has been a long time I won an award like this. I really appreciate it a lot.
What is the definition of style to you?
I think style is a reflection of one's personality. It is like internalizing fashion and bringing it out your own way. It is just like your side of a story, which is, trying to turn fashion in your own way thereby making it your own.
What's your beauty routine?
I am not fussy when it comes to beauty. I just do regular treatment. I make sure I wash off my make- up before going to bed. I also tone and moisturize.
When are you getting married?
I am looking for the right person and if I see him, I will get married. The fact remains that I am not looking for men. I admit that they do admire my work. But it's not all about men. Women also admire me. I do not look for men and I do not think men are looking for me either.
Perhaps the absence of a visible man in your life is responsible for rumours of lesbianism which seem to trail you....
Are you saying that because I don't have any man in my life then I must have women as my lovers? (Laughs) Na today dey begin talk am? I am not a lesbian, besides; I have not said that I have a relationship with any woman, not in my life.
What are the qualities you expect in your dream man?
When I see the man, I will know.
What about the news making the rounds that you are dating D'Banj?
That is my personal life. I don't talk about my personal life, whether it's true or not. It is my personal life. I keep it to myself.
Can you date him?
I can date any man that loves me.
So, what do you like most about D'Banj?
Why do you assume I like him?
What happened to your music career?
I do not really have a music career. My music was a one-off thing and it was a sort of recording contract. To be honest with you, I do not know yet if I am going to pursue a career in music.
Are you now saying that you have quit singing finally?
No, I have not. I have not decided to pick it up as a career yet.