NNAMANI, UNFIT FOR RE-ELECTION -NWOBODO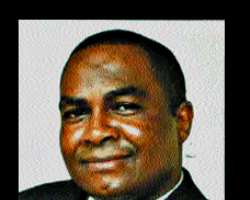 Former governor of Enugu State, Dr Chimaroke Nnamani, has been described as unfit for re-election and should subject himself to critical self-assessment about his performance as governor, before jumping out again to seek peoples' mandate to return to the Senate.
Ifeanyi Nwobodo, son of former governor of Anambra State, Chief Jim Nwobodo, who shared this view in an interview with Daily Sun at Nsukka, chided Nnamani saying, he should have assessed his performance in eight years as governor, before jumping out again to campaign for himself to return to the Senate in the April polls.
Nwobodo Jnr, who was commissioner for sports in Dr. Chimaroke Nnamani's government, but had to resign in protest, said, 'now that Chimaroke wants to come back to the Senate, the people of Enugu State would ask him what he did when he was governor.
'The people will ask him, did you improve us? Did you improve the state? Did you do things that would impact the people positively? Or were you just going to and fro as governor, undermining people left, right and center; seizing peoples houses? They will ask him these questions and more and that is the reason why he should first asses himself and see if he is fit to ask them for fresh mandate.'
My resignation as commissioner
Yes, I resigned my appointment as commissioner in the government of Chimaroke Nnamani because I wanted to obey my conscience and dissociate myself from the government. I have spoken on why I had to resign severally to the Press. If I tell you the details of why I had to resign, what I saw that time in Nnamani's government, you will marvel. The only thing am saying now is that Nnamani should do personal assessment of himself before jumping out again before the electorate to ask for their mandate to return to the Senate. Now, he is campaigning seriously to win as Senator after imposing himself on the people in 2007.
What you ask yourself is when he was governor for eight years, what would he say he achieved? I heard he went somewhere and gave them transformer, and I said to myself, was it as Dr Nnamani or as a Senator representing the people? When he was governor why did he not do all those things? He is now enjoying good roads, which he did not build during his own tenure as governor, but he turns round again to say Chime is not doing well. He is taking the people for a ride. He is unfit to continue to represent the people in the Senate. His track records are haunting him and they are so glaring.
Multiple candidates from Enugu West
The multiple governorship candidates from Enugu West Senatorial District; is a non-issue. This is because, the important thing is the performance of the incumbent governor. His score card is there for everybody to see. If you perform well, people will ask you to do more. Chime has done well, I think that the only fair reward to one who has done well, is to ask him to continue.
I think he will surely win. I do not see the multiple candidature in the West Senatorial Zone as a threat. Chime deserves a second chance; he has done marvelously well as you can see developments here and there going on. It takes a patriotic and focused leader of Chime's caliber to be doing what he is doing in spite of distractions. Don't forget that some of these governorship candidates are jokers and jobbers and only few are genuine.