CHRISTY ESSIEN IGBOKWE'S APPEAL LETTER TO PRESIDENT GOODLUCK EBELE JONATHAN, GCFR, ON THE CRITICAL SITUATION IN AKWA IBOM STATE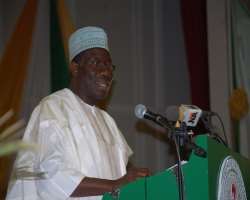 NIGERIAN PRESIDENT GOODLUCK EBELE JONATHAN.
I can say that I belong to an unregistered party which goes by name ERPP (Electing Right Persons Party); in other words, irrespective of any party a contestant belongs, I look at his/her pedigree and urge my followers to cast their votes accordingly. Today, by the special grace of God, you are our President that requires our respect; you are not president for PDP members only and it is on this basis that I am making this special appeal for your consideration.
It is my wish to call the good attention of our president, Dr. Goodluck Ebele Jonathan, GCFR, who as the commander-in-chief of the armed forces of the Federal Republic of Nigeria is also the chief security officer, to the looming catastrophic situation in Akwa Ibom, my home State. It is from a little thing that uncontrollable big things spring up and spread out. The case in Akwa Ibom should be looked from that angle. I need not bore you with the daily occurrence there in Akwa Ibom because you may have felt that you have a capable person there as governor.
Permit me to remind you of your spoken words during your campaign trip to Akwa Ibom, which I read in the media: You were quoted as having said that nobody should use people's blood to win election and that no Nigerian blood is worth being used to win election for you. At one other occasion I read where you said that you are a respecter of rule of law. You have also been described as symbol of unity and provider of fresh air. Please if those are your statements, beliefs, and attributes, then please Your Excellency, let no man influence you to the contrary because most of those your symbolisms do not exist in minds of most Akwa Ibom people because you are being linked with the bad actions of the present PDP government there and I feel that linking you thus definitely does not augur well for all you represent.
Akwa Ibom State before now was noted as the most peaceful and the indigenes peace-loving and accommodating people until recently that the situation seem to have turned the other way round. Suffice it to say that the goings on in Akwa Ibom today where people have been continually hunted like animals, kidnapped and killed while others are forcefully banished out of the state, all in the name of politics is not an ideal situation. Where people are detained as a cover up even when the court has directed otherwise negates the points and path I believe you advocate and believe in.
Little things like what is happening now in Akwa Ibom concerning ACN and PDP vis-à-vis the way Senator Udoedehe's case is being handled is capable of leading to avoidable quagmire capable of engulfing the entire Nigeria (God forbid); a situation that would blow no one any good. It is my prayer that your present regime becomes unblemished. I know that we are not in a military regime that knows little about rule of civil laws.
I believe, like some Nigerians wont, that our 'international enemies' are mocking us and waiting for us to fall so that they complete a saying that "Yes, the mighty has fallen".
Please give instructions that the abnormality going on in Akwa Ibom should stop forthwith and civility that supposed to be, returned, including release of Senator James Udoedehe. You will be highly lifted if this happens.
Chief (Dr.) Mrs. Christy Essien Igbokwe, MFR, FICA (Lady of Songs & Adiaha Akwa Ibom).
Disclaimer:

"The views/contents expressed in this article are the sole responsibility of the author(s) and do not necessarily reflect those of The Nigerian Voice. The Nigerian Voice will not be responsible or liable for any inaccurate or incorrect statements contained in this article."
Articles by thewillnigeria.com