BM PRO launches new beauty range by Moriam Musa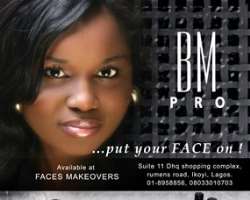 Presently surfing in Atlanta enjoying her 9 months course, top make-up artist, Banke Meshida-Lawal has yet again struck another first and this time, it is about a whole new range of beauty primers and skin enhancers. The Hypo-allergic range provides sun screen and anti-oxidants protection and ultra sensitive needs, mattify, smooth, ensure make-up stays on longer and aids in flawless application and finish. Oil free formula with micro diffusers to keep skin looking flawless. Soon to be launched.
So watch out for that.