People see us as brainless prostitutes, says Bukky Wright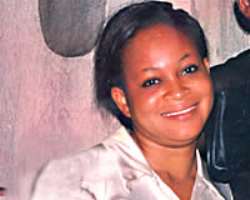 She is an actress, script writer, producer and a mother, all rolled into One. Besides, one thing you cannot take away from her is her ravishing beauty. Sultry actress, Bukky Wright, a native of Oke Ijeho in Ogun State, in this chat with Yemisi Adeniran, talks about the challenges of the acting career, her future plans for marriage and other issues.
2008 began on a good note for you with offers from soap operas, movies roles to inter prete. You also had the Hollandia milk promotional offer. Would you say you are good or just lucky? I will simply say that it is God because there are so many fantastic actresses out there, prettier and better than I am. I am just enjoying what is called divine favour. If I attribute all these to hard-work, I will be narrow minded. So many others are still there who have been in the system before me and have been working hard since. I return all the benefits to God.
You were trained as an Economist. Why did you decide to be an actress?I did not decide to be an actress, it had never been any of my childhood dreams. But like I just reacted in your former question, I am just divinely tutored. I mean, all has been through God's divine arrangement. After my graduation from the university, I just discovered that I am fascinated to the career. I tried venturing into it and I tell you up till now, it has been fun, no disappointment.
Did you have any fear when you were joining the industry?Why should I? As far as I am concerned whatever is worth doing at all is what doing well. And as long as I had made up my mind to try my hands on it, I was ready to give it all it takes. Besides, before then, I had been watching home movies and I could see that the films were entertaining and educative. But, I knew there was still a dearth of professionals in the industry. I also knew deep inside me that I could make it. I came into the industry to make a good mark and to succeed and that has been it, glory be to God. Fear, generally is a seed sewn by the devil usually to intimidate, discourage and to distract one from succeeding in life. I was very bold that I was going to make it and this got me going, it still does anyway.
Are you saying some other factors like good looks wasn't part of what gave you the boldness?Maybe. May be not. All I know is that I was convinced within me that I wouldn't fail at the venture and I haven't fallen.
Describe your journey into actingIt is not an easy thing, it is a long walk. Anyone who is not able to endure or persevere cannot get anywhere. You have to take any role offered you with all seriousness, injecting all manner of creativity into it, no mater how minute the role may be. You also have to work hard to make money by the side, so as to produce your films by yourself and produce others' films. Otherwise, you may not get much rewards and even respect. To succeed in this profession, one needs not rest on his or her oars. Major roles don't come easy unless you have proven yourself by creating a niche or a good impression of your ability in the house. It's a lot of dedication, which if you do pays on the long run. Someone will always suggest your name for peculiar roles and others will agree even when you are not there.
That is why you see many artistes engage in petty businesses by the side to get more fund for the extra needs. Those of us who can't do buying and selling are into modelling and product promotion.
Are you saying those who can't produce films cannot succeed in the industry?I haven't said that, I am only saying that the whole exercise becomes easier. As a producer you cannot be pushed around because you are the one beating the drum for others to dance. That is why you see a lot of artistes running helter and skelter to become a producer. Do you blame them? I don't because they know that if you are not, you are left in the cold and everybody wants to make money. They know that when they retire at the end of the day, there is nothing there for you.
Does this explain why many actresses would go to any length to familiarise with producers?I wouldn't know what you are insinuating, but if you are talking about sexual imposition, I would say it is everywhere. It is not peculiar to the movie industry alone. I am not saying there are no desperate actresses who wouldn't throw caution into the winds when it gets to getting major roles. All I am saying is, it would only be momentary.
You know our Nigerian men for who and what they are, once you feed them with that delicacy, they may give you your request but you must also know that it wouldn't continue as you might have lowered your prestige and dignity. Just let me give you an assignment, try and find out about all the pretty faces in the movie industry today, and you will be surprised that most of them are producers today. It is best to be focused and work with targets.
Once you understand how a company operates, it is best to adjust and think of how to work things out. You people are always talking about the females throwing themselves at the big boys in the industry for roles. What about the guys who are making it in the same business? Who did they throw themselves at?
There may be some artistes in relationships but, know that some are happening out of personal interests or is there a law that says people can't get intimite just because they are working in the same place? Don't we have such in other professions? But, let me say this that much as we have people in relationships free from the beneficial types; it is never the best for people to rely on their bodies for acquiring any need. It is a sign of laziness and that is why people view actresses as being lazy useless and prostitutes. As for me, I am here to prove that wrong and to convince people that I am here to stay not by any human help but by sheer hardwork relying strongly on God's grace.
Tell us some of the movies you have produced.I have produced Owo Ale, '7.O clock,' 'Temi ni Nkem,' 'Agbeke', 'Olugbedugbe n bo', Remilekun Oluwa, Feran mi Oluwa and the very new one that will soon be released is tilted O. ji Omotara Johnson. We just finished shooting, we are on editing and sound-track level.
Which of them is the most challenging?Well, none was not, but I think, Temi ni Nkem is a little bit tasking. May be because we involved actors from the Igbo speaking set. I am sure this was its highest selling point and it is still selling. All of them has been very challenging but very worth the while.
What are the challenges you face in this profession?Finance and the bugging impression I mentioned earlier, that people view actresses as mere prostitutes and brainless set of people who are just desperate on getting fame without working for it.
The thought of catching on people in that manner is most times very painful but what can we do? We just need to show that some of us are into labouring hard to make good success.
Honestly with this your solid jeep, you are actually proving the good success you have made. Many oldies in the business are yet to get fortune to smile on them.It is God and determination to make it combined with hard work. You see, everything we do in life has its advantages and disadvantages. But this venture obviously has more advantages. Being an actress has been a good deal.
Can we say Bukky Wright has arrived?So far, God has been very fair but I am still praying to God to make me become very successful. You can only say you have arrived if you have succeeded in something and you are able to maintain the status at least for 50 to 60 years. I wish to become a force to be reckoned with in the industry and I pray that He will grant me my request. I want to stay permanently at the front row in the make-believe industry. Until then, I cannot say I have arrived.
How cordial is your relationship with others in the industry?Very cordial. I respect all of them, both the ones older than me in age and in the industry, and even those younger than me.
Were your parents in support of your choice of career when you first started?I was already a big girl when I indicated my interest to act. I had already graduated from the university so, they believe I knew what I wanted. Even if they were not in support, they did not discourage me. Thank God I have not let them down.
Tell us about the man who has put stars into your eyes.I have always had stars in my eyes. Besides I think it's always best when one's private life is left out of one's success. I guess that is my personal life.
Why is it that women in showbiz find it difficult to keep a home?It happens all over the world, not just women in showbiz. It is just that you have to learn to cope with your circumstances. But if it has to do with your life or the other party's life, you quit. Nobody wants to marry and die in it. I believe every women wants to keep her home but if it gets to a particular point where she cannot bear the pains, she decides to quit. It is usually different strokes for different people. So many reasons push one out of marriage. There is also the men factor. Some men are not supportive and are easily intimidated by the nature of their wives' work, and the success itself can be intimidating. There are other factors like lack of trust, unnecessary jealousy, dishonesty, finance, lack of adequate care, love and so on. Women also have their own share of the blame, like greed, impatience, lack of respect and inability to prioritise their needs well, including the inability to draw the line between their work and their home. I speak generally and not personally here.
Are couples supposed to be married for better for worse?So the holy Bible instructs.
Is bad marriage not as a result of bad choices?Marriage is a package that you don't know what is in it until you are neck-deep into it. So, you make do with what is in it but God help you if it is a rotten package.
What's your favourite African dish?Cold Eba with vegetable soup.
How have you been able to maintain your beauty and stature in spite of your children?I simply watch what I eat, take a lot of vegetables, fruit and drink a lot of water. I also involve myself in some physical exercises to keep trimmed. As for what I wear, I choose what suits me and the occasion best. I try as much as possible not to follow fashion trend.
As a crossbreed actress, what are the problems with Nollywood and how do you think they can be tackled.The main problem like I have said is finance. What people don't know is that the Nigerian movie industry can generate so much revenue for the country. I believe if the government can step in, things will surely be better than it is right now. Also at the moment, we are still being hamstrung by the fact that there is only one distribution system for Nigerian movies. This is a very serious problem for us. With only one system of distribution, our industry will not grow.
What is this single system?The marketers
What do you suggest as a way forward.There are so many diverse distribution systems in the other parts of the world. For example, Warner Brothers; this is a studio on its own, have their own distribution outlet.