AKEEM ODEGBARO, 37-YEAR-OLD SURVEYOR, WAS MURDERED ON WIFE'S BIRTHDAY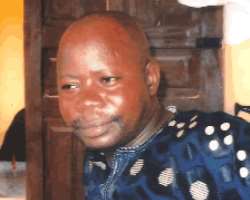 Late Akeem
When he was leaving home on that fateful Thursday morning on March 10, 2011, there was no way he could fathom that, that would be the last time he would see any members of his family alive. For the 37-year-old surveyor, Akeem Odegbaro, before that tragic trip, his work had taken him to several places within and outside Lagos and he always came back home to the warm embrace of members of his wife and four daughters.
On this fateful day, he was in a joyous mood. The day was supposed to be a special one in the household of the young surveyor. It was his wife's birthday. Before he left home, he had promised his wife and the children that he would not only come back on time, but also buy special gifts and other items to celebrate the event. However, events took a different dimension as he and his two colleagues - Fatai Adeleye and Adebisi Adelakun - that accompanied him on the ill-fated journey were ambushed by some people suspected to be land speculators at a place close to Ogijo in the Sagamu area of Ogun State.
According to eye witness accounts, the surveyor, who was contracted for a job at a village called Wonpori had already arrived the area safely and was cracking jokes with some villagers when suspected land speculators, reportedly armed with sophisticated weapons, stormed the place. Without wasting time, they reportedly pounced on the four men while the villagers took to their heels.
Further accounts has it that from a safe distance, some villagers watched in horror as life was eventually snuffed out of the three men.
One of the villagers, Saka Opeyemi, who said he witnessed the gory incident from his hideout, recalled that the surveyor pleaded to his assailants to spare his life, but to no avail.
'He was in tears, pleading that the hoodlums should spare their lives, but all his pleas fell on deaf ears. He begged the assailants that he still had an aged mother and four young children to take care of. Although, at a point, the attackers became divided. While some said they should just gave the men the beatings of their lives, others refused, with one of them saying that it would be risky for them to spare them since they would be able to recognise them.'
The act accomplished, the assailants retreated to a nearby village in the Ikoro Lagos side of the area. There they went on a drinking spree not knowing that some villagers had alerted security men at Owutu Divisional Police Station, Okorodu Lagos. A detachment of policemen, said to be led by a senior police officer, swooped on the hoodlums and two of them were initially arrested.
However, following a protest from the surveyor's family lawyer, seven others were arrested few days later. It was however gathered that it was such a task to recover the corpses of the other three as the assailants had dumped them in a place far removed from the spot where they were killed. It took the intervention of some youths who volunteered to comb the deep forest in the area before the bodies were retrieved.
One of the youths who took part in the exercise, Fatai Adio, revealed that the dead bodies were recovered in a village called Ewuo-Oloja Ologbon with some parts of their bodies mutilated.
'Their bodies were covered with banana leaves. It look as if the Surveyor' eyes had been tampered with, while the other two men were also fast decomposing. It was a gory sight.' Confirming this claim, the family lawyer, Mr. Deji Olaleye, said it was obvious that the three men were badly butchered from the way their corpses appeared. While saying that he would not relent until the family gets justice, the lawyer expressed delight that nine suspects arrested in connection with the murder have been arraigned in court.
'The wheel of justice may be slow, but it will surely grind to a halt. It is heartwarming that these suspects have been charged to court. For whatever selfish reasons best known to them, the suspects have destroyed the family of a promising young man".
At the late surveyor's house at Ojokoro area in Ikorodu, the 28-year old widow was inconsolable. Surrounded by her four daughters and a group of sympathizers, she rained curses on her husband's killers, while at the same time appealing to the Inspector-General of Police to ensure that justice is not denied her.
'I was here at home with our children dressed in our best attires waiting for him to appear with my birthday cake. Unknown to us, we were wearing our funeral robes. Some human beings are callous. My husband was a gentleman who couldn't hurt a fly. God will punish those evil men who have put sorrow in my household," she declared.
Investigations revealed that the village where the surveyor and his colleagues were attacked and the adjoining areas have recently been centres of war of attrition among various land grabbing gangs seeking to take control of large expanse of land in the vicinity.