Jim Iyke: Quotes of attitude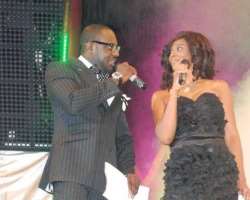 A major minus of the award ceremony was the erratic behaviour of the show's co-presenter, Jim Iyke, whose cringe-worthy performance included homophobic and sexist remarks. At one point, he told co-host, actress Nse Ikpe-Etim to "shut up.
" When in onstage banter he asked her to come to his room later and she asked what for, he replied, "You're a Calabar girl, you should know, now!" Forgetting he was in front of an international gathering of the liberal arts for a show telecast live on Africa Independent Television (AIT), Iyke had earlier gone off on a tangent about gays and their "weird" ways.
"There is something wrong. It's just wrong." It was left to Ikpe-Etim to say, "Okay, that's enough. I must apologise for my colleague. There is nothing wrong with being happy." But she could only smile powerlessly as the actor's behaviour degenerated further onstage, reading his notes with dark shades on; and ranting about anything from an ill-timed defence of Omotola Jalade-Ekeinde's weight to women "popping pills" to stay slim.