INEC, Security Chiefs Hold Meeting over Lagos Elections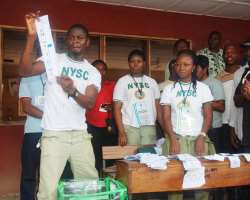 YOUTH CORPERS DEPLOYED BY INEC DURING THE RERUN GOVERNORSHIP ELECTION IN DELTA STATE BETWEEN GOVERNOR EMMANUEL UDUAGHAN AND MAIN RIVAL GRAT OGBORU, COUNT BALLOTS IN A POLLING UNIT.
LAGOS, March 29, (THEWILL) – Ahead of the April 2 federal legislative elections, Lagos Independent National Electoral Commission today held a crucial meeting with security chiefs of various agencies in the state where they deliberated on how to ensure a successful/violence-free elections.
At the meeting attended by representatives from the Nigeria Police, Nigerian Armed Forces, Nigeria Immigration Service and Nigeria Customs Service, it was disclosed that about 30,000 ad-staff members would be on duty for the elections.
Though the meeting was held behind closed doors, journalists were given a slight insight into deliberations at the parley.
Speaking on behalf of other security chiefs, the state Commissioner of Police, Mr. Yakubu Alkali said, the police would not hesitate to arrest and prosecute law breakers during the polls.
"Section 94(1) of the Electoral Act gives us mandate as security agencies to regulate the conduct of all electioneering processes. This has been done up to this moment and that is why adequate security has always been provided at the campaign grounds and other meetings.
"We have made serious and consultative appeals to all stakeholders that every participant in this election should take part according to the rules and regulations. Globally, violence is no longer the order of the day. Whatever one wants to seek for his own rights in form of agitation should be done according to required rules.
"Dialogue is therefore very important. If there are issues on the ground you should seek dialogue to solve them, "Alkali said, explaining that Nigeria "has an aspiration at stake."
"What matters most is that our image as a nation and as a people is at stake and it's very imperative that we work hand in hand with others. This is why this strategic meeting has been held today to ensure that all stakeholders are abreast of their functions and roles as far as electoral process is concerned," he stated.
Alkali also assured that the police has been well equipped for the 2011 general elections.
"I held a meeting with all Area Commanders, their deputies and other formations that will participate in this election to give a final touch to the preparations because this time around, 21st Century is not 21 days or 21 years.
"For now, INEC and other security agencies are talking about maintaining security at the polls because Lagos is critical in Nigeria and at the same time Africa and that is why it has been given the name 'Centre of Excellence'.
Also addressing journalists, INEC Resident Commissioner, Dr Kunle Ogunmola said the commission was fully prepared for the Saturday polls, adding that the commission had recruited 25,000 ad-hoc staff for the exercise.
Ogunmola, who also said distribution of non-sensitive materials have begun, added that the commission "is recruiting an additional 5,000 ad-hoc staff as back up for what we have so as to ensure that we have more than enough for the job."
Ogunmola added that INEC has approved 355 satellite polling units for new areas in Lagos, bring to 8,820 the number of polling units to be used for the April polls as against the initial 8465 polling units.
He assured that riverine areas in the state would be taken care of as INEC was in collaboration with the Air Force and Navy who have promised to help provide boats for election officials as well as helicopters.