Bad night for Nollywood as Viva Riva sweeps Africa Movie Awards and Erratic Jim Iyke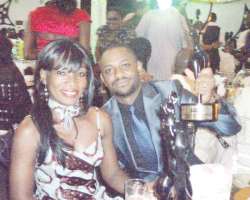 Congolese film, 'Viva Riva' has beaten features from across the continent to win Best Film at the 2011 Africa Academy Movie Awards, held Monday in Yenagoa, Bayelsa State. Nigerian films were left floundering as movies from Congo, South Africa and Ghana won multiple awards in various categories. 'Viva Riva' was the top film of the night, winning AMAAs in six categories including: Best Supporting Actor, Best Supporting Actress, Best Cinematography and Best Director.
A gritty rollercoaster of a film set in Kinshasa, 'Viva Riva' tells the story of a criminal who intercepts a lucrative consignment of fuel during a shortage, and the ruthless Angolan gang hot on his tail. Patsha Bay Mukuna, who played the charismatic Riva, attended the AMAA ceremony, alongside the film's Best Supporting Actress winner, Marlene Longage. Accepting the Best Film award, producer Boris Vanglis said, "It's a historic moment for us. This is the first film in Congo-Kinshasa in 20 years in Lingala (language)." He paid tribute to the vision of the director, Djo Tunda Wa Munga, said to be away in Europe promoting the film. 'Viva Riva' has wowed audiences at international festivals and is now set for release in Britain and America.
Another big AMAA winner was 'Sinking Sands', a Ghanaian film written and directed by Leila Djansi. It got awards in three categories including Best Actress for UK-based actress, Ama K. Abebrese. A story about domestic violence and love gone sour, 'Sinking Sands' also stars Haitian-American actor Jimmy Jean-Louis, a Best Actor nominee. Accepting the Best Screenplay award on behalf of Djansi, Jean-Louis urged for more collaboration between African moviemakers, noting that 'Sinking Sands', though a Ghanaian film, used actors and crew from several countries including Nigeria, Britain and Germany. A major presence at the ceremony, Jimmy Jean-Louis featured in at least four films nominated for this year's awards. The African American actor, Nate Parker ('The Great Debaters'), also attended the awards.
Showing Nigeria pepper
A number of South African films including 'Izulu Lami' (Best Film in an African Language), 'Hopeville' (Best Actor, Themba Ndaba), and 'A Small Town Called Descent' – featured strongly. Receiving one of the first awards presented on the night, a South African filmmaker jokingly promised that her country would "show [Nigeria] pepper". Much later, she was able to boast, "I told you earlier that South Africa will show you pepper." Another South African film, 'Shirley Adams', won the Achievement in Sound as well as the coveted Jury Prize, for being the kind of movie "that doesn't come along all the time," according to juror, Ayoku Babu.
Nigerian filmmakers were left subdued as the night wore on. Only the Yoruba language epic, 'Aramotu' put up a decent showing, winning two of the six categories it was nominated for. Directed by Niji Akanni and produced by Femi Ogunrombi, 'Aramotu' won for Best Costume and was crowned the Best Nigerian Film of 2011. Accepting her award, the film's costumier Toyin Ogundeji said, "I want to thank my mother who was the repository of all my search in costume." 'Mirror Boy' a film set in The Gambia but written and directed by Nigeria's Obi Emelonye, fetched the Best Young Actor award for its star, Edward Kagutuzi, a UK-based actor of Ugandan origin. The high production musical, 'Inale', was rewarded for Best Soundtrack, won by Bongos Ikwe whose award was picked up by his daughter and the film's producer, Keke Bongos.
Erratic Jim Iyke
A major minus of the award ceremony was the erratic behaviour of the show's co-presenter, Jim Iyke, whose cringe-worthy performance included homophobic and sexist remarks. At one point, he told co-host, actress Nse Ikpe-Etim to "shut up." When in onstage banter he asked her to come to his room later and she asked what for, he replied, "You're a Calabar girl, you should know, now!" Forgetting he was in front of an international gathering of the liberal arts for a show telecast live on Africa Independent Television (AIT), Iyke had earlier gone off on a tangent about gays and their "weird" ways. "There is something wrong. It's just wrong." It was left to Ikpe-Etim to say, "Okay, that's enough. I must apologise for my colleague. There is nothing wrong with being happy." But she could only smile powerlessly as the actor's behaviour degenerated further onstage, reading his notes with dark shades on; and ranting about anything from an ill-timed defence of Omotola Jalade-Ekeinde's weight to women "popping pills" to stay slim.
The speeches
In his speech at the ceremony, the governor of Bayelsa State, Timipre Sylva, called on African filmmakers to tell positive stories about the continent. "Africa today cannot be portrayed as the dark continent," he said. The governor added that the "horrendous impression" created about Africa by the West, should be resisted.
Presenting the award for Best Visual Effects, filmmaker Kunle Afolayan canvassed for more support and corporate sponsorship for AMAA. "We should give [AMAA] all the support and we should embrace it. This is the only platform where African films can be appreciated all over the world," he said, giving testimony to the impact of the awards on his own career since his multiple wins in 2010 for 'The Figurine'. The award ceremony featured performances by music stars including Tee Mac and his 10-piece band, Wande Coal, and the South African group, Malaika. Another performer, the hip-hop act, Doctor Sid, revealed that he is the son of Nollywood actor, Justus Esiri. Thousands attended the awards, held at the Gloryland Cultural Centre in Yenagoa. 320 films were submitted from all over Africa for this year's awards. 180 of these were features, from which the Jury selected 30 for nominations. "We received a stunning range of film – films that tell us moviemaking is alive and well in Africa," said juror, Keith Shiri, who represented the Jury Chair, John Akomfrah.
CEO of the Africa Movie Academy, Peace Anyiam-Osigwe, pleaded with corporate organisations in Nigeria and across Africa, "Take us seriously. We are the reason Africa's perception is changing. The positive thing coming out of Africa is Nollywood. I need my industry taken seriously. I need piracy wiped out." At a press conference with the AMAA jury earlier in the day, Anyiam-Osigwe had told Nigerian filmmakers who like to snipe about not winning, "If your film does not win, it didn't win because it's not good enough." It will be food for thought for Nollywood practitioners as they mull over their poor showing in the seventh annual AMAA awards.