WE 'LL MAINTAIN OUR WINNING TEMPO -YOBO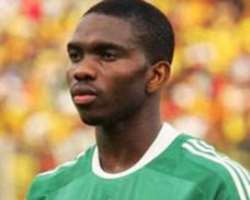 Super Eagles' skipper, Joseph Yobo, has sensationally said that his teammates have decided to strive and maintain the winning tempo they started with the new coach, Samson Siasia. The captain promised to make victorious outing in all the team's outstanding matches in the Nations Cup qualifiers after last Sunday's 4-0 bashing of Ethiopia in Abuja.
Elated Yobo, who celebrated his 10th anniversary in the Eagles, said the players were determined to change the fortunes of the team under the new coach. According to him, there's new orientation in the team as everybody is now working towards building the team to a respectable height. 'We are all aware of the challenges ahead of us and we are determined to work as a team and forge ahead in all our matches.
Yobo said with time, Nigeria would take back her position in the FIFA's rankings just as in the days of former Dutch coach, Clemence Westerhorf. Nigeria now have six points from three matches, a point behind group leader, Guinea, who forced host, Madagascar, to a 1-1 in Antananarivo, also on Sunday.
With only the group winners automatically qualified for the tournament in Gabon and Equatorial Guinea in January, the Eagles are hard pressed to win in Ethiopia in June and Madagascar, while also ensuring victory when they will play host Guinea in October.
'The most important thing against Ethiopia was to win. We are happy and now we want to win our other matches to ensure our qualification,' said Yobo after the Sunday's match in Abuja.
On his club in Turkey, he said he made Fernerbahce a home and he's not in an hurry to go back to England.
Yobo regarded Fenerbahce as a strong team with great culture like Manchester United of England.
He said the club gave him the opportunity to play for the first time in the UEFA Champions League and he is happy to be in Turkey.