IT'S JONATHAN, OHAKIM, YAKOWA AND FASHOLA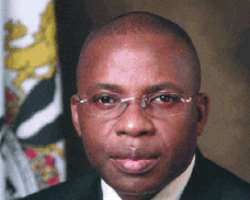 Ohakims
My friend and I parted on a good note after agreeing that Ohakim's political problems, essentially, derived from being underpublicized. We agreed that people should remember that when all is said and done about Ohakim, he will go down in history as the first governor that tolerated unrestricted opposition in Imo.
It has never, ever happened in the politics of Imo state. Before now, we agreed that the people of Imo had been so calm and docile that they could not challenge a given status quo; that the dirt and crime infested Owerri and Imo, under Udenwa, survived for eight years without credible opposition.
We compared that better forgotten era when a popular lecturer and an ex-aide were killed in what was believed to be extra-judicial circumstances, with the absolute, peace, tranquility and serenity that have visited Imo state under the watch of Ohakim and how in the process, Imo has become a tourist haven. We reckoned that credible opposition, state wide, was silenced either by intimidation or by stark example of physical elimination of opponents by immediate past administration.
We compared it with now, when the rules of ideas and intellect have taken over. We agreed that Araraume, who badly wants to be governor (he is from the same Osuh clan with Ohakim), had pocketed Okigwe for eight years as its senator. He never attracted any sustainable federal presence in Imo State. He was instead found at every spot of controversy. Anywhere there was a deal, was Araraume's comfort zone. The non-repair or rehabilitation of the dilapidated Anara-Umuelemai road (the road led to the senator's house) which was a relic of the Nigerian civil war, was a sad commentary on his impact in the Senate. It was not repaired until Ohakim came to power.
We noted that when the senator held sway, opposition went to exile. He killed it by intimidation. If, for example, you developed a real or passing interest in politics and you happen to hail from Okigwe senatorial district, you dared not do it without Araraume's blessing. It befuddled us; that at his peak, the senator was the be it all and ends it all in Okigwe. He was the king maker of Okigwe politics. Opposition died, literally speaking, during his time.
He suppressed the voice of the opposition. His yes men, yes, his yes men he supervised their election and victory with ease. In those good old days, all one needed was do Araraume's biddings and get his nod and you were as good as having been elected. Had he not zoned the governorship of Imo to himself, he would still have been senator until this day. He was Okigwe zone's Arthur Nzeribe equivalent. He knew how to 'win' election. How he came about such enormous powers and knowledge, I leave for another day. He was a Lord, literally, speaking. We agreed that for providence, he almost became the king maker of Imo politics. We took that back. We agreed that he was the godfather of all godfathers in Imo. He almost crowned himself the king of Imo.
Thank goodness, the invincibility myth of those who held Imo hostage seem to have been broken. From now on, people would be able to challenge incumbency in Imo (let's agree without fear), because the men who made it impossible, have now wholeheartedly bought the idea of the need for credible opposition. They have done it well. We must admit. May it ever be so, now and forever.
Yakowa's Kaduna
I met Mr. Patrick Yakowa many years ago, through his first cousin – his Eminence, Bishop Joseph Bagobiri. Bishop Bagobiri was (is) the Catholic Bishop of Kafanchan, southern Kaduna area of Kaduna state. Yakowa had just finished serving in the Abdulsalami transition administration as a permanent Secretary. He was therefore forced to leave office when all those who worked with Abdulsalami transition committee left. Though forcibly retired, he was not tired by any stretch. I figured, he still possessed some zeal and ability to work.
We had been brought together by circumstance of some charity work we did together - providing information on HIV/AIDS prevention and medication to the people of southern Kaduna. We were at St. Mary's hospital, Kafanchan, together. We delivered tons of HIV prevention kits and other hospital equipment every the nook and cranny of southern Kaduna, most especially, in the Kafanchan area. It was in the course of this that I developed lasting rapport with Mr. Yakowa.
He was selfless, assiduous, and hardworking. He often lamented the manifest poverty in southern Kaduna. Though a man of means, he lived a very ascetic and frugal life. He is a very simple and unassuming man who lived in a modest bungalow in the city of Kaduna in the same precincts with selfless citizens as Col. Abubakar Umar. What President Jonathan is to Nigeria is what Mr. Patrick Yakowa is to the politics of Kaduna. Here was a man who never contested for any political office in his life.
It was Senator Markarfi, the then governor of Kaduna state that discovered him. First, he appointed him secretary to the government, I think, after the incumbent from southern Kaduna left.Then, he was appointed deputy governor after the incumbent deputy to Markarfi also from southern Kaduna died. Now, the death of Yar'Adua had the unintended consequence on the politics of the north by throwing up Patrick Yakowa who became the first Christian to operate from the Usman Katsina House in Kaduna.
Here was a man who was contented that at least he had been a permanent Secretary, a Secretary to Government, a deputy governor and now a governor through methods, not of his making.
The political problem on his way is that he happens to be a Christian from a minority tribe of the southern parts of Kaduna. The second is that he found himself in Kaduna, the political headquarters of predominantly Moslem northern Nigerian. I watched the reaction of northerners when Namadi Sambo, his boss was nominated to be Jonathan's vice and how spirited efforts were made to stop Yakowa from becoming the acting governor.
I feel for Yakowa, bearing in mind the religious and cultural sensitivity of his appointment and where he has found himself today. My sorry feeling is, however, tempered by the knowledge that eminent Kaduna people such as Col Abubakar Umar have endorsed him. To the people of Kaduna, I urge you to return Yakowa to power. He is a man of humble origins.
He is a symbol of humility, dedication, hard work and integration. He will take your state to the next level of development. He may have come from a minority speaking southern Kaduna, but like Jonathan, he had been zoned into Government House, Kaduna, by providence. He deserves to be given a chance. Let not his tribe, religion or tongue be an impediment. He has wealth of experience only fit to be utilized by such a complex and strategic state as Kaduna.
Fashola's Lagos
Now, enter Babatunde Raji Fashola. Where do I start and where do I end? Fashola is still working in Lagos, and it has been showing. Since he has issued a warning to people to keep quiet because work is still in progress, I must obey. But, I must still chip in something. Fashola epitomizes all that Chief Obafemi Awolowo preached. If Alhaji Lateef Jakande is still being praised to high pitch today for all he did for Lagos in less than five years, Fashola has outperformed him, a million times over in less than four years. That's the way it ought to be.
All I have for the people of Nigeria on Fashola is this: Come 2015, at the peril of Igbo presidency and or a Jonathan not running a second term, parcel the presidency and hand it over to Fashola. He is the messiah Nigeria has been waiting for. Any man or woman, who has the talent of effectively and productively handling complex Lagos, can handle Nigeria. Lagos is mini Nigeria. In most democracies I know and have experienced, the type of Fashola would be begged to become president - on his own terms.
Post script: While the series ran, I received tons of text messages and calls. Some were threatening, some condemning and some commending. But the one call that struck me was that made on the first day of the publication, where other than the title of the story, nothing else was said about Ohakim. But a gentleman from Lagos, who claims he is Igbo from Imo who has not visited home for a while said Ohakim should not go for a second term.
He had not even read what I had to write before he condemned Ohakim. I felt sorry for him for relying on hearsay. A second caller from Bauchi - apparently a CPC supporter who alleged I had been bribed had nothing good to say about President Jonathan. Then, the man from Ngor-Okpalla who said Ohakim had not done anything for his people. Then, there was this impression created that development in Imo was lopsided in favor of Okigwe because I used Okigwe as an illustration.
Far from being so. I used Okigwe because the ACN supporter who ridiculed the Ohakim Administration happened to come from Okigwe. In fact, Ohakim's developmental initiatives in Imo from my point of view are even handed, with Owerri, the state capital naturally receiving more than its fair share. Then this: that road, I talked about at Atta junction is, indeed, the Imo State Interconnectivity Road project. An ambitious project designed to link all the twenty seven local governments in Imo State. 'Work in progress, in Ohakim's Imo. Don't disturb,' should have been a bumper sticker.
End of series.
Godson Offoaro writes from Havensgate, Owerri.