IBB: Ribadu, Adeola Winning Team; Endorses Duo For Presidency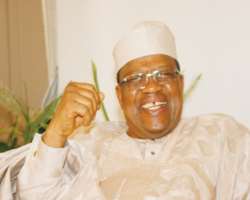 FORMER MILITARY DICTATOR GENERAL IBRAHIM BABANGIDA.
SAN FRANCISCO, March 27, (THEWILL) - "I endorse the generational change which Alhaji Nuhu Ribadu and Alhaji Fola Adeola stand for. I have strong faith in them and I believe they can deliver the goods. They are the pair that the country needs to turn her fortune around," former military despot General Ibrahim Badamasi Babangida declared today inside his Hiltop fortress in Minna, Niger State.
The former leader, who was a Presidential aspirant on the platform of the Peoples Democratic Party (PDP) stunned journalists and political watchers with the endorsement of the Presidential candidate and running mate of the Action Congress of Nigeria (ACN).
The Ridadu campaign had visited Babangida as a part of its campaign stomp in Niger State.
The move by Babangida opens up the rift between some pro-zoning leaders in the PDP's leadership and those in support of the Presidential bid of President Goodluck Jonathan, who is from the minority South.
Babangida said it was time for the youths to lead Nigeria addding that the duo of Ribadu and Adeola would turn the economic fortune of Nigeria around.
"Someone asked me who my candidate is and I analyzed the situation, the fact is that the country needs people of your age to take over the leadership of the country. I believe we have to allow generational change, which the ACN candidates represent. I endorse generational change because the future is for the youths and we have to support them. That is why I endorse and support Alhaji Ribadu and Alhaji Fola. We have faith in them and we have hope in them," Babangida added.
Recall that at the grand finale of the PDP rally yesterday in Abuja, the Chairman of the party's board of tustees and former president Olusegun Obasanjo had tried to rally the party behind Jonathan urging party leaders to support the President and assured that, "zoning in PDP is alive and kicking."
He added that he had discussed the matter of zoning with party leaders including Babangida, who have insisted on having a Northerner as President.
It is however unclear how the PDP leadership would respond to Babangida's endorsement.
Meanwhile, most presidential opinion polls being conducted by various organizations puts the fight for the Presidency between incumbent Jonathan and the CPC's candidate General Muhammadu Buhari.