Jet fighter Crashes In Kano, Kills Pilot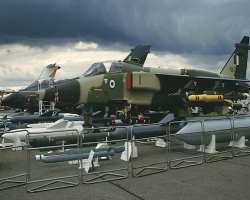 A NIGERIAN AIR FORCE FIGHTER PLANE. PHOTOGRAPH BY IAN POWELL.
KANO, March 22, (THEWILL) – A fighter jet belonging to the Nigerian Air Force has crashed at the Mallam Aminu Kano International Airport (MAKIA), Kano killing the pilot, while the co-pilot escaped with injury.
The crash coincided with the official visit to Kano State of Aviation Minister, Mrs. Fedelia Akuabata Njeze, who was forced to delay her departure to visit the crash site.
An eyewitness told THEWILL at the Airport that the fighter jet; a MIG TIGER took off from Makurdi its original base on a training mission.
Security sources told THEWILL that the fighter jet with two pilots, one of them on training, was engulfed in fire mid air as they started preparing to land.
Immediately the crash occurred, authorities of the airport, drafted airport fire fighters to the scene as they battled to put off the flame around the ill-fated aircraft, the source said.
THEWILL gathered that the pilot (name withheld) who was a Group Captain in the Air Force died instantly.
All efforts to speak with Airport authorities and the Air Force officials proved abortive.