ADDRESS BY HIS EXCELLENCY, PRESIDENT GOODLUCK EBELE JONATHAN, GCFR; ON THE OCCASION OF THE GRAND FINALE RALLY OF THE PEOPLES DEMOCRATIC PARTY (PDP) PRESIDENTIAL CAMPAIGN, ON SATURDAY 26TH MARCH 2011 AT ABUJA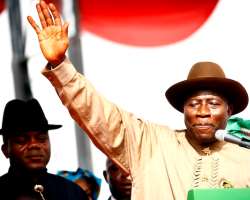 PRESIDENT GOODLUCK EBELE JONATHAN.
PROTOCOLS:
1. About ten weeks ago, delegates to the Special Convention of our great party assembled in this same Eagle Square. On that day, Vice-President Namadi Sambo and I were given an overwhelming, but humbling mandate, to become our party's flag-bearers in the forthcoming Presidential elections.
2. Sambo and I enjoyed emphatic support and overwhelming show of love in the six geopolitical zones in our nation and by that, you have effectively sent a message to the world that our support is truly national. You committed our party to continuity, but sent us a strong and powerful message that you wanted peaceful change that would create an enabling environment for the rapid transformation of our great nation.
3. Since that day, we have travelled to the 36 states of the federation. We were encouraged and supported by our spouses; and leaders of our party at all levels. We met artisans, farmers, the elderly, youth, physically challenged, women and people from all walks of life. We were received by traditional rulers and religious leaders. We interacted across board with the unemployed and the down -trodden. We sincerely thank our governors who facilitated all these movements and interactions with our people.
4. Everywhere we went, the message we received was simple, clear and loud. It was that: Nigerians want to remain a united and strong nation. Our people know that we still have many challenges but also understand and accept that the PDP is the only truly national party that has a strong followership in all six geo-political zones.
5. The message I got is that our people understand this election and our politics better than most politicians can imagine. Our people want leaders that are more concerned about their wellbeing. They want servant leaders who will put the interest of the nation first beyond their self-interest. Our people see an overwhelming need to unite the nation so that we can have personal and collective security. Our people want jobs so they can put food on the table for their families. They expect the Government to provide affordable healthcare, good quality education and significantly improved physical infrastructure.
6. It is very clear from the interaction I had with people that Nigerians will favour only candidate that will be fair to all sections and groups in the country. Fairness means that we must provide skills and job opportunities for the youths; we must empower our women and above all – we must improve the lives of the urban and rural poor in all the 36 states of the Federation. I share these noble aspirations and pledge my personal commitment to it.
7. All of you here are the strings that bind us together. You are the guarantee that no place and no one will be left behind in Nigeria. We have today assembled in large numbers from every ward, local government and state in Nigeria. But then we do not assemble just for the sake of it. We assemble because we need broad-based support and a firm national mandate to enable us pursue a vigorous transformation agenda for national development.
8. Today we come together and thank the Almighty God for all the members of our party; and all of you who have worked very hard to spread our message of hope to all hamlets in this great land. We thank God for the people in every state that came to receive us with great generosity; warmth and open hearts, but above all we pledge to God Almighty that we understand the immense responsibility which this sacred trust places on our shoulders.
9. Our opponents have done a very good job of reminding the populace about the problems that are still facing the nation but many of the solutions they proffer are hopelessly inadequate. Some of them even sound as if they wish to turn the clock back and take us back to models that have failed repeatedly because they have not really assimilated investor demands and the new global focus on development and good governance.
10. The telecommunication sector reform that the PDP government pursued has developed tremendously over the last decade because it was opened up for private sector participation in a transparent and consistent manner. Today with the progress we have made in the telecommunication industry, I can call my Aunt in her farm in the village. It is this same logic that is at the heart of my power sector roadmap and it is this same logic and philosophy that will drive our policy options in all other sectors where it is clearly applicable. In the process, I will clear out any vested interests that stand in the way of quick policy implementation and rapid economic transformation. This is my message to the private sector (formal and informal). This is also my message to investors (local and foreign). We will work with you and partner with you to put Nigerians to work.
11. The patient, steady and consistent application of the laws of the land is the guarantee against the abuse of power and selective justice that destroys our collective resolve to fight corruption. We are determined to fight corruption at every level regardless of positions in the society. We will strengthen the existing institutions and empower them so that they can carry out their obligations without fear or favour. We will build a society where probity, accountability, fairness and equity will be the foundation in our polity.
12. We will continue to support the art and entertainment industry with funds to aid its development. We will fight piracy so that hard working artists can reap the fruits of their labour and provide jobs for more Nigerians.
13. We are dedicated to creating an inclusive society where there will be jobs and abundant economic activities for our people. Our plan for building inclusiveness is not only about job creation; it is also about ensuring financial inclusion for all Nigerians and strengthening the frame work for social security to protect the poorest and most vulnerable in our society.
14. Therefore, all our economic activities would emphasize the need to create jobs and wealth as our solution to the endemic poverty among our people.
15. We have already taken concrete steps to tackle the unemployment problem in the country. Our Public Works Programme will create 1.5million jobs this year. We have initiated a Growth and Employment Pact that would enable public-private partnership to enhance growth in construction; ICT; meat and leather; tourism and entertainment. We are focusing on employment generating sectors of the economy like agriculture, manufacturing, building and construction where we generate the biggest impact on employment with fiscal incentives for these sectors.
16. Our power roadmap launched in August last year is on course. My abiding pledge is that within the next six months when most of our NIPP projects would have come on stream, and repositioned the transmission and the distribution aspect of the electricity chain, power situation will improve significantly.
17. Our reforms in the petroleum industry, which aim at diversifying the sector so that it can generate more jobs and wealth for our people are also on course. Only on Thursday this week, I launched a major gas revolution initiative where government in partnership with the private sector will invest over 25billion dollars that will make Nigeria a petrochemical hub in Africa. This is targeted at stimulating the economy and thereby creating directly and indirectly over one million jobs. Major fertilizer industries will be established and fertilizer blending plants will spread across all the segments of the country. The Nigerian content law which is under implementation will provide jobs for over three hundred thousand Nigerians. We will intensify seismic operations in the Benue, Chard and Anambra Basin with a view to exploit our resources for the good of our people.
18. Agriculture will continue to be the corner stone of our job and wealth creation policy, as we enhance its capacity to diversify our economic base. We have started the process of revolutionizing agriculture through the rehabilitation of all our dams and irrigation projects to give us the support of all year cultivation so that we can feed our nation and create export potential opportunities.
19. At the social frontiers we are committed to the improvement of our infrastructure. Therefore, transportation, including national road network, railways and waterways; health care and education would continue to receive our utmost attention. Two weeks ago I had the opportunity of taking a train ride from Lagos to Abeokuta. This exhibits our commitment to the rehabilitation of rail services. We will embark on the construction of modern gauge rail system across the country with a view to making transportation of people and goods more effective.
20. No matter the good intention of government, if a formidable educational system is not in place it will be difficult to achieve national development. Because of the importance of education to our national development, I called a stakeholders summit to look at the inadequacies in our educational system and I have set up a task force that is empowered to carry out the recommendations of the summit especially as it affects our curricula. We will encourage the establishment of skill acquisition centres in all local governments of the federation. At the tertiary level, our government will ensure that every state of the federation that has no federal university gets one and we will work with the private sector to provide accommodation to decongest our crowded hostels.
21. We shall confront all the social issues that have threatened the peaceful coexistence of Nigerians in all parts of our country. In this regard, we will empower our security agencies to perform its statutory duties effectively. Our commitment to peace, security and rapid development of the Niger Delta remains unwavering. We shall continue the implementation of the amnesty programme with vigour.
22. Before I conclude this address, I want to appeal to our political leaders and Nigerians in general to eschew violence in all ramifications. I have said, neither my ambition nor any other person's ambition is worth the blood of any Nigerian. I seize this opportunity to remember with heavy hearts the members and supporters of our party; and indeed all other parties – that lost their lives in accidents or through acts of political violence during the course of this campaign. I would like to assure their loved ones that they did not die in vain. May their gentle souls rest in perfect peace.
23. I want to assure you once again that I understand the challenges that our people face today. As someone who grew up in a very modest environment and find myself through the will of God and the mandate of Nigerians in this privileged position, I pledge my commitment to build a stronger and more prosperous country for this generation and the generation to come.
24. TO THE YOUTH OF NIGERIA, I PROMISE GOOD AND FUNCTIONAL EDUCATION AND JOB OPPORTUNITIES;
TO THE WOMEN, I PROMISE MORE INVOLVEMENT IN GOVERNANCE AND MORE CHALLENGING JOBS;
I ALSO ASSURE YOU OF YOUR 35% IN APPOINTIVE OFFICES;
TO OUR CHILDREN, I PROMISE TO GIVE YOU HOPE AND A NIGERIA THAT YOU WILL BE PROUD OF.
25. I URGE YOU TO GO OUT THERE AND VOTE FOR TRANSFORMATION;
VOTE FOR UNITY, EQUITY AND JUSTICE;
VOTE FOR ECONOMIC PROSPERITY, JOB CREATION AND YOUTH EMPOWERMENT;
VOTE FOR GOOD EDUCATION AND SKILL ACQUISITION;
VOTE FOR SECURITY AND A SOCIETY WHERE THERE WILL BE MUTUAL RESPECT FOR ONE ANOTHER.
26. I URGE YOU MY BROTHERS AND SISTERS TO VOTE FOR GOODLUCK EBELE AZIKIWE MAINASARA OMOLUABI JONATHAN AND I WILL NEVER, NEVER LET YOU DOWN.
27. I THANK YOU.