Lack of album deal cannot stop me —Menyaa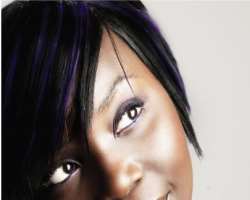 Vocalist Menyaa is edging her way into the competitive Nigerian music industry with a definitive advantage. The Plateau state-born artiste combines vocal strength from her Taroh origins with her love for singing in Igbo language.
In September 2008, Menyaa debuted her music career with an album titled 'Haywire' but the studio effort failed to cut it commercially. The artiste alleged her previous music marketer dumped 'Haywire' CDs, meant for public sales, in his shop and made no attempts at distribution. Thus, after her performances at live concerts, Menyaa's fans came asking for CD's which they had been unable to buy in the open market.
Showing the resilience of a fighter, Menyaa went back to the studio and this year, came out with her sophomore album titled 'Deal or No Deal'. The album title is the vocalist's rejoinder to disheartening challenges faced while recording —having no recording label, and after recording —no marketer to distribute the album. "I decided that whether I had a deal going on with a marketer or not, I was going to go right ahead and do the album". Eventually, Menyaa did get a marketer, a major dealer here in Nigeria and she is hopeful to receive better professional services than her previous marketer was able to provide.
The artiste, whose given name is Manya Jennifer Nimyel, describes herself as a dynamic and an eclectic R&B/ pop artiste. One of her songs currently enjoying airplay is 'Sara Sara', an Igbo slang which loosely translates to mean 'you make me happy'. 'Nkem' and 'Husband' are also popular hits from her first album. The artiste says both 'Sara Sara' and 'Nkem' out in video. Describing her music style, Menyaa says she is able to interpret the different genres of music, but settled on pop because she can give it the required 'arttitude'.
However, the vocalist blends lots of African fusion with her music, saying the practice is common trend with artists of African heritage'. "There is something African in the songs we sing now. It might be the beat or part of the melody, an African adage. There is always something to bring you back home such that one does not get lost". Menyaa's choice of Igbo for her lyrical language on some songs is majorly influenced by her Igbo songwriter, Maximillahni Ebonumah. Moreso, the developmental stages of her early years were spent in Owerri, a prominent South-eastern city, thus Menyaa has a native speaker's ease with Igbo language. "I sing in English, but you find out that a lot of my songs have come out in Igbo. Not that it is planned, but my songwriter is Igbo, so he tends to inject Igbo lyrics into my songs.
Any Igbo line he thinks I can successful deliver on, he rushes to me with it and says "Menyaa, let's work on these together and see how we can bring it out". I do have lots of Igbo songs. I also have one or two songs in my language, Taroh". Menyaa says she can also sing Yoruba and indeed any other Nigerian language once someone is ready to put her through. Of the 15 tracks on 'Deal or No Deal' album, Menyaa admits that the song, "Make it Go" is her most challenging. The song is written and recorded by Shifi, of the Style Plus Crew, whom she reveals is a hard taskmaster. "He thoroughly drilled me in the recording studio". She further adds that it would be hard to tell a particular hit songs, as all her songs are hit songs, depending on each fan's preference. "We recorded 'Deal or No deal' devoid of album fillers".
Also on the album is a track, 'Keep the Faith', a song the lady from Langtang North LGA of Plateau says is for peace in the state. The song focuses on how women and children are the usual victims of the ills and unrest of these dismal happenings. The Abuja-based artiste worked with music industry old hands like TY Bello, Style Plus, Ty Mix, Mekoyo, Sunky and Segun Ologe to produce her second album. Presently, arrangements are in top gear for Menyaa's album release parties in Abuja and Lagos. Her new marketer though admits he certainly has his work cut out for him in the city of Lagos.