I've never met my father–Ramsey Nouah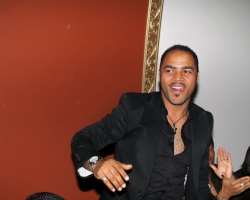 Ramsey Nouah is one of the leading actors in Nollywood and has been in the industry for more than two decades. He shares with ADA ONYEMA how he started his career, marriage and sundry issues
You have been in the industry for the past two decades; does it not call for celebration?
Well, I didn't do a major celebration because basically I didn't want the attraction in the sense that I didn't want to create any buzz around it.
How was it when you started?
It wasn't a feasible industry in Nigeria then; we were only shooting soap operas on national television. The end of 1993 came with home videos when Kenneth Nnebue shot Living in Bondage and it was successful. By 1994, everybody was thinking of going into home video and being one of the popular faces already on TV then, it was easy for me.
Did your parents really approve your going into the movie industry?
My mum is a very liberal woman. I became very independent even at a tender age and she gave me a free hand. She was not really concerned about TV or anything. Parents were not comfortable with certain characters you play in a movie and parents are more concerned when it's a female than when it's a male. For me, she didn't really mind, though in the beginning she was saying something like, 'What do you think you are doing?' But as time went by, she just knew that she couldn't stop me and she just let it go. Today, she is very happy.
And your dad?
My dad has never been around; I didn't even get to know him.
I don't understand.
I mean my father was never around during my growing up days and I didn't get to know him.
Up till now?
Yes, even up till now.
Is he dead or..?
I wouldn't know.
But they said that a when a male child grows up, he will surely look for his dad. How come at this your age you still don't know your dad?
I'm a father too; so why would I be scouting for a man that wasn't there throughout my growing up days as a boy; why would I want to? I'm there for my children and if a father was not there for me why should I go looking for him.
How was growing up like without a father?
My mum was tough and is still tough; I can boast and hit my chest that she groomed me. I tasted both sides of the coin while I was growing up. I tasted bitter life and sweet life and it helped me in my career as an actor; the ability to be versatile and play different roles because I have seen the gutter and I have seen the grace.
What is your worth as one the pioneers of Nollywood?
I can't possibly give you a figure into what my worth is but one thing is sure, you can't place a figure on the work of art. It could cost nothing and it could cost a trillion naira.
Many people jump into entertainment because it is one of the fastest ways to be famous. What is it for you?
Indeed, but you to have to have the inward ability to be an artiste. The fact that you know that acting or singing is a quick way to fame does not mean that you can be an artiste without knowing how to draw a picture. In the beginning, I came into the industry not for the fame but for the money. I needed money for my GCE exams and other things. Back then, you know there was no job for secondary school leavers, so I thought If I did one acting, I could just get the money to pay for my WASCE and GCE. But long before then I knew I have a very strong passion for being an actor. Right now, it is not about the money again, it is about leaving a legacy behind because I have been in the industry for long; I have been appreciated and loved by the people. When I'm gone I still want my name to resound in the ears of those that are yet to come so that they will know that one of those who actually made the industry what it is today is Ramsey Nouah.
How did you develop the skills of interpreting roles?
God has a purpose for everybody in this world and once you deal with it purposefully you will definitely achieve. If you are a shoemaker, or a pepper seller, as long as you have a passion for it, it becomes big in the process. I think it is more of being inborn than being an ability.
You recently acted a pastor in a movie; how did you come around it?
It has never been out of the ordinary but this one was different in the sense that people look at pastors as idols. The fact that everybody thinks that every pastor that stands on the pulpit and preaches the word of God usually frolics and messes around with women in the church, but this was different. Everyone thought because he is a fine pastor, who preaches the word perfectly well will be a woman kind of guy, but the twist came when he was not into women, he was into guys, a homosexual. I keep telling people that movie making is a reflection of what happens in the society. That portrays how the society frowns at such things. Inasmuch as the role gave me some goose pimples while I was doing it, I thank God I got through it somehow.
Why do you always play the role of a lover boy?
Like it or not it is not only in Nollywood, it happens all around the movie industry all over the world. Once you are known to perform a particular role properly, automatically you are knocked down and stereotyped to that character. But however when you look at Hollywood too, you realise that most of the actors are stereotyped. It is just the way the industry is, you have to look for a way to break free of that bond. Again, in all the movies around the world, there must be an affection between a man and a woman, even in a horror film. I don't know if I can actually remove myself from being a lover boy.
And in real life too?
To be honest with you, it really affects me in real life. If I do any other thing than what they expect me to be, they are like I'm acting it but there is nothing I can do about it.
You separated from your wife sometime ago; have you made up?
That is one of the bad press I have had in this industry. There was nothing like that and it was so bad because it was targeted at your family, trying to destroy your family. I have grown a thick skin but my wife was really hurt; she didn't like it.
How does she feel seeing you acting those romantic scenes?
Honestly she is human; she doesn't like it. No woman would probably enjoy that kind of stuff. But she understands that is the way it is, moreover this is the jet age. She knows that whether we like it or not the profession brings food to the table; besides that, she has known me with the profession for so long, so she comes to understand how it works and sometimes she jokes about the romantic scenes.
How did you meet her?
We were together in primary school. She is intelligent and always used as a point of reference back then. After that we went our different ways and met when she was graduating and we started it off. She is a very homely woman, what you may refer to as wife material.
So, men can easily identify a wife material?
Yes, you can tell. The woman is the owner of the house. If the house is destroyed, it is her fault because God has given her the power to endure and tolerate. Men can be very annoying in so many of our moves, but automatically a woman is created with emotions, love that should contain the children, husband and everybody in the home. A mother's place can never be misplaced in the house.
Don't you think your romantic roles can affect your children?
My kids haven't started watching my movies that much yet. They are getting used to the fact that their father is a popular figure; they haven't seen the potential of their father.
How do you reconcile the Ramsey on screen and real life?
It is simple: I just make sure I give my best. On the set, I'm a very professional person. I just make sure I do my thing to the letter. When I'm home, I'm a father, a mother, a family man. It is all about discipline.
Any embarrassing moment?
I have been embarrassed a few times. Someone has actually stoned me with pure water because of my role in a movie. Another person threw the orange she was sucking at me because I was a mean guy in a movie. As a matter of fact, someone has actually spat on me and I was real hurt to my bones.
You seem to attract lots of attention everywhere; how does that feel?
You don't want to walk a mile in my shoes; it is not easy. Some people love the razzmatazz and accolades that come along with this industry but honestly I don't enjoy it. I have had my fair share of being a popular face, people shouting and barking at me. I don't have any privacy and I can't possibly have a good life with my family anymore. Sometimes I want to go out with my kids after not being with them for so long; I go to a public place where I want to share with my children and the moment I want to spend with them people are saying, 'Oh Ramsey, my children want to take a photograph with you' and that but I have my kids there, the time I want to spend with them I can't spend it with them just for being a popular face. I wear a face cap and all that to conceal my identity but it doesn't work for me. It makes me very unhappy sometimes.
What's your comparison of Nollywood then and now?
Nollywood in the beginning was going towards being a good industry, but somewhere along the line, we lost it because of sycophants. In the beginning we used to actually do rehearsals before we got on set, follow the ethics of movie making, but right now, it is all about money making, it is no longer about the professional ethics of production. As a result, the industry collapsed by virtue of that, today there is a boomerang effect. Today, they are not making their money back, no good production effect anymore. My problem is, it is not only known faces that can sell your movie; if you get fantastic actors who are new, good publicity and you do the production well, you will still sell your movie. This is my argument; you don't need Ramsey Nouah all the time on the front page of your poster so that you can sell when you have done a shoddy production. It has affected the industry drastically and many of them are coming to terms that we really need to follow the ethics of movie making properly.
When you are not acting, what do you do?
I try to be a family man by being there for the kids that don't get to see me very often. If I have the opportunity for a little relaxation, I would rather swim or play squash for health purposes.
What is your definition of style?
As far as I'm concerned, style is simplicity in sophistication.
What is the most prized fashion item in your wardrobe?
My watch; I'm a watch collector; I love wrist watches.
Which schools did you attend?
I went to Atara Primary School. It was one of the schools which at that time enjoyed free education established by (the late Obafemi) Awolowo. I went to another free secondary school, Community Grammar School and ended up doing a diploma in the University of Lagos and now I'm running a course in business administration in the US.