Sound the alarm! D'Banj in yawa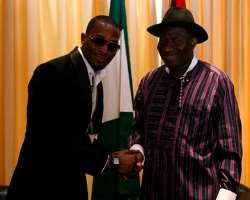 How did Kokomaster D'Banj, in a blink, translate from an indulgentlyadored music superstar to a vilified object of our scorn and mock-ful caricature?. He interviewed President Goodluck Jonathan on Silverbird Television last Thursday, March 17, that's how. Someone says 'But, it is not the first time D'Banj has openly associated with President Jonathan, why the public outcry?'. D'Banj-haters argue the entertainer's decision was ill-advised and his timing for a youth-advocacy role, premature.
The international court of youths in the cyber- community have passed a social pariah verdict on D'Banj; honestly they have the collective power to do so. The over 7.5 million Nigerians on Facebook, Twitter, Myspace, Skype, Linkedin, etcetera etcetera etcetera (à la The King and I), have created a cyber-communication network to voice agitations and disenchantments with every national topic. Toss in the Blackberry messenger service which, presumably, all BB users have activated on their phones and the virtual community has never been more rabidly outspoken. Anyone or anything can become trending topic in cyberspace; there are no untouchables or undoables. On the Internet and BBm, young upwardly mobile Nigerians flayed the Don-Jazzy protégé and multi-award winning artiste for his first journalistic mis-adventure —interviewing the President to hear his agenda for Nigerian youths. Some of the online comments went like this: 'Why does he think he is speaking for millions of Nigerian youths?; It is the highest form of insult youths have received recently'. 'Who bestowed upon him the mantle of representation?'.
'Which media leaders of thought did he consult to draw up questions to ask Mr. President?'. 'Imagine, we are the ones who made him who he is today and he is going out there to misrepresent us?'. 'Does he know what it means to go through a Nigerian University for 4+ years and come out without a job (ouch! that was below the belt)?'. 'An over-ambitious young man whose only obsession is to sing about sexuality with meaningless cacophonic sounds'. 'Doesn't he know that Nigerian youths have come to love entertainment just to forget their sorrows?'. We will let D'Banj know that he betrayed our generation!! 'Let D'Banj release a new album and we will leave it to waste in Alaba'!!. Another theatrical BBm broadcast I received goes:
#IamD'banj: Presido to bahd!, what are your plans for us in the entertainment industry?
#DonGEJ: File! Kokomaster, you're sitting down on a long thing! I've sent a supplementary budget to the National Assembly to sponsor your collabo with Kanye West. Daily, the online tirade has continued with quirky humour. Which tells me that the befuddled kokomaster has put his foot right in it and would need maverick mop-up experts to repair his battered public image. On the other hand, D'banj could choose to respond to the public's jabber like Omotola Ekeinde did —silence, ignore our opinionated rantings. Silence has been seen to work several times as media interest and public commentary fizzle out after a while. Hating D'banj presently does not mean we should throw away the baby with the bath water. The harmonica-player is, no doubt, one of the most outstanding musical exports from Nigeria in this generation. He is of the same music star mold of the Tufaces, Nnekas, Psquares and almost as hot as Asa is internationally.
The trendsetting ambassador of Nigerian pop culture, is an achieving product of this environment as non-stimulating and unfulfilling as it has become. It is indeed an indictment on many of us young people who may even be better-talented, but are wasting our abilities on the premise that government has a responsibility to spoonfeed us. If anyone knows D'banj's history, they will know he had a hard time breaking through as a music artiste. More so in school where he battled to get through tertiary institution while struggling to find himself as a singer. It is unfair to throw his not graduating from school in his face. In his defence, D'banj joins the college dropouts hall of fame which already has other extremely influential people: Winston Churchill —ex-British Prime Minister; Roman Abramovich —billionaire owner of Chelsea FC; Julian Assange — Wikileaks; Steve Jobs —Apple (iMac, iPad, iPod) and Pixar; Julie Andrews —renowned Hollywood actor and Bill Gates —Microsoft, to mention a few. Likewise, I think D'banj's kind of music satisfies the basic needs of man as one of the commentators above ironically mentioned. His songs are light, easy to listen to, melodious, infused with the party-spirit and funny.
In this age of 24-hour blackouts, mad road traffics, academic strikes, increasing environmental pollution, unending bills etc, I don't need any heavy, depressing music to drive me to the brink of suicidal-despair. When we needed a Fela of his generation and his time, God gave us one and now we need a D'banj of this generation and time, we have him (interesting that Fela is one of D'banj's greatest musical influences). Let's stop deluding ourselves that if we boycott D'banj's album it would make a huge difference. How many of us actually buy those genuine studio productions? I speak for myself because I have NEVER bought a D'banj album in my life, but I have also not RIPPED his songs off a borrowed CD. The top-flight design labels wearing D'banj cannot own and maintain state-of-the-art cars and expensive properties in choice locations around the world on N150 (street price of his CD) x 100,000; assuming 100,000 people do go out to buy his album. The bulk of his wealth comes from endorsements, concert appearances and brand association. Let me use the newspaper industry as an illustration. We have over 14 million people in Lagos, according to the state-conducted census. Out of these, I assume one million (modest estimate) are literate. Meanwhile, newspapers houses collectively print out between 350,000 - 400,000 copies per day for nationwide distribution and not every one of them are sold. So, do you think the thriving newspaper houses in Nigeria depend on 400,000 copies of papers to generate revenue to fund such a huge capital intensive project that a newspaper publication is? No. This world is lived in a symbiotic partnership for those who utilise it well.
In the newspaper industry, we understand that every reader who brings out his widow's mite to buy a paper made a decision that must be respected. So we break our backs to bring you the best of news, information, education and entertainment; ours is to provide this service at a qualitative and most affordable value. In music, the same applies. D'banj works tirelessly to produce music that would entertain and help people 'forget their sorrows'. He sings of challenges with which many young people can relate to and his songs are motivational, if you like, telling you to believe you can succeed. That he has interviewed Mr. President is no earth-shaking event worth crucifying him for. My poser is this, tomorrow it could be you who's given the opportunity to. How would you utilise that privilege to be a worthy spokesperson for you generation? I think we should even start now by asking what you are doing to be a role-model for your generation. On the wisdom, merits and demerits of Mr. President opting to talk shop with Mr. Endowed in a televised interview rather that chest up to fellow presidential hopefuls in a debate, I tactfully draw a blank.